Members of Congress, appearing on the Sunday talk shows on April 16, said there are a lot of questions that need to be answered about how a 21-year-old airman in the Massachusetts Air National Guard was able to get a hold of and distribute highly classified and sensitive materials that revealed, among other intelligence, U.S espionage activity and evaluation of the Russia-Ukraine war.
The airman, Jack Texeira, an IT specialist with the Air National Guard, was arrested at his family home in Massachusetts on April 13 and charged in federal court in Boston the next day. He remains in custody. His next court date is April 19.
Adding to the anxiety and anger of lawmakers and other government officials is that the Pentagon security breach comes in the wake of earlier this year of a spy balloon sent from the Chinese Communist Party (CCP), which has outright stated its plan to overthrow liberal democratic America, that traveled eastward across the country before being shot down by a U.S. fighter jet off the coast of South Carolina. 
Sen. Graham Weighs In
On ABC's This Week on April 16, Sen. Lindsey Graham (R-S.C.), who was in Jerusalem, spoke to show host Jonathan Karl on the leak. Graham is a former officer in the Air National Guard. 
"The system failed. This is a major failure," Graham said.
"I don't know what led to this airman's actions, but he's done a lot of damage to our standing. It's very hard to get people to come forward right now to tell us about things we need to know about, if they feel like they're going to be compromised. The sources, the methods, on how we collect on adversaries have been compromised, and I am stunned that somebody at that level could have so much access. So the question is, 'How did he get it? And why did he do it?'"
Karl asked Graham about legislators in the GOP who were applauding Texeira's actions, and mentioned a Twitter post that Marjorie Taylor Greene made in support, and that Fox News' Tucker Carlson was "turning him into a hero."
"What they're suggesting will destroy America's ability to defend itself; that it's okay to release classified information, based on your political views; that the ends justify the means," Graham said. "It is not okay. If you're a member of the military intelligence community, and you disagree with American policy, and you think you're going to be okay when it comes to leaking classified information. You're going to go to jail."
'Clearly There's Damage That Has Been Done'
"Do you have any sense yet of the scale of the damage caused by the leak of this classified material by apparently this 21-year-old airman who has been arrested?" host Margaret Brennan asked guest Rep. Mike Turner (R-Ohio), chairman of the House Intelligence Committee, on CBS News' Face the Nation.
"Not completely, but clearly there's damage that has been done," Turner said.
"We have documents classified because we don't want them to get in the hands of our adversaries, and these have been widely circulated so these are obviously damaging both to the United States, and to our allies. What's troubling here is that when you look at the documents that were circulated that, you know, without the care of its handling; these relate to actual real people, and they can impact people's lives, and that's certainly our concern."
Is the US Military the Weak Link?
On CNN's State of the Union, Jake Tapper asked guest Sen. Kirsten Gillibrand (D-N.Y.) if House Speaker Kevin McCarthy (R-Calif.) was right when he accused the Biden administration of being "asleep at the switch."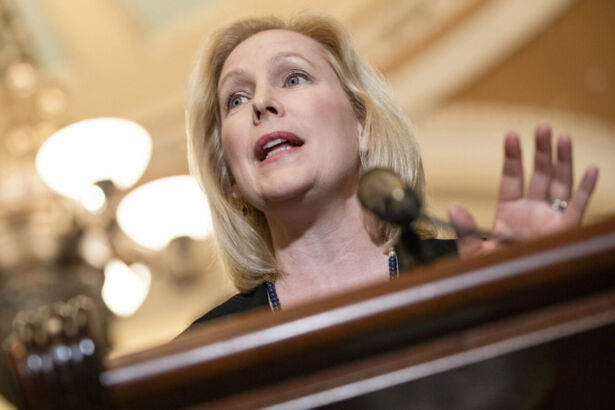 Sen. Gillibrand, who sits on the Senate Intelligence and Armed Services committees, replied: "We're going to do a full investigation. And the Intelligence Committee is also going to have a full investigation. We focus intensely on how to keep our secrets safe. And I have a lot of questions about why were these documents lying around? Why did this particular person have access to them?"
Tapper brought up a concern that the U.S. intelligence community holds that the military is the weak link in protecting American secrets because so many in the armed forces have security clearance, and the Department of Defense does not conduct a thorough background check on those it provides that clearance. 
"Do you agree with that assessment? Is the military the weak link when it comes to this sort of thing?" Tapper asked. 
"Those are the type of questions we're going to ask in a hearing. We're going to have an all-senators briefing this week," responded Gillibrand. "But we will also be having hearings in the Intelligence Committee and the Armed Services Committee. We need to know the facts."
'Who Is Keeping Watch?'
Rep. Nancy Mace (R-S.C.), who serves as chairwoman of the Subcommittee on CyberSecurity, IT, and Government Innovation appeared on Fox News Sunday. 
"We should be asking ourselves, 'Who is keeping watch?"" Rep. Mace told host Shannon Bream. "Here was a young kid, a 21-year-old, with access to classified information; maybe the largest classified leak in recent history, and where was the leadership. So I support an investigation on House Armed Services or House Oversight, both committees that I sit on.
"Today to get more information about how this happened. And I want to know, I think like every other American, was who was in charge? And each side right now. One side's calling him a traitor; the side's calling him a hero. But neither side has the information or the data to make that decision yet."
From The Epoch Times