Three men serving in the U.S. Marines have been arrested because they allegedly took part in the Jan. 6, 2021, breach of the U.S. Capitol.
Joshua Abate, Micah Coomer, and Dodge Dale Hellonen were arrested this week on charges of knowingly entering and remaining in the Capitol without lawful authority, disorderly conduct in the building, and parading, demonstrating, or picketing while inside, according to court documents and docket entries.
FBI agents gathered evidence from social media accounts, telephones, military photographs, driver's licenses, surveillance footage, and public images before the arrests were made on Jan. 18, according to an affidavit supporting the charges.
The footage and open-source materials showed the trio entering the Capitol at approximately 2:20 p.m. on Jan. 6, 2021, utilizing the open Senate Wing Door. U.S. Capitol Police tried but failed to prevent people from entering the door, after which a number of people streamed into the building. No officers were visible when the Marines entered.
The Marines went into the Rotunda and eventually left the Capitol after about 52 minutes.
Another member of the Marine Corps helped identify Coomer, who was wearing a "Make America Great Again" (MAGA) hat, Hellonen, who carried a "Don't Tread on Me" flag, and Abate, wearing a gray gap, from footage captured inside the Capitol.
While inside, the men placed a MAGA hat on one of the statues in the Rotunda, according to surveillance footage.
The hats were created as part of former President Donald Trump's 2016 campaign.
Abate was arrested in Maryland, Coomer was taken into custody in California, and Hellonen was arrested in North Carolina. All were arrested on Jan. 18.
None of the men had lawyers listed on the docket. Abate has appeared in court and been released, according to the docket.
The Marines confirmed that the men are enlisted.
"We are aware of an investigation and the allegations," a spokesperson told The Epoch Times via email. "The Marine Corps is fully cooperating with the appropriate authorities in support of the investigation."
Coomer is a corporal who enlisted in September 2018 and is assigned to the 1st Radio Battalion based out of Base Camp Pendleton, according to records reviewed by The Epoch Times. Abate and Hellonen are both sergeants. Abate enlisted in 2018 and is based out of Fort Meade in Maryland. Hellonen is based out of Camp Lejeune in North Carolina. All three men have received awards and decorations, including the National Defense Service Medal.
Each defendant faces four charges and multiple years in prison.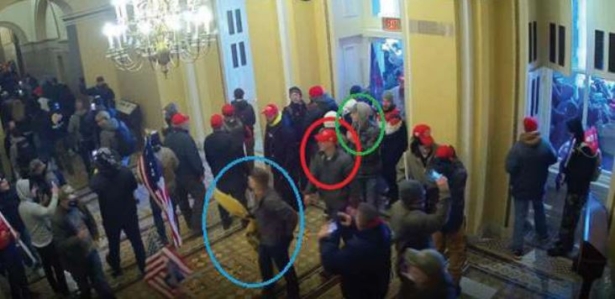 Admission
During an interview as part of his security clearance in June 2022, Abate admitted entering the Capitol, according to the affidavit.
Abate said he walked in with two friends.
One of the friends smoked a cigarette inside, according to Abate. He was quoted as saying they "walked around and tried not to get hit with tear gas."
Because the breach drew a negative reaction, Abate decided not to tell anybody about going into the building.
Coomer, meanwhile, operated an Instagram account on which he posted pictures inside the Capitol, according to the FBI.
In one caption he wrote, "Glad to be apart [sic] of history."
Facebook records obtained by law enforcement showed Coomer writing that he thought the 2020 election was unfair.
"I just love how after years of trying to get [T]rump out of office by any means the left all of a sudden is going to have a 'fair' election," one message said.
"One of my buddies here got a ballot for his cat that died three years ago," Coomer also wrote. "It's literally a joke to them."
A separate exchange showed the account attributed to Coomer as stating that "we honestly need a fresh restart" and suggesting he was ready for a civil war.
From The Epoch Times