Actor and comedian Tim Allen has defended the portrayal of Christmas as a fundamentally religious holiday in his new Disney+ series "The Santa Clauses"—which has just been renewed for a second season—after criticism that some of the show's elements lean too far to the right.
As the last episode of The Santa Clauses mini-series was released on Wednesday, Allen told Fox News in an interview that he's pleased with the way the franchise handled the theme of Christmas.
"We honor the Christian tradition without heralding it. It's not—it is what it is. It's a Christian holiday. So, we don't belabor it, but we don't ignore it," Allen told Fox News. "I love the way we deal with it."
Season one of the mini-series premiered on Nov. 16 and its launch was met with criticism by some Twitter users, who zeroed in on a remark Allen's character makes in the show.
'Merry Christmas' Problematic?
Allen's character in the series, Scott Calvin (aka Santa Claus), is asked in one scene if something is bothering him.
Calvin bemoans that "saying 'Merry Christmas to all' has suddenly become problematic."
Filmmaker Scott Weinberg posted the quote on social media on Nov. 17, along with a critical take.
"It just struck me as a truly weird thing to put in a kid's series. '<Someone> wants to stop us from saying Merry Christmas!' is not some random campaign. It's a low-key effort to vilify anyone who doesn't celebrate this holiday. In a grown-up movie I'd just groan and ignore it," Weinberg wrote in a follow-up tweet.
Weinberg's remark prompted a number of users to claim that the show was rehashing a conservative trope about canceling Christmas.
"Number of people I've seen take offence to 'Merry Christmas': 0," one user commented.
"Number of conservatives I've seen take offence to the idea they made up that people take offence to 'Merry Christmas': So freaking many," the individual added.
"Nothing will ever scare conservatives as hard as made-up problems," another user chimed in.
"And so we begin another season of 'They're trying to cancel Christmas!" someone else posted.
Some Twitter users pushed back on the claim that Christmas-canceling isn't a real thing or that some people don't ostentatiously take offense over the phrase "Merry Christmas."
"You've never gotten a ten minute lecture from accidentally saying Merry Christmas? I wish I lived around the people in your community, seriously. Not that I feel the need to shout about any holiday, but because I never want to hear that rant again for trying to wish someone well," a Twitter user wrote.
'It Literally Is a Religious Holiday'
Jack Burditt, the creator of The Santa Clauses, weighed in on the controversy, admitting in an interview with Deadline that there was some "back and forth" over whether to include the line about Allen's character complaining about backlash to the phrase "Merry Christmas."
"This is something that I just think is silly but then I'm like, I don't know … I mean, look, we also had a joke at one point where Santa is on his rounds, they're going in for a landing and somebody's shooting something up at him. And Noel the elf says something like, 'A war on Christmas!' I'm like, yeah, I don't wanna go that far," Burditt said.
Allen, in an interview in November with The Wrap, said that the original script of the show wasn't going to explore the Christian roots of the holiday but he insisted otherwise.
"It originally had a lot of otherworldly characters, and ghosts, and goblins. I said no, this is Christ-mas. Its Christ-mas. It literally is a religious holiday," Allen told the outlet.
"We don't have to blow trumpets, but I do want you to acknowledge it. That's what this is about. If you want to get into Santa Claus, you're gonna have to go back to history, and it's all about religion," Allen said at the time.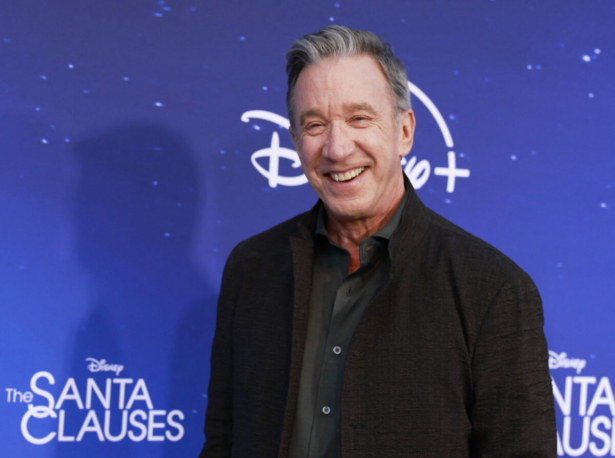 'It Was Never About Gifts'
Allen would later say in an appearance on The Kelly Clarkson show that the series would include the real-life story of St. Nicholas, a Christian saint whose reputed penchant for gift-giving led to the traditional model of Santa Claus.
In the fifth episode of The Santa Clauses, St. Nicholas makes an appearance and a dialogue ensues that explains some of the traditional backstory.
"It was never about gifts, it was about giving," the character of St. Nicholas tells Calvin, played by Allen.
Calvin then chimes in by saying: "St. Nicholas—his parents died, he became quite wealthy, then gave all his money away to help those in need."
Meanwhile, Disney has announced it's renewing The Santa Clauses for a second season.
"This franchise has had a lasting impact for so many families, truly becoming part of their annual holiday traditions," Ayo Davis, president, Disney Branded Television, said in a statement.
"Bringing it back as a series has been a true gift, and I'm grateful to our producing partners at 20th Television and, of course, Tim Allen and team, that we have yet another reason to celebrate this holiday season."
In season one of The Santa Clauses, Allen's character struggles to keep up with the demands of his job and family, and considers stepping down from the role of Santa Claus and finding a worthy successor.
From The Epoch Times