Sen. Rick Scott (R-Fla.), the head of the National Republican Senatorial Committee, predicted the GOP will take at least 52 seats in the upcoming midterms.
"We're gonna get 52 plus," Scott said in an interview Sunday on CNN. "Herschel Walker will win in Georgia, we're going to keep all 21 of ours. [Mehmet] Oz is going to win against [John] Fetterman in Pennsylvania. Adam Laxalt will win in Nevada."
Scott suggested Republican Blake Masters could also prevail against incumbent Sen. Mark Kelly (D-Ariz.) for Arizona's Senate seat.
"This is our year, the Democrats can't run on anything they've done," Scott told CNN. "People don't like what they've done. They don't like high inflation. They don't like gas prices, food prices up. They don't like it. The public doesn't like an open border. They don't like high crime. And that's what the Democrats are known for."
The Senate stands at 50–50, with Vice President Kamala Harris serving as a tiebreaker. In the House, Republicans need to gain a net five seats. Historically, the party that occupies the White House tends to lose seats in Congress.
While numerous analysts, models, and polls have shown that Republicans will most likely take back the House in the midterms, the Senate picture is far murkier.
The Cook Political Report has races in Wisconsin, Nevada, Arizona, Georgia, and Pennsylvania as "toss ups," while Colorado and New Hampshire are listed as "lean Democrat."
Oddsmakers, however, favor Republicans to win back both the House and Senate. PredictIt, a major online betting firm, lists a GOP-controlled House and Senate as 73 cents for a share, as compared with 26 cents per share for Democrats. Winners get a dollar back per share.
'Rude Awakening'
Last week, Dr. Oz gained momentum following his debate with Democrat Lt. Gov John Fetterman, who suffered a stroke in May and displayed cognitive impairment during the event. Fetterman often slurred his words, did not complete sentences, and had to use closed-captioning to understand what was being said to him.
"I think the Democrats are going to get a rude awakening on Nov. 8 that high inflation, high crime, open border is not what the American public wants," Scott also told ABC "This Week" on Sunday.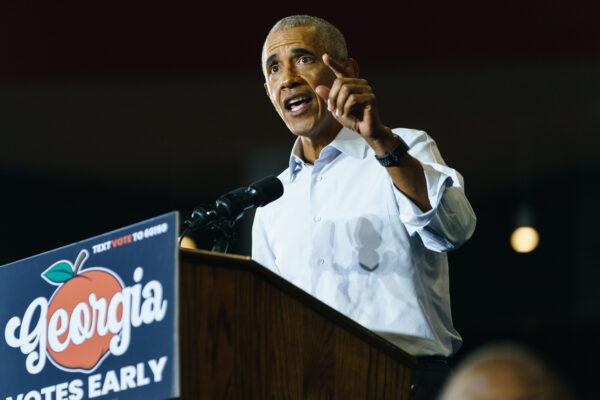 A number of polls have shown that voters are increasingly worried about surging inflation, the state of the U.S. economy, and violent crime. Inflation and the economy has consistently ranked as the No. 1 issue for voters, offering a major roadblock for Democrats as they attempt to keep control of both chambers.
It comes former President Barack Obama traveled to Georgia to attempt to bolster Sen. Raphael Warnock (D-Ga.) and Democrat gubernatorial candidate Stacey Abrams. In an event outside Atlanta, the 44th president said that the "basic foundation of our democracy" is under threat and said voters should elect Democrats.
Obama will travel Saturday to Michigan and Wisconsin, followed by stops next week in Nevada and Pennsylvania.
In Michigan, Obama will campaign in Detroit with Gov. Gretchen Whitmer, who is being challenged by Republican Tudor Dixon, and in Wisconsin he'll be in Milwaukee with Senate candidate Mandela Barnes, who is trying to oust Republican Sen. Ron Johnson. Each city is where the state's black population is most concentrated. Obama's Pennsylvania swing will include Philadelphia, another city where Democrats must get a strong turnout from black voters to win competitive races for Senate and governor.
The Associated Press contributed to this report.
From The Epoch Times