As strong winds and heavy rains hit the eastern coast of Florida on Thursday, floods caused power outages, leaving over 120,000 people without electricity in the early morning.
Hurricane-force winds and rain put seven million people under a flood watch for the rest of the day in the state's southernmost counties of Miami-Dade, Broward, and Palm Beach.
"Our crews are working to restore service safely and as quickly as possible," the Florida Power & Light Company told the Miami Herald in a statement Thursday morning.
"We urge customers to monitor the weather and stay safe. This includes staying far away from downed power lines or other damaged electrical equipment."
According to poweroutage.us, the number of powerless homes dropped by noon to 85,000 (excluding some smaller untracked power providers). In its latest update at the time of publication of this report, 24,138 were without electricity.
According to the National Weather Service (NWS), the winds recorded in some of these areas are "hurricane equivalent," topping 74 mph. "Damaging winds will blow down trees and power lines. Widespread power outages are expected," the NWS said.
A high wind warning is in effect for the entire coast of Miami-Dade, Broward, and Palm Beach counties. Easterly winds of 25 to 40 mph with possible gusts up to 60 mph are expected through the rest of the afternoon.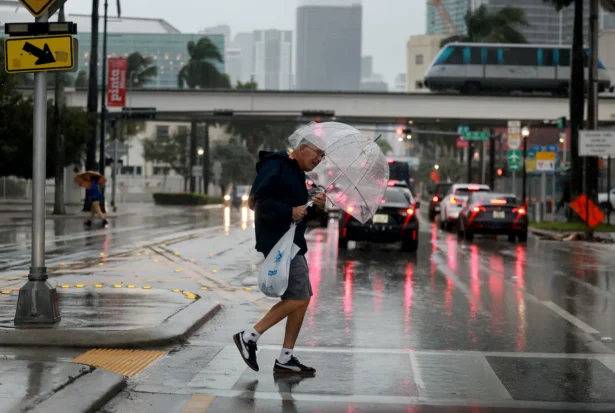 The NWS said the strong winds and rains, combined with high astronomical tides, will produce "dangerous conditions" at beaches, including large breaking waves of 6-9 feet, rough surf, and strong rip currents.
The NWS said that minor coastal flooding is expected around periods of high tide throughout the remainder of the week.
Small boats are strongly advised to remain in port, as a gale warning remains in effect over all waters into Thursday night.
The inclement nature of the weather prompted Broward County Public Schools to cancel all classes, activities, and meetings for the day to "ensure the safety of students and staff," it announced on its website.
Broward College, which canceled classes Wednesday afternoon, announced it will remain closed Thursday.
Palm Beach County Schools and Miami-Dade Public Schools said they will remain open on Thursday.
According to NWS meteorologist Luke Culver, Miami recorded between 5 and 9 inches of rain in the last 24 hours; Fort Lauderdale received between 4 and 7 inches for the same period—the second time this year that Fort Lauderdale experienced heavy rainfall during a one-day period.
An additional 2 to 4 inches of rainfall is expected through Thursday afternoon, with as much as 5 inches in some local areas, the NWS said.