LOS ANGELES—Rapper Tory Lanez could get a long prison term at his expected sentencing Monday after felony convictions for shooting and wounding rapper Megan Thee Stallion in the feet.
Los Angeles prosecutors are asking a judge to hand down a 13-year sentence to the 31-year-old Lanez, whose legal name is Daystar Peterson.
They wrote in a sentencing memorandum that along with the crimes for which he was convicted, Mr. Lanez has re-traumatized Ms. Megan with social media posts about the case that emboldened many among his more than 2 million followers to attack her.
Ms. Megan may appear in court Monday to give a victim impact statement, or may have one read for her in her absence.
Lawyers for Mr. Lanez said in their own sentencing memo that he should get only probation and be released from jail to enter a residential substance abuse program.
They say the evidence that led to his conviction was "questionable at best" and that his lack of remorse should therefore not be a factor in his sentencing. The memo says if the allegations were true, then alcohol abuse and childhood trauma would be factors.
Mr. Lanez has been jailed since a Los Angeles jury in December found him guilty of three felonies: assault with a semiautomatic firearm, having a loaded, unregistered firearm in a vehicle, and discharging a firearm with gross negligence.
The reading of the verdict turned into a dramatic and chaotic scene when Mr. Lanez's father leapt up in the gallery and denounced the "wicked system" that convicted his son. Deputies dragged him from the courtroom as other Mr. Lanez supporters shouted about the unfairness of the case. The sentencing will be held on a higher security floor than the trial.
Ms. Megan testified during the trial that Mr. Lanez had fired the gun at the back of her feet and shouted for her to dance as she walked away from an SUV in which they had been riding in summer 2020. The pair had left a party at Kylie Jenner's Hollywood Hills home.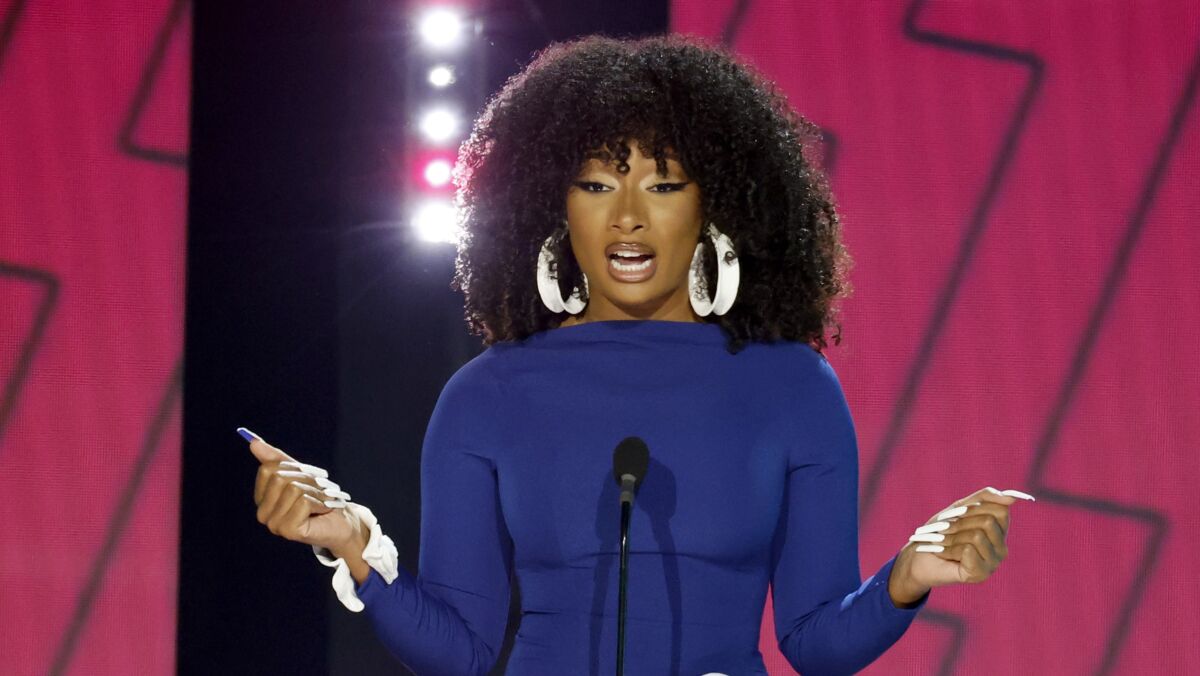 Superior Court Judge David Herriford, who will sentence Mr. Lanez, denied a motion from Mr. Lanez' defense attorneys for a new trial on May 9.
Mr. Lanez's lawyers had argued that a post from his Instagram account was improperly admitted into evidence. They said that Ms. Megan's testimony that Mr. Lanez urged her not to go to police because he was on parole and would be in serious trouble was both untrue and an improper allowance of prior bad acts. And they said DNA evidence that prosecutors used to argue Mr. Lanez was the likely shooter fell well short of industry standards.
"I could be your son. I could be your brother," Mr. Lanez pleaded with Judge Herriford as he was led from the courtroom the day before the judge ruled that excluding the disputed evidence wouldn't have made a difference.
His lawyers plan to appeal the conviction.