Interior Secretary Deb Haaland on June 2 revealed her department is withdrawing more than 336,000 acres of public land around Chaco Culture National Historical Park in New Mexico from oil and gas drilling for 20 years, building on an announcement from President Joe Biden in November 2021.
"Today marks an important step in fulfilling President Biden's commitments to Indian Country by protecting Chaco Canyon, a sacred place that holds deep meaning for the Indigenous peoples whose ancestors have called this place home since time immemorial," Haaland said in a statement on the withdrawal order from Interior's Bureau of Land Management (BLM).
The full order can be read here.
Haaland is a Native American and a member of the Laguna Pueblo tribe in New Mexico.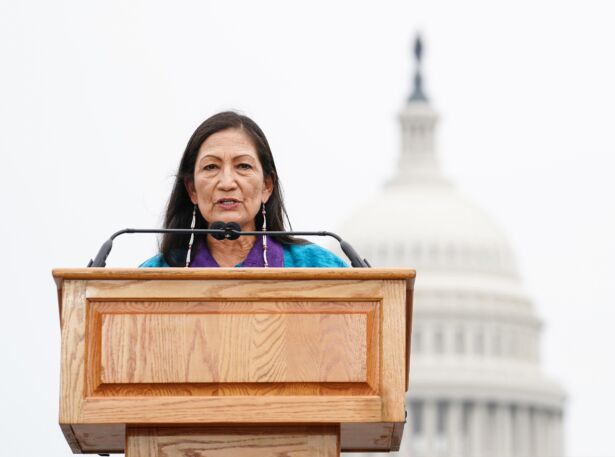 BLM's order applies to public lands and "all non-Federal lands that are subsequently acquired by the Federal government" in a 10-mile radius around the site, which contains structures inhabited by ancient Puebloans from approximately 850 through 1250 A.D.
The All Pueblo Council of Governors praised the decision.
"Secretary Haaland and her leadership and staff within the Bureau of Land Management and the Bureau of Indian Affairs conducted a thorough and careful analysis before completing this withdrawal, listening to and elevating tribal voices throughout the process. Their work will leave an invaluable mark on this sacred landscape," the group said in a statement on the decision.
Yet, leaders of the Navajo Nation had a different response. There's a reason for that: many Navajo oil and gas allotments are within the 10-mile radius.
Although Interior's freeze doesn't apply directly to lands under private, state, or Tribal ownership, the Western Energy Alliance, which represents oil and natural gas interests, argued in a 2022 letter that a large-scale withdrawal would hem in hydrocarbon extraction on adjoining plots.
"Because of the checkerboard pattern of lands around the CCNHP [Chaco Canyon National Historical Park], where allottee lands are often surrounded by BLM lands, it is impossible to avoid the federal mineral estate when attempting to access pockets of allottee minerals via horizontal drilling. As a result, any limitations on accessing federal minerals will necessarily impair allottee and tribal lands as well," their letter reads.
In their own statement regarding the June 2 announcement, the Navajo Nation noted they tried to compromise with Haaland through a five-mile buffer rather than the 10-mile radius announced Friday.
"Despite the Navajo Nation's position, Secretary Haaland proceeded to issue this decision one day after the Navajo Nation commemorated our Treaty Day, which recognizes the Treaty of 1868 and the start of the government-to-government relationship between the Navajo Nation and the United States. The Secretary's action undermines our sovereignty and self-determination," said Navajo Nation President Buu Nygren.
Some environmental groups celebrated the decision.
"This is a huge victory for public lands and Tribal-led conservation!" the League of Conservation Voters wrote on Twitter.
Yet, the Western Energy Alliance and others joined the Navajo in raising objections.
That group claimed Haaland has multiple conflicts of interest relevant to the ruling, including through the activism of her non-binary daughter, Somah Haaland.
The younger Haaland was involved in October 2021 protests at the Department of the Interior as part of the Pueblo Action Alliance, as reported by the Daily Mail.
The Epoch Times has reached out to the Interior Department regarding those assertions. A representative declined to comment.
From The Epoch Times