Nevada Republican Jim Marchant announced Tuesday that he's running for a U.S. Senate seat in Nevada in 2024, entering a critical race in the swing state against incumbent Sen. Jacky Rosen (D-Nev.).
"We have to encourage principled, America First, MAGA candidates to run for office. That is why I am announcing today that I am running for United States Senates of Nevada," Marchant told a cheering crowd at a "Make America Great Again" rally in Las Vegas.
"There's nothing more precious than our freedom and personal liberty," he added. "And I'm running for United States Senate to protect Nevadans from the overbearing government, from Silicon Valley, from big media, from labor unions, from the radical gender change advocates, where Jacky Rosen has failed you. But I will not fail you."
Marchant, who unsuccessfully ran for Nevada secretary of state in 2022, touted his experience as an innovator and founder of three technology companies, including the Federation of Internet Service Providers of America.
At Tuesday's rally, the 66-year-old entrepreneur portrayed himself as a "MAGA conservative" who will fight to "expose and overcome" censorship, gender-altering ideologies advocated by President Joe Biden, and foundational threats posed by digital currencies.
"The Silicon Valley tyrants have blocked our free speech," Marchant said. "Those who dare to stand up for patriotism and traditional values are banned online, and their views and materials are removed to the darkest corners of the liberal search engines."
"If America goes to the communist, there's no place else to go," he added.
Marchant is the first significant Republican to challenge Rosen, 65, a first-term Democrat holding a crucial seat in the U.S. Senate, where Democrats have a slim majority. Rosen announced her reelection bid in April.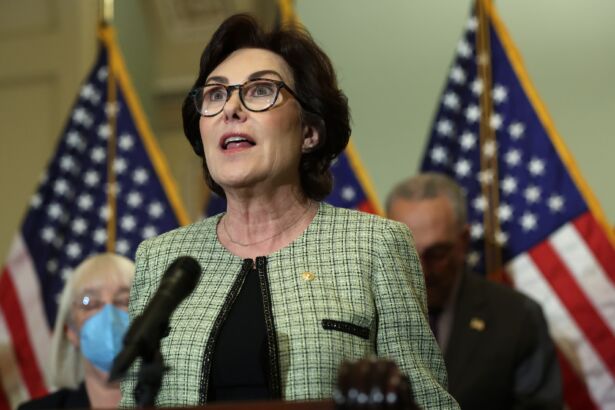 Reacting to Marchant's announcement in a post on Twitter, Rosen asked for more donations to support her campaign, saying she's counting on donors to "fight back against the far-right, extremist GOP."
"Nevadans deserve a Senator who will fight for them, not a MAGA election denier who opposes abortion rights even in cases of rape and incest," Rosen said. "While far-right politicians like Jim Marchant spread baseless conspiracy theories, I've always focused on solving problems for Nevadans."
2024 Battleground Target
Democrats face an even more challenging environment to keep their slim majority in 2024. Nevada is likely to be one of the nation's most competitive Senate races after hosting the closest contest of 2022.
Last month, Rosen said that the outcome of the upcoming race in Nevada could "decide control of the Senate" for either party, noting that the race "will be one of the toughest in the country."
In a brief interview following his Tuesday announcement, with campaign adviser Dick Morris at his side, Marchant did not walk away from his prior claims, saying he believes the presidential election in 2020 was "probably stolen."
"I have serious doubts," Marchant said. "I've been on record for a long time trying to prove how the election, I believe, was not up-and-up. I think it was probably stolen. There were a lot of ways they were able to figure out how to manipulate the system."
Marchant toured rural Nevada counties last year to encourage local lawmakers to eliminate voting machines and adopt paper ballots. He was the architect of a hand count in rural Nye County, which became one of the first jurisdictions nationwide to attempt the slower, less reliable method of counting votes.
The Nye County effort was ultimately conducted alongside machines due to state regulations, a string of lawsuits, and concerns from the Republican Nevada secretary of state, who the party censured for pushing back against false claims of widespread election fraud.
Federal campaign finance reports for the filing period ending March 31 showed Rosen raised over $10 million for the race and had $6 million to spend. Marchant was not yet listed by the FEC on Tuesday. State election reports showed he spent almost $550,000 on his secretary-of-state bid.
The Associated Press contributed to this report.