Former President Donald Trump on Wednesday filed a notice of a New York judge's ruling that found his business fraudulently inflated the value of several properties as well as his net worth.
The former president made his appeal to the Appellate Division, coming in the midst of a civil trial in the case that was brought by New York Attorney General Letitia James. In August, Judge Arthur Engoron ruled that the former president fraudulently inflated the value of his properties, including Mar-a-Lago, which the former president vigorously denied in court this week.
The judge, who publicly described President Trump as "a bad guy" last year, also ordered the cancellation of certificates that let some of President Trump's businesses, including the Trump Organization, operate in New York.
Ms. James, a Democrat, is seeking at least $250 million in damages. She also wants the former president banned from running businesses in New York, as well as a five-year commercial real estate ban for President Trump and the Trump Organization.
However, the former president, his sons Eric Trump and Donald Trump Jr., and others filed a notice of appeal to the Appellate Division, which is the second highest court in New York state.
"This appeal is taken from each and every part of the Order insofar as Appellants are aggrieved," the court filing said.
Earlier this week, Judge Engoron told the courtroom that he believes it's likely that President Trump and the other co-defendants "strongly disagree on" parts of his ruling "and will appeal on this ground."
"This trial is not an opportunity to relitigate what I have already decided … that is why we have appeals," the judge said.
The former president has notably appeared in court this week, often speaking to reporters outside the courtroom. On Wednesday morning, he disputed the judge's claims about his net worth and said that "my real net worth is much higher than that, much higher than the statement."
"This is just a continuation of the witch hunt that started the day I came down the escalator in Trump Tower," the former president said, adding that the trial is the "beginning of communism in our country."
Gag Order
A day before, Judge Engoron issued a partial gag order on President Trump and admonished him about a post the former president made on Truth Social about the judge's clerk, Alison Greenfield.
"Personal attacks on members of my court staff are unacceptable and inappropriate. Consider this statement a gag order forbidding all parties from posting, emailing, or speaking publicly about any of my staff," the judge said.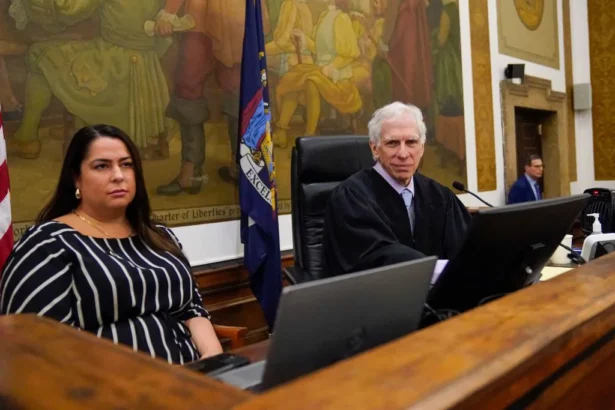 It came after President Trump posted a photo of Ms. Greenfield and Senate Majority Leader Chuck Schumer (D-N.Y.), asserting that she has strong connections to the longtime New York senator. The former president reportedly made the post, which was deleted Tuesday, while he was in the courtroom.
In a separate comment, he indicated to members of the media that he would testify during the trial "at the appropriate time."
Before the trial's start, Ms. James issued a statement that reiterated her civil case's claims and claimed the President Trump "falsely inflated his net worth to enrich himself and cheat the system," adding: "We won the foundation of our case last week and proved that his purported net worth has long been rooted in incredible fraud. In this country, there are consequences for this type of persistent fraud, and we look forward to demonstrating the full extent of his fraud and illegality during trial."
But some real estate professionals in a CNN article published Wednesday questioned Judge Engoron's ruling that the former president overvalued Mar-a-Lago. They said that he relied on information that real estate agents don't often use.
"Appraisal values and market values are just not the same thing. It's a well-known fact," Eli Beracha, the chair of the school of real estate at Florida International University, told CNN. "That's especially true for properties that are unique. And it's very easy to argue this is a unique property," he said, referring to the Palm Beach resort.
Other Details
The nonjury trial concerns six remaining claims in the lawsuit and how much Trump might owe in penalties. James is seeking $250 million and a ban on President Trump doing business in New York. The judge has already ruled that some of the former president's companies should be dissolved as punishment.
The trial could last until December, Judge Engoron has said. Trump has denied any wrongdoing.
He faces four criminal indictments in Florida, Washington, Georgia, and New York. He has pleaded not guilty in all cases.
The Associated Press contributed to this report. 
From The Epoch Times