Former President Donald Trump arrived in New York City on Monday afternoon as he prepares to surrender himself to the Manhattan District Attorney after a grand jury indicted him last week.
Live stream footage showed Trump's private Boeing 737 jet arriving at La Guardia Airport in Queens, New York. At around 3:45 p.m. ET, Trump was seen departing the plane and traveling away from the airport in a black motorcade.
At the Trump Tower, an Epoch Times reporter said that a crowd of pro-Trump protesters called the indictment a sham and called on President Joe Biden to be fired. Trump later entered the Trump Tower at around 4:25 p.m. ET as three black helicopters were seen overhead.
"If you are doing poorly, as so many of you are, do not send anything," Trump wrote on Truth Social at around 3:30 p.m. as his plane landed in New York. "If you are doing well, which was made possible through the great policies of the Trump Administration, send your contribution … we have to take back our Country and, MAKE AMERICA GREAT AGAIN!"
Security was increased in and around Manhattan ahead of his arraignment, set for Tuesday. The New York Police Department has closed roads around the city, officials said earlier on Monday in a news conference.
Trump, a native of Queens, still holds property in New York City and said he will stay at his Trump Tower on Fifth Avenue in Manhattan. Security around the Trump Tower was also bolstered.
"There has been no specific credible threats to our city at this time, and New Yorkers should go on with their regular activities," New York City Mayor Eric Adams said at a news conference.
Before heading to New York City, Trump rode in motorcade from his Mar-a-Lago club to his Boeing 757, which was carried live on cable and local television. It took him past supporters waving banners and cheering, while decrying the case against him as politically motivated.
Cable networks followed his plane at airports in Florida and New York with video from the air, and Trump was joined aboard by a small group of senior campaign aides as well as his son, Eric Trump, who posted photos of the wall-to-wall TV coverage from his seat.
Trump is reportedly facing multiple charges of allegedly falsifying business records in the indictment handed down by a Manhattan grand jury last week. The investigation is scrutinizing six-figure payments made to Stormy Daniels, although the indictment has not yet been unsealed.
It's an unprecedented chapter in American history, with Trump the first former president to face criminal charges. But he has said it could actually boost his chances of winning the presidency again next year and has made the indictment a central theme of his 2024 campaign.
Trump senior adviser Jason Miller said the campaign had raised $7 million since word of the indictment broke, but official figures have not yet been released. One Trump fundraising email Monday carried the subject line, "Tomorrow, I will be arrested."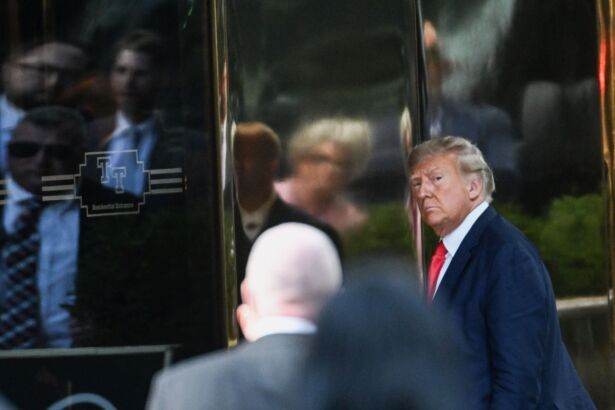 Trump's attorney said on Sunday said he expects to make a motion to dismiss any charges stemming from Manhattan district attorney Alvin Bragg's investigation.
"We will take the indictment. We will dissect it. The team will look at every, every potential issue that we will be able to challenge, and we will challenge. And of course, I very much anticipate a motion to dismiss coming because there's no law that fits this," Tacopina told CNN on Sunday.
Tacopina then described the case as politically motivated and said it would never had been brought if it didn't involve Trump.
"And you have a situation where, you know, the federal government, the Department of Justice, turned this matter down," Tacopina told the outlet. "The FEC, which governs federal election laws, said there's no violation here." But, he added, that "somehow, a state prosecutor has taken a misdemeanor and tried cobble together to make it a felony by alleging a violation of federal campaign violations … the FEC said that doesn't exist."
On Monday, Trump attorney Alina Habba, who is representing the former president in the classified documents case, told CNN that she opposes the release of his mugshot. It should remain confidential because he's running for president, she argued.
"I like transparency. I think that in certain situations, it's a good thing. I do have a problem with leaking of pictures," Habba remarked. "I think that because we're in a campaign because he's the leading GOP candidate, it's not going to help anything."
Eva Fu and The Associated Press contributed to this report. This is a developing story; check back for more updates.
From The Epoch Times