Kelly Tshibaka, a Republican who was endorsed by former President Donald Trump for the Alaska Senate race, has criticized Senate Minority Leader Mitch McConnell (R-Ky.) for her midterm defeat.
"It is regrettable that Sen. Mitch McConnell spent millions of dollars in this race on deceptive ads to secure what he wanted—a Senate minority that he can control, as opposed to a majority that he could not," Tshibaka said in a statement. "Donors' money would have been better spent in other states to elect more Republicans that would have secured a majority in the Senate."
"In the end, however, our Alaska U.S. Senate election turned out to be another victory for the Washington, D.C. insiders who rarely have our best interests at heart," Tshibaka added.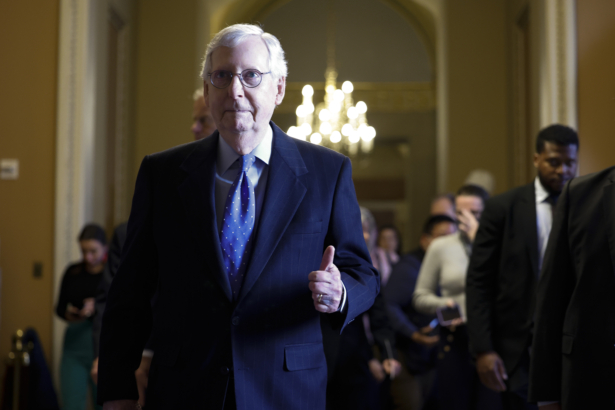 Tshibaka conceded the election on Wednesday after Alaska's Division of Election announced rank-choice election results. Incumbent Republican Sen. Lisa Murkowski won with 53.69 percent, or 135,972 votes, to Tshibaka's 46.31 percent, or 117,299 votes.
Murkowski's successful reelection bid was bolstered by the Senate Leadership Fund (SLF), a political action committee with close ties to McConnell. The super PAC spent more than $5 million supporting Murkowski and attacking Tshibaka.
McConnell's decision to support Murkowski has been criticized by Trump. In October, Trump took to his Truth Social account to say it was "ironic" that McConnell had chosen to spend millions to support Murkowski—whom the former president labeled as "barely" a Republican—instead of using the money on GOP Senate candidate Blake Masters in Arizona or other Republican candidates.
Murkowski drew the ire of Trump when she was one of seven Senate Republicans who voted to convict him after the House impeached him over the Capitol breach on Jan. 6, 2021.
Tshibaka, the former director of Alaska's Department of Administration, said before the November election that she would not support McConnell as Senate leader. Meanwhile, Murkowski has vowed to support McConnell for Senate leadership.
Following Murkowski's election win, some Republicans took to Twitter to criticize the Senate Minority leader.
"McConnell backed Murkowski because he didn't want a Trump Republican to win," wrote James Bradley, who finished sixth in the California Senate primary in June. "We all know why. Because McConnell is a Democrat who IDENTIFIES as a Republican."
In her statement, Tshibaka also blamed Alaska's ranked-choice voting system for her loss, saying it was "frustrating" and "indisputably designed as an incumbent-protection program."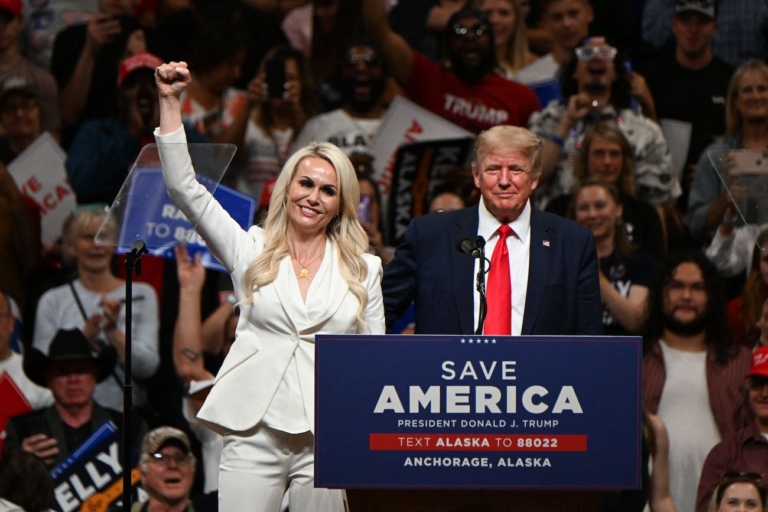 Under Alaska's ranked-choice format, the top four finishers in the state's nonpartisan open primaries advance to the general election. Then, on the general election ballot, voters rank the four candidates, from their first choice to their fourth choice.
If no candidate earns more than 50 percent on the first-choice votes, the election moves to a ranked-choice tabulation—the candidate with the fewest votes is eliminated and those votes are shifted to voters' second choice.
Alaska voters approved a switch to the ranked-choice voting system in November 2020. The midterm elections this year marked the first time the system was used.
A new group called Alaskans for Honest Government is aiming to repel the ranked-choice voting system and open primaries.
"I'm proud of the race we ran and proud to have united Alaskans in our fight against the disastrous Biden administration, which has targeted our economy every single day they have been in office," Tshibaka said.
"I entered the race to be a voice for the voiceless, and to stand up for the Alaskans who stood up for me and my family when we needed opportunities," Tshibaka continued. "I will continue to fight for Alaska and for we, the people, but will take some time to reflect upon what that may look like."
"I am grateful to President Trump for his support and encouragement," Tshibaka added. "Stay tuned. The best is yet to come!"
The Epoch Times has reached out to McConnell's office for comment.
Correction: Murkowski voted to convict, not impeach Trump. The Epoch Times regrets the error.
From The Epoch Times