President Donald Trump's presidential campaign revealed it has raised more than $7 million since the former president was processed at an Atlanta jail and his mugshot was taken last week.
Immediately after the former president's mugshot was released online, it immediately drew considerable attention on social media. On X, the social media app formerly known as Twitter, President Trump posted on his account for the first time in more than two years, showing his mugshot while declaring election interference and directing supporters to his campaign website.
A spokesperson for the former president's 2024 bid, Steven Cheung, confirmed over the weekend that $7.1 million was raised since he was booked. On Friday alone, the campaign raised $4.18 million, which is the "highest grossing day" of the campaign, Mr. Cheung wrote on X on Saturday evening.
The spokesman noted that some $20 million has been raised in the last three weeks, which he said coincided with indictments in Washington, D.C., in separate cases. Special counsel Jack Smith indicted President Trump for allegedly mishandling classified documents and for alleged criminal behavior that he said the former president engaged in in the wake of the 2020 election and around Jan. 6, 2021.
"Organic money has skyrocketed, especially after [President Trump] tweeted out the picture along with the website URL," Mr. Cheung wrote.
The fundraising haul underscores how the former president's legal troubles have been a fundraising blessing. The mounting charges have also failed to denigrate his poll numbers, with RealClearPolitics on Sunday showing the former president with 55.1 percent, easily beating out Florida Gov. Ron DeSantis, who is No. 2, by more than 40 percentage points.
The mugshot, which was posted by a Georgia courthouse on the evening of Aug. 24, has since been turned into coffee cups, posters, bobblehead dolls, and T-shirts. It shows President Trump leaning forward and staring directly into the camera.
When President Trump made the post on X, the website he linked included the mugshot and asked supporters to make a "contribution to evict Crooked Joe Biden from the White House and SAVE AMERICA during this dark chapter in our nation's history." His website continued, "If you are doing poorly due to the sinister people in control of our country right now, don't even think about donating."
"The American people know what's going on. What has taken place is a travesty of justice and ELECTION INTERFERENCE. The Left wants to intimidate YOU out of voting for a political outsider who puts the American people FIRST," his donation site also said. "But I walked into the lion's den with one simple message on behalf of our entire movement: I WILL NEVER SURRENDER OUR MISSION TO SAVE AMERICA."
President Trump himself told media outlets after the arrest that it was a "terrible experience" and the mugshot wasn't a "comfortable feeling." The reason why, he said, is because he didn't do anything wrong.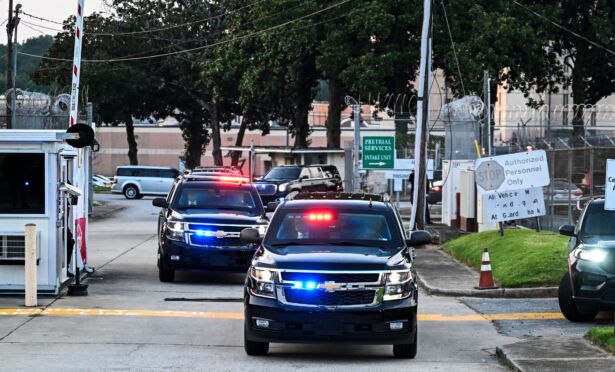 After the mugshot post to X, or Twitter, the former president has not made any new ones, although he continues to post on his own Truth Social platform. It's not clear if he will opt to come back to X, a platform that he used with devastating effectiveness throughout his 2016 campaign and presidency.
Meanwhile, some private and non-political groups have also attempted to capitalize on the mugshot. For example, Barstool Sports has been selling its own Trump mugshot T-shirts for $32, according to its website.
Aside from the mugshot, President Trump's height of 6 feet, 3 inches and weight of 215 pounds were pre-recorded and entered into the jail booking forms before he was released on $200,000 bail. He was also given a prisoner identification number of P01135809.
Late last week, his legal team opposed a request by Ms. Willis to stand trial in the Fulton County case on Oct. 23, according to a court filing. Attorney Steve Sadow also notified a judge that President Trump would soon file a motion to sever his case from co-defendant Kenneth Chesebro.
"President Trump further respectfully puts the Court on notice that he requests the Court set a scheduling conference at its earliest convenience so he can be heard on the State's motions for entry of pretrial scheduling order and to specially set trial," Mr. Sadow wrote. That filing came before the former president was booked.
A day before his mugshot was taken, the Republican National Committee and Fox News held the first 2024 debate, which the former president did not attend, citing his significant lead in opinion polls. Instead, President Trump appeared in an interview with former Fox host Tucker Carlson, released on X, that garnered more than 250 million impressions.
"The Interview has, at this moment, 260,000,000 Views, the biggest of all time, whereas the FoxNews Debate had only 11,000,000 Viewers," he wrote on his Truth Social platform. "End of story! If FoxNews doesn't get on board the greatest MOVEMENT of all time, MAGA, they will continue to Hemorrhage Viewers and Ratings—They will never come back—The beautiful Golden Goose will be forever gone!"
From The Epoch Times