Former President Donald Trump is facing a wrongful death lawsuit brought by the girlfriend of U.S. Capitol Police officer Brian Sicknick, who a medical examiner said died of natural causes a day after the Jan. 6 Capitol breach.
Sicknick's girlfriend Sandra Garza is seeking at least $10 million in damages from Trump and from each of the two men charged in connection with the Jan. 6 incident.
"The horrific events of January 6, 2021, including Officer Sicknick's tragic, wrongful death, were a direct and foreseeable consequence of Defendants' unlawful actions," reads the complaint (pdf), which was filed on Jan. 5 at the U.S. District Court for the District of Columbia by attorneys on behalf of Garza, who is bringing the lawsuit both individually and as a representative of Sicknick's estate.
Besides what could be a total of $30 million in monetary damages, Garza is seeking unspecified punitive damages and coverage of attorney's fees.
A spokesperson for Trump did not immediately return a request for comment from The Epoch Times, but a statement provided to Fox News called the lawsuit "frivolous."
"President Trump is immune from frivolous attacks and will continue to be fully focused on his mission to Make America Great Again," the spokesperson told Fox, while pointing out that Trump on Jan. 6 "clearly and unequivocally stated that Americans should 'peacefully and patriotically make their voices heard.'"
Two Jan. 6 rioters, Julian Khater of Pennsylvania and George Tanios of West Virginia, who were earlier charged with assaulting Sicknick with a chemical spray, were the two other defendants named in Garza's lawsuit.
Their attorneys were not immediately available for comment.
Khater earlier pleaded guilty to assaulting police on Jan. 6 and Tanios pleaded guilty to two misdemeanors.
Claims
Garza claims in the complaint that Trump "intentionally riled up the crowd and directed and encouraged a mob to attack the U.S. Capitol and attack those who opposed them."
"The violence that followed, and the injuries that violence caused, including the injuries sustained by Officer Sicknick and his eventual death, were reasonable and foreseeable consequences of Defendant Trump's words and conduct," the lawsuit alleges.
After the riot began on Jan. 6, Trump released a video in which he called on his supporters to "go home" and later said in a post on Twitter that the riot was a "heinous attack" and that lawbreakers would be held accountable.
"We had an election that was stolen from us. It was a landslide election, and everyone knows it, especially the other side, but you have to go home now," Trump said in the video at the time. "We have to have peace. We have to have law and order. We have to respect our great people in law and order. We don't want anybody hurt."
Besides wrongful death, the lawsuit accuses Trump of violating Sicknick's civil rights, negligence, and aiding and abetting assault.
Garza's lawyer told Fox News that any money from the lawsuit would be donated to charity.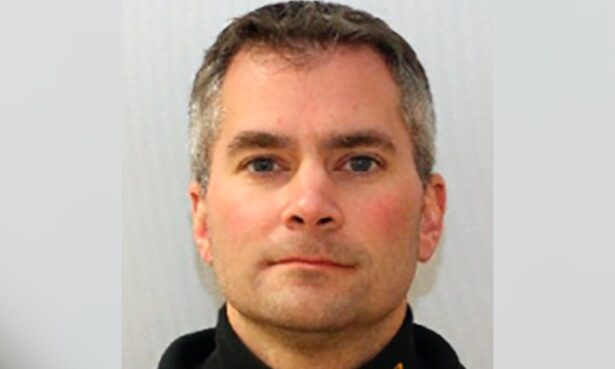 Sicknick's Death
Sicknick died on Jan. 7 from natural causes, according to a determination (pdf) issued by Francisco J. Diaz, chief medical examiner for Washington.
The officer was sprayed with a chemical substance outside the U.S. Capitol at around 2:20 p.m. on Jan. 6 and collapsed at around 10 p.m. later that day, prompting his being taken to the hospital.
Sicknick died the following day at around 9:30 p.m., with the medical examiner determining that the cause of death was two strokes at the base of Sicknick's brain while the manner of death was ruled "natural."
Diaz told The Washington Post in April 2021 that he found no evidence of internal or external injuries when examining the body of the deceased officer. He also said there were no indications Sicknick had suffered an allergic reaction from the chemical irritants he was sprayed with.
The examiner added, however, that "all that transpired played a role in his condition," referring to the events on Jan. 6, 2021, with Sicknick being among the officers who engaged the crowd amid the day's violence.
The U.S. Capitol Police said at the time that ruling Sicknick's death as from natural causes "does not change the fact Officer Brian Sicknick died in the line of duty, courageously defending Congress and the Capitol."
Then-Attorney General Jeffrey Rosen stated on Jan. 8 that Sicknick died of "injuries he suffered defending the U.S. Capitol."
Days after the riots, a number of media outlets cited anonymous sources claiming Sicknick had been beaten with a fire extinguisher, reports that were later updated to say his cause of death had actually not yet been determined.
The claim that Sicknick was killed by Jan. 6 protesters was invoked numerous times during the Democrat-led impeachment against Trump for "incitement of insurrection."
Trump has repeatedly denied any wrongdoing in connection with the Jan. 6 incident and referred to the impeachment proceedings as a "witch hunt."
A number of lawsuits have been filed in connection with the Jan. 6 Capitol breach. Some of them have been filed by individuals who were present at the Capitol on the day of the incident, while others have been filed by government entities or private organizations.
One notable lawsuit was filed by several House Democrats and Capitol Police officers against Trump, alleging that he incited his supporters to commit "acts of violence and lawlessness" at the U.S. Capitol on Jan. 6.
The lawsuit seeks to hold Trump accountable for the damages and injuries that were caused during the incident.
Trump and his allies sought to dismiss that suit, but a judge ruled in February 2022 (pdf) that the case can proceed to trial.
The lawsuits are ongoing and the outcomes have yet to be determined.
From The Epoch Times