Donations have soared to former President Donald Trump's campaign, with $7 million raised in just three days since he was indicted.
Jason Miller, senior adviser to Trump, made the announcement in a post on Twitter.
?In only three days since news of the indictment, President @realDonaldTrump's campaign has raised a record $7M.?#MAGA ??

— Jason Miller (@JasonMillerinDC) April 3, 2023
Miller's post follows an earlier announcement by Trump's political action committee, which noted that in the 24 hours since the former president was indicted by a New York grand jury, his presidential campaign had raised over $4 million.
The Make America Great Again Inc. political action committee said in a statement Friday that since a grand jury empaneled by Manhattan District Attorney Alvin Bragg voted on Thursday to indict the former president, his campaign has seen donations soar.
"This incredible surge of grassroots contributions confirms that the American people see the indictment of President Trump as a disgraceful weaponization of our justice system by a Soros-funded prosecutor," the statement said, noting that over 25 percent came from first-time donors.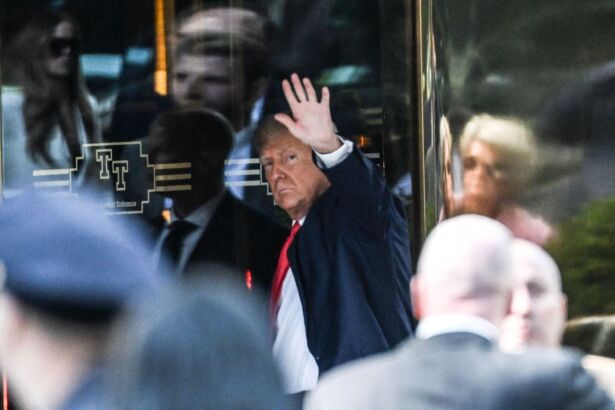 The grand jury voted on Thursday to indict Trump on allegations linked to a business records investigation related to a "hush money" payment to adult film actress Stormy Daniels in 2016 over an alleged affair Trump has denied.
Trump is the first-ever U.S. president to face criminal charges.
The former president's campaign called Bragg's investigation of the former president an "unprecedented political persecution" and "blatant interference" in the 2024 presidential election, with Trump being the leading Republican candidate.
Bragg, for his part, has pushed back on the characterization of the probe against Trump as politically motivated.
Leslie B. Dubeck, the general counsel for Bragg's office, wrote a letter to top House Republican chairmen, denouncing what she called "baseless and inflammatory allegations that our investigation is politically motivated."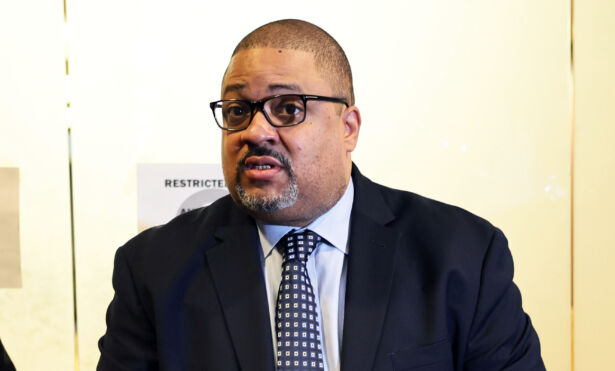 Legal analysts have said that Trump's defense lawyers are likely to raise a number of issues when he's arraigned, including that the statute of limitations bars the alleged charges and that the case may be based on a faulty legal theory.
Trump has insisted that he's "a completely innocent person" and that the indictment is the latest in a line of actions meant to "destroy" his Make America Great Again movement.
The exact charges in Trump's indictment remain under seal.
Trump Arrives in New York
Miller's announcement came as Trump was heading to New York City, where he arrived later in the day and spent the night at Trump Tower.
The former president entered the tower through a side door, away from the throngs of reporters and dozens of supporters waiting for him at the main entrance.
Security has been ramped up near the tower and the Manhattan Supreme Court ahead of the April 4 arraignment. Police have erected metal barriers, blocking access to part of the courthouse in lower Manhattan where the arraignment proceedings are set to take place.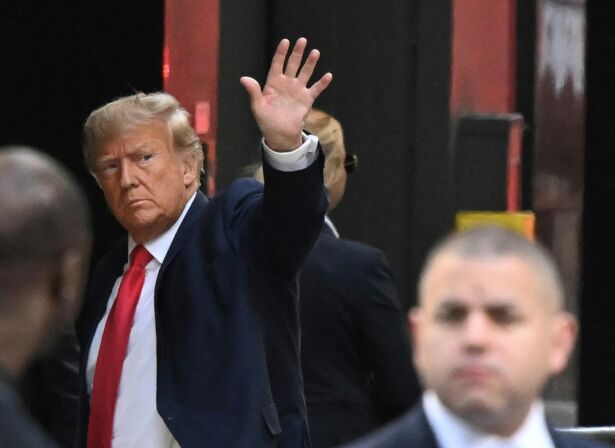 New York City Mayor Eric Adams, a Democrat, has urged people planning to travel to the city to protest to exercise control and "be on your best behavior."
"While there may be some rabble-rousers thinking about coming to our city tomorrow, our message is clear and simple: control yourselves," Adams said on April 3. "New York City is our home, not a playground for your misplaced anger."
Rep. Marjorie Taylor Greene (R-Ga.) is set to host a pro-Trump rally at a park near the Manhattan courthouse on the morning of April 4.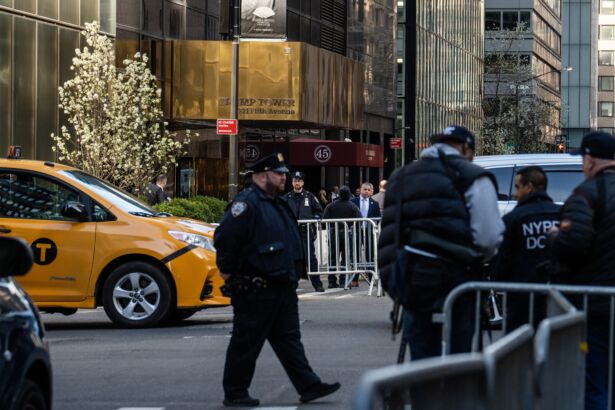 Plans to File Motions to Dismiss
Trump lawyer Joseph Tacopina said Monday he plans to file a number of motions to dismiss the case.
"There will be a host of motions we're going to make, including … a motion to dismiss based on selective prosecution and prosecutorial misconduct," Tacopina told Fox News' Sean Hannity on Monday.
Tacopina added that the defense team will consider other motions after seeing the indictment, such as a venue change or statute of limitations considerations.
Trump's arraignment hearing is set to begin at 2:15 p.m. local time on April 4, according to Lucian Chalfen, director of Public Information for the New York Court System.
The arraignment won't be televised after a judge presiding over the case declined a request from media outlets to let video cameras into the courtroom.
Five pool photographers will be allowed inside the courtroom before the arraignment begins, but they will only be allowed to take still photographs for several minutes, Acting New York Supreme Court Justice Juan Merchan decided in a ruling (pdf) late Monday.
Tacopina also addressed rumors that the judge might place a gag order on Trump that would prevent him and his lawyers as well as witnesses from talking about the case publicly.
He was asked by Hannity whether the judge would issue a gag order in the case and "prevent a presidential candidate from using his free speech rights and defending himself."
Tacopina replied that he doesn't believe this is the case.
"Won't happen. I don't believe anyone is even looking for that," he said. "That would really set ablaze the passions and the tempers that already have been inflamed by this case. People view this as a political persecution."
Defendants who violate a gag order in New York risk being held in criminal contempt, a Class A misdemeanor punishable by up to one year in jail.
Eva Fu contributed to this report.
From The Epoch Times