Former President Donald Trump has further solidified his lead in the Republican presidential primary, following the second GOP debate at the Ronald Reagan Presidential Foundation and Institute in Simi Valley, California.
"63% of potential Republican primary voters support Donald Trump for the GOP's 2024 presidential nomination, up from 58% in our survey released Monday ahead of the latest primary debate," Morning Consult said in its survey released on Sept. 29.
In comparison, Florida Gov. Ron DeSantis, seen as Mr. Trump's biggest rival, saw his support dip from 15 percent to 12 percent after the second debate, though the Florida governor is still in second place.
The survey, which polled 1,183 potential GOP primary voters, was conducted on Sept. 28, one day after the second debate, which Trump didn't attend. Instead, he spent the debate night in battleground Michigan, delivering a speech to striking auto workers.
Entrepreneur Vivek Ramaswamy and former South Carolina Governor Nikki Haley both lost 2 percentage points since the debate. Mr. Ramaswamy is at 9 percent and Ms. Haley is at 5 percent.
Former Vice President Mike Pence lost one percentage point and is at 5 percent. Meanwhile, Sen. Tim Scott (R-S.C.) did not see any change after the debate, remaining at 2 percent.
"This data reinforces our view that Trump is in the driver's seat of the Republican primary, and that Trump-less debates aren't having much of an impact on the other candidates' national support, and may in fact be helping the former president," the survey concludes.
In August, Morning Consult found that the support for President Trump went unchanged at 58 percent after he skipped the first GOP presidential debate in Milwaukee. Instead of attending the debate, the former president aired a pre-recorded interview he did with former Fox News host Tucker Carlson.
The second debate, which was aired on Fox News Channel and Fox Business, drew 3.5 million fewer viewers than the first debate.
Even with the absence of President Trump, the seven GOP presidential contenders did not make a breakthrough in the second debate, as they argued over topics including China, the border crisis, crime, fentanyl, and education.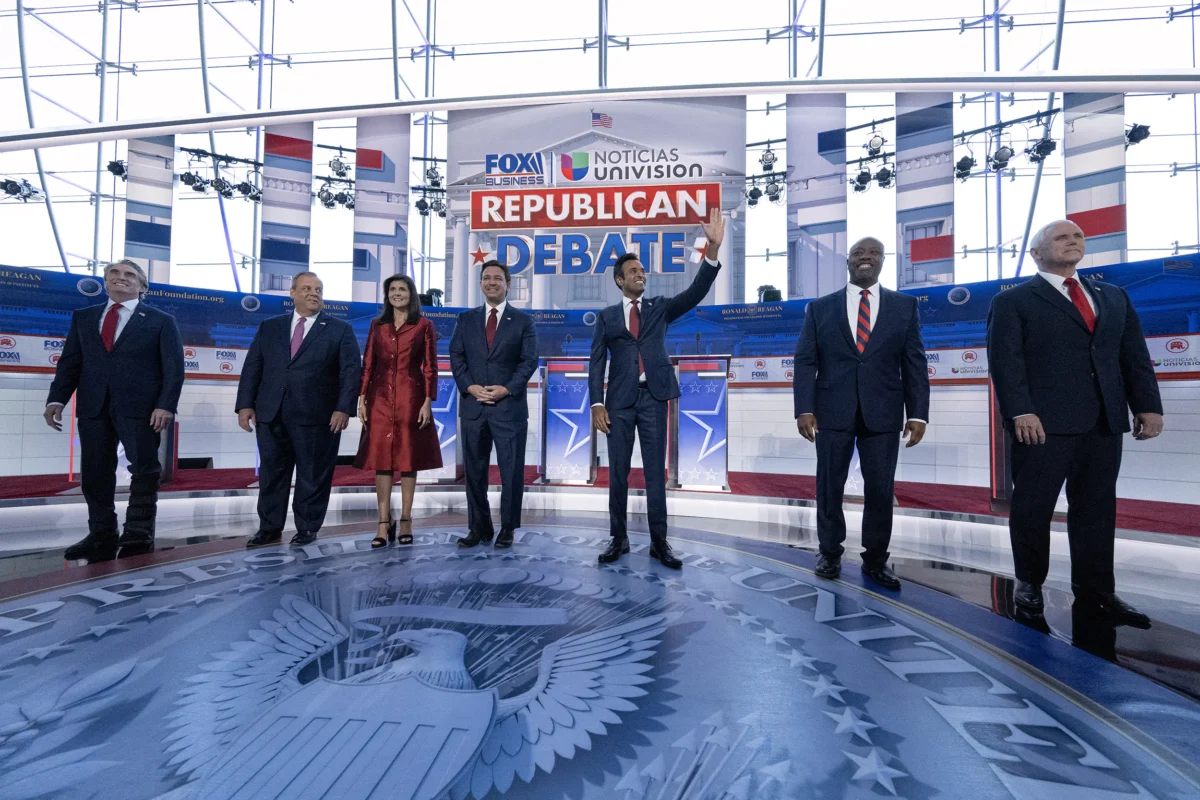 2024 Race
Another poll found President Trump's popularity has not been affected by his absence in the second debate. The Messenger/Harris poll, which inquired 1,615 registered voters from Sept. 28 to Sept. 29, found that 26 percent of respondents said they were more likely to vote for Mr. Trump following the second date. Mr. DeSantis and Ms. Haley finished tied in second place with 21 percent.
Mr. Ramaswamy finished third with 18 percent saying they were more likely to support him, ahead of Mr. Pence with 16 percent, former New Jersey Gov. Chris Christie with 15 percent, and Mr. Scott with 14 percent.
Following the second debate, Chris LaCivita, a senior adviser to President Trump's 2024 campaign, urged the Republican National Committee (RNC) to cancel future debates.
"Tonight's GOP debate was as boring and inconsequential as the first debate, and nothing that was said will change the dynamics of the primary contest being dominated by President Trump," Mr. LaCivita said on Sept. 27.
Mr. LaCivita added, "The RNC should immediately put an end to any further primary debates so we can train our fire on Crooked Joe Biden and quit wasting time and money that could be going to evicting Biden from the White House."
According to Mr. LaCivita, Mr. Trump has no plans to attend future GOP presidential debates, after skipping the first two. The third debate is set to take place in Miami on Nov. 8.
The former president is scheduled to host the Iowa Commit to Caucus event in Ottumwa, Iowa, on Oct. 1.
"Just landed in the Great State of Iowa," President Trump wrote on his Truth Social account on early Sunday. "Remember, I got the farmers 28 Billion Dollars from China. Nobody else would have even thought of doing that, and if they did, wouldn't have been able to get it done!"
The former president was also in Iowa on Sept. 20, when he told supporters in Dubuque that he would use troops to secure the southern border if reelected.
From The Epoch Times