Donald Trump's lawyer Joe Tacopina said he doesn't believe the Manhattan District Attorney's office's case against the former president will make it to a jury.
"This case is going to fall on its merits, on legal challenges, well before we get to a jury, if we get to a jury," Tacopina told NBC's "Today" show on Wednesday morning, coming hours after Trump was indicted for 34 counts of falsifying business records. Trump pleaded not guilty to all the charges.
Previously, Tacopina said his team would file motions to dismiss the case in the coming days. In an interview with CNN before the indictment was unsealed, the lawyer said that "there's no law that fits this," adding that DA Alvin Bragg is overstepping his authority by trying to charge a federal election crime as a local prosecutor.
During his "Today" interview, Tacopina was asked about comments from the former president about Judge Juan Merchan and Bragg. "I am laser-focused on the case, the legal case. I'm not his PR consultant, I'm not his social media consultant," he said when asked about the judge's verbal remark on Tuesday to refrain from conduct that could jeopardize safety.
"I mean, that's a relevant factor. It's not an attack on the judge or certainly his family," Tacopina added. "No one is suggesting that anything should happen to the judge or his family and President Trump's comments did not in any way, shape, or form incite violence."
There has been speculation that Merchan could impose a gag order on Trump amidst the charges against him. Critics say that such a move would have a chilling effect on the 2024 presidential race as Trump is the leading GOP candidate.
In another interview with CBS News, Tacopina described the unsealed indictment as "very vanilla" and that the indictment "did not list the underlying crimes he allegedly intended to cover up with false business records." He then asked: "What's to hide?"
"Understand, these false business record entries, which are not even false, are misdemeanor counts" for which "the statute of limitations is long gone," Tacopina stated on the "Today" show. "The only way to make this a felony is to cobble together a couple of misdemeanors—the false business records and the attempt to cover up another crime. But the indictment doesn't even list what the crime is."
The district attorney's office on Tuesday Trump of orchestrating payments to two women, Stormy Daniels and another, before the 2016 election to suppress publication of alleged affairs. Trump has categorically denied those claims, while an appeals court on Tuesday ordered Daniels to pay Trump $122,000 in legal fees hours after his arraignment.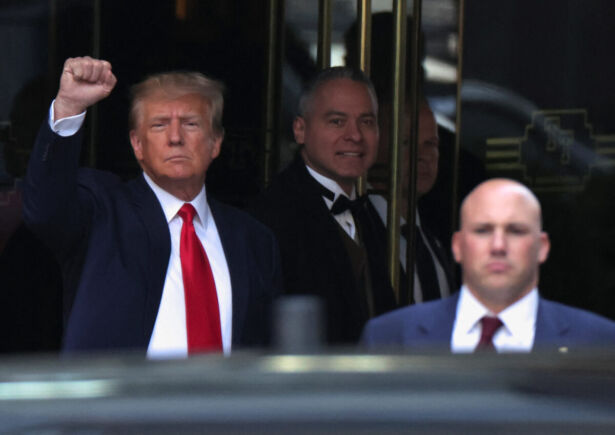 Prosecutor Chris Conroy stated: "The defendant Donald J. Trump falsified New York business records in order to conceal an illegal conspiracy to undermine the integrity of the 2016 presidential election and other violations of election laws."
Trump, who is running for the Republican presidential nomination in 2024, on Tuesday night in Florida gave a relatively short speech of 25 minutes, compared to his rally speeches which can sometimes last two hours.
While criticizing Manhattan prosecutors, he did not call for new protests from his supporters. And while he is expected to return to the campaign trail soon, he gave no details of that. Trump held his first rally in late March in Waco, Texas.
Also during his Mar-a-Lago address, Trump accused Manhattan District Attorney Bragg of being out to get him "before he knew anything about me." He said the judge in the case, Juan Merchan, is "a Trump-hating judge," previously noting that Merchan had presided over another Trump-related case.
Merchan set the next hearing for Dec. 4. Legal experts have said that a trial may not even get underway for a year, and the indictment or even a conviction will not legally prevent Trump from running for president. If a trial does occur at that time, it would run up against the GOP primary season in early 2024.
Reuters contributed to this report.
From The Epoch Times