Former President Donald Trump was charged with falsifying business records because he repeatedly issued checks to a lawyer for one purpose when the payments were actually for another reason, Manhattan's district attorney said on April 4.
Trump paid Michael Cohen, his lawyer at the time, in 2017 in monthly installments. The payments were ostensibly made as part of a retainer for legal services performed in 2017. But they were actually reimbursements for Cohen's payment to Stormy Daniels, an adult actress who has claimed Trump had an affair with her, according to charging documents.
"For nine straight months, the defendant held documents in his hand containing this key lie, that he was paying Michael Cohen for legal services performed in 2017," Bragg said. "And he personally signed checks for Michael Cohen for each of these nine months."
The payment to Daniels, made in 2016 before the presidential election that year, was made "to hide damaging information from the voting public," Bragg added.
Cohen paid Daniels $130,000 in October 2016 to "purchase [her] silence," according to information from Cohen's federal case, which resulted in Cohen pleading guilty to multiple charges. Cohen admitted in his plea agreement that "in coordination with, and at the direction of, [Trump], I arranged to make a payment" to Daniels, who had "information that would be harmful to the candidate and to the campaign, to keep the individual from disclosing the information."
Cohen said he made the payment "for the principal purpose of influencing the election."
Cohen pleaded guilty to campaign finance violations for contributing to Trump's campaign through the Daniels payment.
Cohen had listed on a form to a bank that the purpose of the payment was "retainer."
Cohen was ultimately repaid $420,000, a figure reached by first adding $50,000 and then doubling the $180,000. A $60,000 supplemental year-end bonus was also added after the doubling.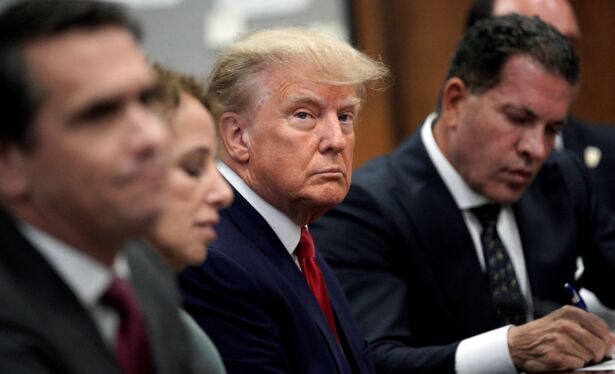 Felony Charges
Bragg spoke after Trump appeared for his arraignment on 34 felony counts of falsifying business records.
Falsifying records under New York law, a misdemeanor, includes making or causing a false entry in the business records of an enterprise or omitting an entry in the records in violation of a duty per the law or by nature of a position.
Falsifying business records rises to a felony when it's done with an intent to defraud that includes "an intent to commit another crime or to aid or conceal the commission thereof," state law says.
Each count carries up to four years in prison. Trump pleaded not guilty to the charges.
Trump was charged with felonies because he was falsifying records to conceal another crime, Bragg said.
Asked what the other crime was, he pointed to New York state election law, which prohibits conspiring to promote a candidacy by unlawful means.
He also alluded to Cohen's guilty plea.
Trump has not been charged with violating New York state election law.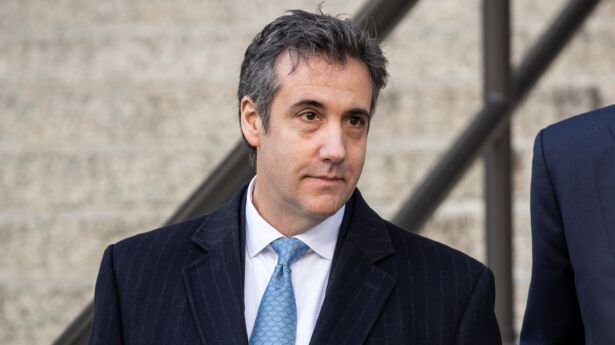 'Additional Evidence'
Bragg's predecessor, Cy Vance Jr., had been investigating Trump but did not bring charges against him.
Bragg had expressed reservations about the case but since that time, additional information was made available to the prosecutor's office, Bragg told reporters on Tuesday.
Bragg did not detail that evidence.
In court documents, Bragg said a Trump Organization official handled an invoice for some of the payments to Cohen and instructed another organization employee to "post to legal expenses" and to put "retainer for the months of January and February 2017" in the description.
Bragg's office also said that Cohen called Trump to let him know the FBI had searched his residences and offices in 2018, and that Trump returned the call and told Cohen to "stay strong."
Trump wrote on Twitter at the time: "Most people will flip if the Government lets them out of trouble, even if … it means lying or making up stories," but that he didn't foresee Cohen doing that.
After Cohen pleaded guilty, Trump wrote: ""If anyone is looking for a good lawyer, I would strongly suggest that you don't retain the services of [Cohen]."
Bragg said that text messages, emails, phone records, and information from multiple witnesses will be presented in the courtroom as the case progresses.
"I bring cases when they're ready," Bragg also said.
Trump did not speak to supporters after appearing in court, where he only spoke to enter a not guilty plea. He was scheduled to fly back to Florida to deliver a speech on Tuesday night.
Trump has said on Truth Social, his social media website, that he is innocent and that Democrats have "CRIMINALIZED THE JUSTICE SYSTEM."
Correction: A previous version of this article inaccurately stated how many years in prison each count carries. It is up to four years. The Epoch Times regrets the error.
From The Epoch Times