President Donald Trump and First Lady Melania Trump on Thursday paid respects to Justice Ruth Bader Ginsburg, who died last week, setting up a contentious Senate fight to replace her.
The president and first lady arrived at the Supreme Court building in Washington as Ginsburg lied in repose. Trump has held off on announcing his Supreme Court pick until Saturday and also offered words of praise for Ginsburg, who is considered a liberal and feminist icon.
"Today, our nation mourns the loss of a titan of the law," Trump said on Sept. 18 after her death was announced by the court. "Renowned for her brilliant mind and her powerful dissents at the Supreme Court, Justice Ginsburg demonstrated that one can disagree without being disagreeable toward one's colleagues or different points of view."
After lying in repose at the Supreme Court, her casket will then be taken to the National Statuary Hall of the United States Capitol on Friday, where she will lie in state. A ceremony will then be held for invited guests.
Photos showed Trump wearing a blue face mask decorated with the presidential seal. Several other top White House officials were seen observing the casket, including White House counsel Pat Cipollone and national security adviser Robert O'Brien.
When Trump arrived, crowds of people shouted at him and said to "vote him out" and to "honor her wish."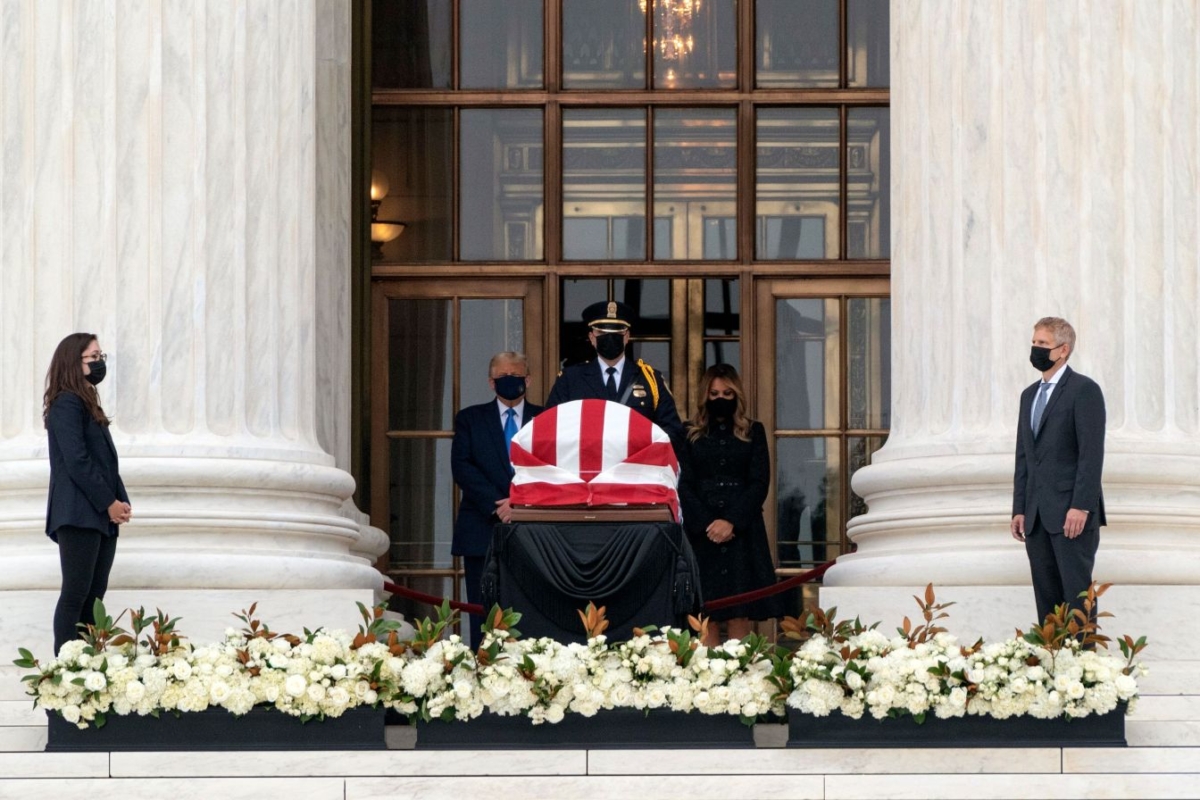 After Ginsburg's death was announced, it was reported by NPR that she dictated a statement to her granddaughter that her "most fervent wish is that I will not be replaced until a new president is installed."
White House press secretary Kayleigh McEnany told reporters at the White House later Thursday: "I think the chants were appalling but certainly to be expected when you're in the heart of the swamp."
Earlier this week, Trump said that he would work to fill the vacancy left by Ginsburg's death before the Nov. 3 election so the entire court could rule on cases that might arise from the election.
"I think this will end up in the Supreme Court," he said of the election results. "And I think it's very important that we have nine justices." Trump added that the nominating process should "go very quickly" in the Senate, as Republicans in the Senate "are very united."
Trump stressed that it's preferable to confirm the nomination before the election because Democrats are "pulling" a "scam" that will be challenged in the Supreme Court, without elaborating. "Just in case it would be more political than it should be, I think it's very important to have a nine-justice" court, he said. Over the past several months, Trump has warned that mail-in voting could lead to election rigging and delays.
Democrat lawmakers accused Trump of wanting to place a conservative justice in the court so it could hand the election to him. Meanwhile, some Democrats have threatened to "pack the courts" with more justices if their party wins the presidency and takes a majority in the Senate, while also threatening to use delay tactics in Congress.
When asked whether impeachment is on the table, House Speaker Nancy Pelosi (D-Calif.) told ABC News' "This Week" on Sunday that she will use "every arrow in our quiver."
Republicans have signaled they plan to move quickly to confirm Trump's nominee, while Democrats have objected, saying whoever is elected in November should fill the Supreme Court seat. At the same time, they have said that it is the president's Constitutional responsibility to appoint a new judge.
Trump said he will make the announcement on his Supreme Court choice on Saturday at 5 p.m. He said he's narrowed it down to five choices.
Zachary Stieber contributed to this report.
From The Epoch Times