After gaining some ground in the polls, Republican presidential hopeful Vivek Ramaswamy is receiving encouragement from an unlikely source—his competition.
In a CBS YouGov poll (pdf) published May 1, Ramaswamy—regarded by many as an underdog—pulled in 5 percent of the vote, tying for third place with former Vice President Mike Pence.
And although there was a wide margin between the entrepreneur and the leading candidate, former President Donald Trump, who received 58 percent of the vote, that didn't stop the latter from taking notice.
"I am pleased to see that Vivek Ramaswamy is doing so well in the most recent Republican Primary Poll, CBS YouGov," Trump said May 5 via Truth Social. "He is tied with Mike Pence and seems to be on his way to catching Ron DeSanctimonious."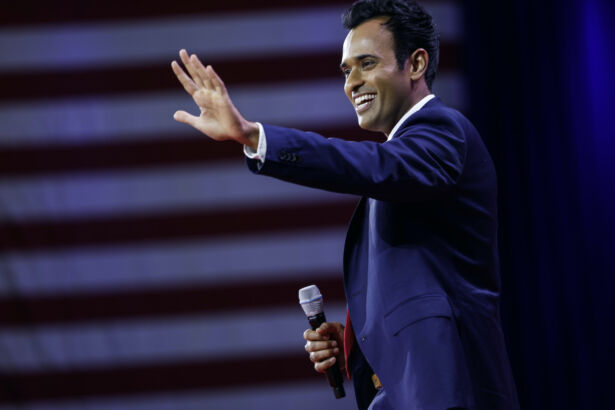 Florida Gov. Ron DeSantis placed second in the poll at 22 percent. And although he has yet to officially declare his candidacy, the former congressman has emerged as a frontrunner in the Republican primary field—another fact that has not escaped Trump's notice.
"The thing I like about Vivek is that he only has good things to say about 'President Trump,' and all that the Trump Administration has so successfully done—This is the reason he is doing so well," Trump continued. "In any event, good luck to all of them, they will need it!"
Name Recognition
As Pence has not declared his candidacy either, that puts Ramaswamy in second place among the declared Republican hopefuls, which also include former South Carolina Gov. Nikki Haley, talk radio host Larry Elder, former Arkansas Gov. Asa Hutchinson, and former Montana Secretary of State Corey Stapleton.
Given that Ramaswamy does not have the name recognition of some of the other candidates, his rise in popularity is worthy of note.
It is also true that he has made a point not to criticize Trump.
For instance, when the former president was indicted in March on falsification of business records charges, Ramaswamy forcefully defended his opponent in a video statement.
"If this had been anybody else other than Donald Trump, on this set of facts, it would have been charged as a misdemeanor at most, if at all," he said. "Yet what we see right now in our country is a ruling party that will stop at nothing, even using police force, to arrest its political opponents."
Ramaswamy has also likened himself to Trump as a political "outsider" who supports the same policies.
In a recent interview with Newsmax, the entrepreneur noted: "There's two outsiders in this race, that's Donald Trump and me. I think … by the end of this calendar year, it'll be down to the two of us, and part of what I'm doing is I'm taking Trump's America First agenda even further than Donald Trump did."
Given their similar stances on policy, some have already floated Ramaswamy as a potential running mate for Trump. Now, with his latest comments, the 45th president may be adding fuel to that fire.
From The Epoch Times