Former President Donald Trump, in his first major appearance since announcing his candidacy for president, said that the Republican success in retaking the House is the just "beginning of the battle" to save the United States.
"Breaking the radical Democrats' grip on Congress this month was vital—is a great thing. But we've always known that 2022 was not the end, only the beginning of the battle to save our country," Trump said. "Now, we have to take the fight straight to [President] Joe Biden and his radical and incompetent administration.
Trump made the remarks at the Republican Jewish Coalition meeting in Las Vegas via video link on Nov. 19.
"We have to push back hard on every overreach and call out every single failure, of which there's so many, and then we have to take back the White House in 2024—that's imperative," Trump said.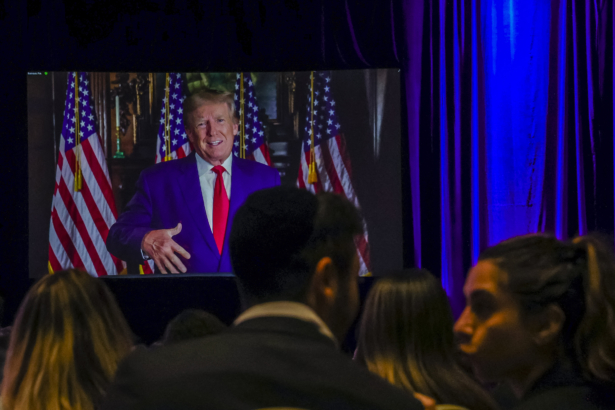 After hinting for months that he would run for president in 2024, the former president officially announced his third campaign for the White House on Nov. 15.
After announcing his White House bid, Trump revealed his "national greatness agenda" which includes several new policy proposals such as ending all of the Biden administration's COVID-19 vaccine mandates, cutting federal funding to schools that teach Marxist-inspired critical race theory, and pushing to require voter IDs, same-day voting, and only paper ballots.
"With [2024] victory, we will end Joe Biden's inflation nightmare and rapidly rebuild the greatest economy in the history of the world," Trump continued. "We will launch an all-out campaign to bring manufacturing out of China and back to America where it belongs. We will secure our southern border and stop illegal immigration once and for all."
America "will become energy independent as we were just two years ago," Trump added. "We will restore America's strength and standing on the world stage."
When asked about how he could make the Republican Party more appealing to suburban voters, Trump said that many of his endorsed candidates have won.
"In the midterms, as you've probably heard, I was 222 wins and 16 losses, the press doesn't want to mention that, and the Republican Party got five million more votes than the Democrats," Trump said.
According to Ballotpedia, 16 Trump-backed Senate candidates won in the midterm elections while 6 lost. Republican Herschel Walker, who is also endorsed by Trump, has advanced to a runoff election in Georgia's Senate race.
"The Republican Party is a much bigger and more powerful party than it was before I got there," Trump added.
According to a new Harvard CAPS-Harris Poll survey (pdf), which was conducted for two days ending on Nov. 17, 46 percent said they would back Trump for the 2024 Republican presidential primary, followed by Florida Gov. DeSantis with 28 percent and former vice president Mike Pence with seven percent.
In a hypothetical 2024 matchup, the survey also found that 44 percent would support Trump, compared to 42 percent who said they would vote for Biden.
Israel 
If elected in 2024, Trump also vowed that the United States will "stand with Israel once more," criticizing Biden for having "betrayed Israel and the Jewish community."
"The alliance is not strong now, not even strong by a little bit. Under my administration, we fought for Israel and the Jewish community like no president in history," Trump said. "Everybody in the room knows that I was proud to be the greatest friend Israel has ever had in the White House."
Trump spoke of his different achievements when he was president, including moving the U.S. embassy in Israel from Tel Aviv to Jerusalem in 2018.
"I also recognized Israeli sovereignty over the Golan Heights, something that most people didn't even ask me to do because they felt it was impossible—52 years they were working on that—I got it done in one day," Trump said.
The former president officially recognized Golan Heights as part of Israel in March 2019.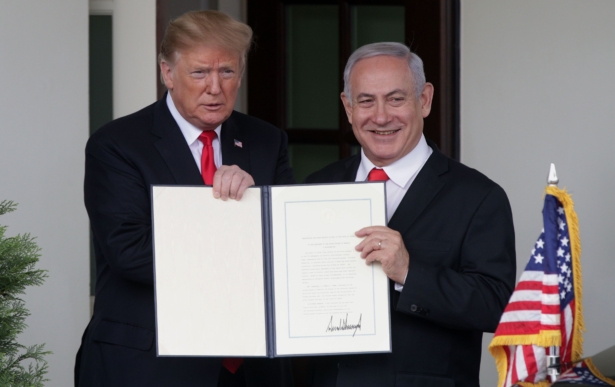 "I withdrew the United States from the corrupt hypocritical U.N. Human Rights Council, which had allowed the world—the world I mean the most horrific human rights abusers—to attack the United States and to attack Israel," Trump added.
The Trump administration pulled out from the 47-nation council in June 2018 but the Biden administration rejoined it last year. Currently, some of the world's worst human rights abusers sit on the Geneva-based council, including Cuba, China, Somalia, Sudan, and Venezuela.
"I withdrew from the one-sided Iran nuclear deal and imposed the toughest ever sanctions on the Iranian regime. … Working with our Israeli allies, we destroyed the ISIS territorial territorial caliphate—100 percent of it."
Trump also touted his administration's achievements in appointing a special envoy to "combat the scourge of anti-Semitism worldwide" and for brokering the Abraham Accords, which have normalized diplomatic relations between Israel and several Arab states, particularly the United Arabs Emirates and Bahrain.
"With the historic Abraham Accords, we created peace in the Middle East, something that nobody thought would even be possible to say, let alone get it done," Trump said. "Tragically, Joe Biden has betrayed Israel and the Jewish community and squandered our amazing success."
"From the very beginning, he [Biden] sold out Israel's security and began begging to re-enter the Iran nuclear deal on even worse terms than before. It was a disaster before but these would be even worse terms."
In mid-October, State Department spokesman Ned Price said the Biden administration was not focused on securing a nuclear deal with Tehran.
"When we win in 2024, the era of backstabbing and betrayal will end and the United States will stand with Israel once more and just as it did in my administration," Trump said.
"Two years ago, we were a great nation. And soon, with the help of the Republican Jewish Coalition and patriots all across this land, we will be a great nation again."