Former President Donald Trump has indicated that he is considering skipping the Republican Party's first primary debate next month, noting that there is a possibility he will organize an alternative event instead.
Citing his lead in polls and what he described as the hosting network's bias against him, Trump told Reuters in a telephone interview that he will "possibly not" attend the debate, to be hosted by Fox News on Aug. 23 in Milwaukee, Wisconsin.
"Why would I give them time to make statements? Why would I do that when I'm leading them by 50 points and 60 points," he said.
Trump called Fox News a "hostile network" and said he saw little merit in debating candidates who are far behind him in polling, like former New Jersey Gov. Chris Christie.
In recent months, Trump's relationship with the Rupert Murdoch-owned network appears to have turned increasingly sour. He has criticized the outlet for not covering his rallies or live speeches like it used to, downplaying his popularity with potential voters, and promoting the campaign of Florida Gov. Ron DeSantis.
"So interesting to watch Fox News cover the small and unenthusiastic 139-person crowd in Staten Island for DeSantis, but stay as far away as possible from coverage of the thousands of people—many unable to get in—at the Club 47 event in West Palm Beach, Florida," Trump wrote on Truth Social in February.
However, Trump said he was entertaining offers to hold a separate event during the scheduled debate or later that same evening.
"We've had a lot of offers, whether it's a rally or whether it's an interview by somebody else," he said. "Not to be braggadocious but the debate will not be a very exciting one if I'm not there."
The Republican Party's first primary debate will be a chance for voters to learn more about the pool of GOP candidates as they engage with each other and showcase their political views, which could be helpful in deciding which candidate to vote for.
Trump–Biden Matchup
National polls have consistently shown that Trump continues to remain the GOP's favorite candidate in the 2024 election. The former commander-in-chief also continues to hold a significant endorsement edge over all other candidates.
According to the RealClearPolitics (RCP) average as of June 28, Trump was outpacing his nearest Republican challenger, DeSantis, by more than 30 percentage points. All other GOP presidential hopefuls ranked in the single digits.
On the other side of the political spectrum, RCP shows that President Joe Biden is the clear frontrunner for his party's nomination. The Democrat president holds a whopping 50-point margin over environmental lawyer Robert F. Kennedy Jr., even though his family's name carries considerable cachet. His father was an attorney general, and his uncle was President John F. Kennedy; both were assassinated in the 1960s.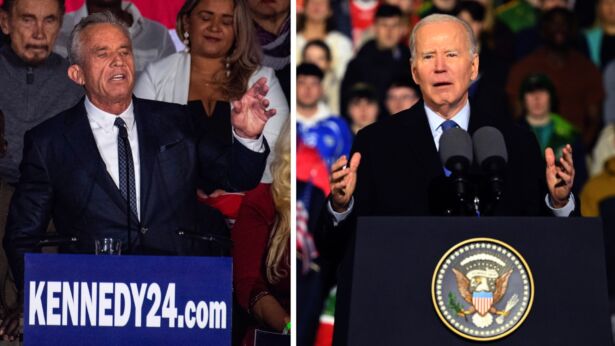 A Trump–Biden hypothetical matchup showed Trump with only a 0.6-percent lead—statistically insignificant considering that many polls included in the RCP average have margins of error of about 3 percent.
Meanwhile, Trump has drawn some criticism for suggesting he may skip the debate altogether, including from Christie, who accused the former president of being afraid to join the debate out of fear of losing his lead in the race.
"If Trump doesn't want to debate then he doesn't want to be president," Christie, a former Trump ally who is now one of his fiercest critics, said in a June 26 post on Twitter.
Reuters contributed to this report.