Former President Donald Trump said that he will not partake in an investigation after the Department of Justice (DOJ) appointed a special counsel to take over a probe related to presidential records that were held by Trump.
"I have been going through this for six years—for six years I have been going through this, and I am not going to go through it anymore," Trump told Fox News on Friday after Attorney General Merrick Garland's announcement about the special counsel. "And I hope the Republicans have the courage to fight this."
Garland said he appointed Jack Smith, the DOJ's former public integrity chief, to oversee the agency's investigations into Trump, including whether he mishandled documents as well as aspects of the probe into the Jan. 6 Capitol breach.
"Based on recent developments," Garland said, "including the former president's announcement that he is a candidate for president in the next election, and the sitting president's stated intention to be a candidate as well, I have concluded that it is in the public interest to appoint a special counsel."
But Trump said that previous investigations have turned up nothing and said Garland's announcement is politicized. The former president announced his candidacy for president in 2024 on Tuesday night.
"I am not going to partake in it," Trump told Fox News. "I'm not going to partake in this."
"I have never heard of such a thing. They found nothing. I announce and then they appoint a special prosecutor. They found nothing, and now they take some guy who hates Trump," he said, apparently referring to Smith. "This is a disgrace and only happening because I am leading in every poll in both parties."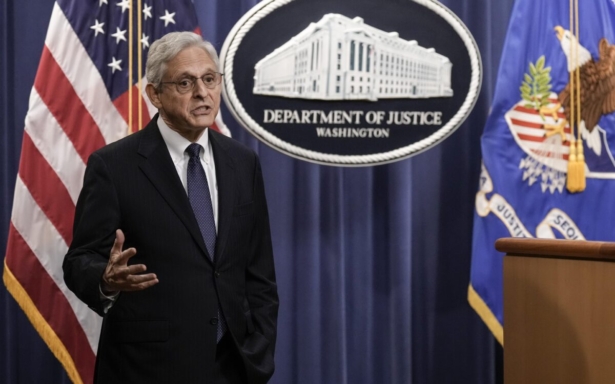 Trump added Friday "every other president took records, and they (the DOJ) didn't do anything about it." It came about three months after the unprecedented FBI raid targeting Trump's Mar-a-Lago in which agents took allegedly classified records, although few details have been publicly disclosed about the case since late September.
Regarding the Jan. 6 breach at the Capitol, Trump told the outlet that "I did nothing wrong." He again noted that during a rally near the Capitol that day, he told supporters to protest peacefully.
"It is unfair to the country, to the Republican Party, and I don't think people should accept it. I am not going to accept it," the 45th president remarked. "The Republican Party has to stand up and fight."
Garland Announcement
In responding to Trump's 2024 announcement, Garland said his decision to appoint Smith as a special counsel "is the right thing to do," adding, "The extraordinary circumstances presented here demand it. Mr. Smith is the right choice to complete these matters in an even-handed and urgent manner."
"Such an appointment underscores the department's commitment to both independence and accountability in particularly sensitive matters," the attorney general said. "It also allows prosecutors and agents to continue their work expeditiously, and to make decisions indisputably guided only by the facts and the law."
In a statement following that announcement, Smith said he would carry out the investigations "independently and in the best traditions of the Department of Justice."
"The pace of the investigations will not pause or flag under my watch. I will exercise independent judgment and will move the investigations forward expeditiously and thoroughly to whatever outcome the facts and the law dictate," Smith said.
From The Epoch Times