Former U.S. President Donald Trump said that if reelected, he would shift resources from federal law enforcement agencies and send thousands of overseas-based troops to secure the southern border.
President Trump addressed supporters in the city of Dubuque, Iowa, on Sept. 20. Iowa will host the Republican Party's first nominating contest for the November 2024 election in January and has been the primary host for nominating contests since 1972.
"Upon my inauguration, I will immediately terminate every open borders policy of the Biden administration. I'll make clear that we must use any and all resources needed to stop the invasion, including moving thousands of troops currently stationed overseas," President Trump said at a rally in Dubuque.
In his speech, President Trump also promised to expand on a travel ban enacted during his 2017–2021 presidency. The ban applied to people from multiple countries with predominantly Muslim populations, which President Trump said at the time was done to prevent terrorism.
President Trump did not elaborate on the ban and how the expansion would be implemented.
President Trump referred to the massive influx of illegal migrant crossings at the border as an "invasion," for which the current Biden administration bears full responsibility.
The majority of illegal migrants come from Central American countries, including Venezuela. The Biden administration has stated that it is using any available means to deal with the crisis while calling on Congress to pass laws to fix what it calls a broken system.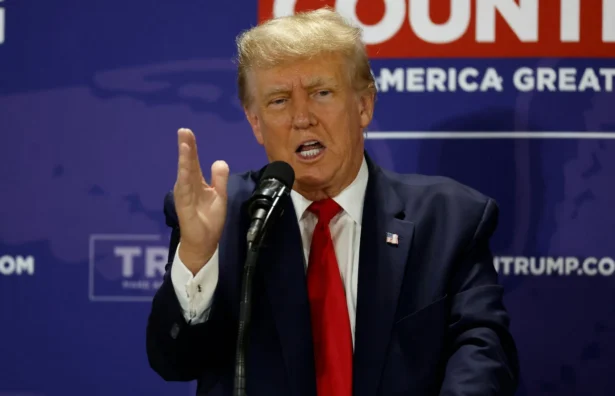 In light of the upcoming election, several of President Trump's rivals have ramped up their stance on illegal immigration, vowing tougher measures on dealing with the border crisis.
Many Republicans see the issue as one of the country's most pressing issues, right after matters on the failing economy and the drastic spike in crime throughout, according to a recent poll by Reuters/Ipsos.
Florida Gov. Ron DeSantis has made a similar pledge to President Trump in an interview with CBS earlier this month, adding he would authorize the use of deadly force against members of drug cartels.
Despite being President Trump's top rival, Mr. DeSantis is lagging behind President Trump in the polls by over 40 percentage points.
The Dubuque rally was one of two afternoon stops for President Trump in Iowa, with a series of further visits scheduled in the coming weeks.
Abortion Issue
The former president's visit to Iowa came amid criticism from some conservatives following his interview on NBC's "Meet the Press" on Sept. 17, where he was asked about his view on national restrictions on abortions.
President Trump pointed out that both Republicans and Democrats need to agree on a clearly defined timescale for abortions and that terminations after a certain period, as proposed by some Democrats, were not acceptable.
President Trump further reaffirmed his position that exceptions should be made in cases of incest and rape or where the mother's life is at risk.
"Without the exceptions, it is very difficult to win elections. We would probably lose the majorities in 2024 without the exceptions and perhaps the presidency itself," he said.
Reuters contributed to this article.