NEW YORK—As former President Donald Trump prepared to turn himself in to the Manhattan District Attorney's Office on April 4, protesters both for and against his indictment gathered across the street from the courthouse where he was set to be arraigned.
As chants of "No Trump, no KKK, no racist USA!" echoed on one side of Collect Pond Park, on the other side, Trump supporters gathered in solidarity with the former president.
Among the latter group was David Rem, 59, who attended the same private school as Trump—Kew-Forest in Forest Hills, Queens—and has known the Trump family since 1974, when his father died of a heart attack.
"Three days after my dad's body was buried, Donald Trump's father, Frederick Trump, knocked on my door at my house, asked to speak with my mother, and said, 'From this day forward, Mrs. Rem, you're not paying for two out of your three children. I'm on the board at Kew-Forest, and I am paying for those kids because I do not want them to be forced to go into the public school system,'" Rem recalled, overcome with emotion.
That experience, Rem said, had informed his opinion of why Trump continues to "put up with this nonsense."
"He loves this country, like no one ever has and no one ever will," Rem said. "And that is why he is running in 2024."
Further pushing back against claims that the indictment was an "embarrassment" for Trump, Rem countered that the charges against the former president were an embarrassment for the United States and called for Manhattan District Attorney Alvin Bragg's resignation.
He criticized Bragg's alleged soft-on-crime policies, noting that he had downgraded 52 percent of felony cases in his jurisdiction to misdemeanors. "Violent criminals don't do any jail time—that is an embarrassment. … That is disgraceful."
Trump was indicted by a Manhattan grand jury last week, and though the charges against him remain sealed, it is widely believed that they will include falsification of business records charges relating to a hush money payment made in 2016 to adult film actress Stormy Daniels.
Supporters of the 45th president have maintained that Bragg has chosen to pursue the case for political reasons in an attempt to keep him from returning to the White House.
However, those who dislike the former president, like New York resident Ozzie Hernandez, 59, say he needs to "finally face justice."
Anti-Trump Camp
"He's a walking felony," Hernandez siad. "Everywhere he goes, he commits felonies. He thinks he's above the law, and it's about time that he faces the music."
Long Island resident Tony Villar echoed those sentiments, noting: "I'm here to demonstrate my dislike for this man [Trump] and let people know that there are people here that really want to preserve democracy and care about the country. So, it's very important that we make people aware that our democracy is in jeopardy right now and that he should be held accountable for the things that he did."
Asserting that conservatives aimed to intimidate their detractors into silence using "authoritarian" suppression tactics, Villar stressed that it was important for people to protest.
As for Trump's indictment, the Long Islander said it would be "good for the country" because "nobody's above the law."
And while he said he believed Trump would win the 2024 Republican nomination for the presidency, he added that he also thought the indictment would ultimately hurt the former president in the general election.
"But what's more important is that we get the indictment on the insurrection—the sedition on Jan. 6 at the Capitol, where four police officers died," he stressed. "If Trump cared so much about the blue [police], he would have felt bad about that, but he never went to see the families or said anything to console them."
Clashes
While tensions ran high among the different groups, Tuesday's demonstrations were largely peaceful, though there were a couple of scuffles.
In one incident, a giant banner with the words "Trump Lies All the Time" prompted an altercation when a woman in a red MAGA hat tried to pick it up off the ground where it was displayed.
Later, when Rep. Marjorie Taylor Greene (R-Ga.) gave remarks in support of the 45th president, anti-Trump protesters began heckling, shouting obscenities, in whistling in the ears of Trump supporters to drown her out.
Decrying those actions in a Twitter post, Greene wrote: "I'm here in NY to protest with my voice against the weaponization of the justice system on innocent President Trump, but the counter protestors are coming to commit assault that can cause audible damage to everyone's ears including NYPD. But Mayor Adams warns me by name! If counter protestors are violating freedom of speech and committing assault, they should be arrested."
The day before, New York City Mayor Eric Adams had warned Trump supporters against engaging in violent protests, singling out Greene as someone who is "known to spread misinformation and hate speech" and telling her to be on her "best behavior."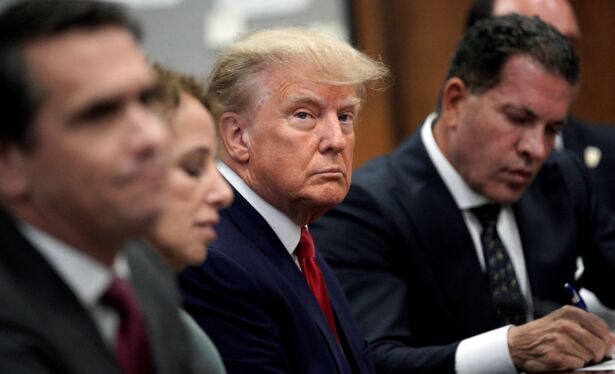 Words of Encouragement
Hours before his 2:15 p.m. court hearing, Trump took the opportunity to thank his supporters for their encouragement in a campaign email.
"As I will be out of commission for the next few hours, I want to take this moment to THANK YOU for all of your support," he said. "I am blown away by all of the donations, support, and prayers we have received. It's sad to see what's happening—not for myself—but for our country."
While adding that he believed the U.S. was becoming a "Marxist third-world country," he urged his supporters not to "lose hope in America."
"We are a nation that declared its independence from the world's biggest empire, won two world wars, and landed the first man on the moon," he noted. "Resilience is in our blood.
"Our movement has overcome so much. And there is no doubt in my mind that we will prevail once again and WIN the White House in 2024."
From The Epoch Times