RAPID CITY, S.D.–Former President Donald Trump declared that America's illegal immigrant crisis is so dire, Congress needs to act now, rather than wait for a possible second Trump administration.
"Tonight, I'm calling on congressional Republicans to ban Joe Biden from using a single tax dollar—no taxpayer money—to release or resettle illegal aliens into the United States," President Trump told a sold-out crowd of about 7,000 people at the South Dakota Republican Party's rally on Sept. 8.
President Trump urged Congress to act by the next government funding deadline, Sept. 30. "The time for talk is over—now is the time for action … People are tired of talk," the leading Republican presidential candidate said. The crowd roared its approval.
Republican lawmakers also should do more to hold Democrat President Joe Biden accountable for millions of dollars his family received from foreigners during his vice presidency, President Trump said.
Further, GOP members of Congress should block the Biden administration from reinstating COVID mandates, lockdowns, or other restrictions, he said, amid reports that new variants of the virus are spreading.
"The radical Democrats are trying hard to restart the COVID hysteria. I wouldn't know why," he said, sarcastically, adding: "Is there an election coming up by any chance? " During the pandemic, voting officials changed procedures; some Republicans allege that Democrats used the pandemic as an "excuse" to enable cheating.
'Cannot Wait Until 2025'
During a speech that spanned about 110 minutes and ended with a particularly emotional moment, the former president often cracked jokes that drew peals of laughter. But his tone turned somber when he described the immigration crisis and other troubles plaguing the nation.
President Trump has pledged to begin "the largest deportation operation in American history" if he wins his bid for reelection in November 2024. "But," he said, "we cannot wait until 2025 to begin stopping this horrible invasion."
His plea to Republicans in Congress comes amid increasing concerns over the impact of Mr. Biden's immigration policies, which have been criticized as lax. Trump's old stomping grounds in New York City, where he lived and made his fortune in real estate, are being overrun with illegal immigrants. Hundreds of illegal immigrants are also being held in inhumane conditions at the city's O'Hare International Airport, news outlets reported Sept. 8.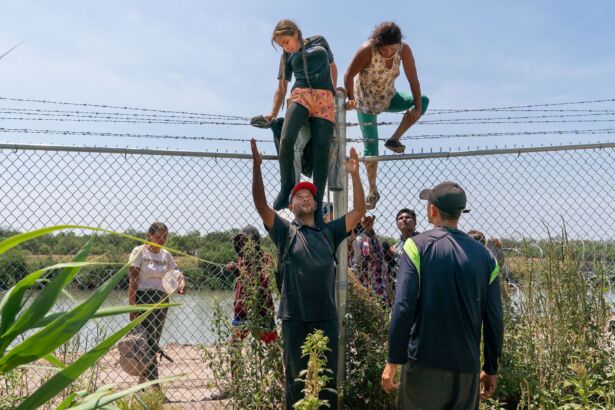 President Biden's administration says it is working to "rebuild a safe, orderly, and humane immigration system that was gutted by the previous administration" under President Trump.
But President Trump countered: "Week after week, we're watching Joe Biden's deadly border betrayals take precious innocent lives."
He described a couple of examples. In May, police in Maryland arrested five adults who are suspected Mexican gang members "for brutally murdering a 15-year-old boy and dumping his body in a state park." And last month, an illegal immigrant was arrested for raping an 11-year-old girl, strangling her, and stuffing her body into a laundry basket under her bed, President Trump said.
Parents of those children and many others "will never be the same," the former president said in a somber tone.
"Hundreds of thousands" of people are falling victim to criminals as well as illicit drugs that are entering through the porous U.S.–Mexico border, he said.
Only Trump
Before the former president's speech at The Monument arena, South Dakota Gov. Kristi Noem discussed the border. Ms. Noem said she had just visited the southern border two weeks ago. "Make no mistake; it is a war zone. And President Biden's policies are inhumane. He is ignoring federal laws. He is perpetuating drug and human trafficking. He's undermining our national security."
Then, she declared: "The only person in this presidential race who will fix that situation is President Trump."
She said he built sizable sections of a border wall and started the remain-in-Mexico policy, which requires asylum-seekers to stay in Mexico while waiting to appear for their U.S. court hearings.
Ms. Noem made headlines when she announced her endorsement of President Trump at the Friday night event near Mount Rushmore. There, likenesses of four U.S. presidents are carved into one of the world's best-known monuments; it served as a dramatic backdrop for a pre-July 4 speech that President Trump gave in 2020, while he was still in office. Ms. Noem was a featured speaker at that event, too.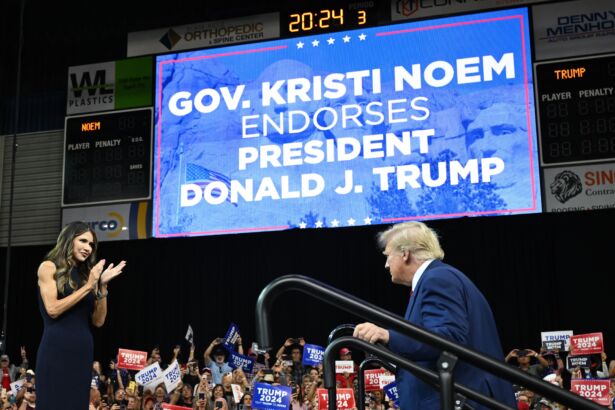 She said that other Republican presidential candidates turned down invitations to speak at the "Monumental Leaders" rally. "All of them told us that they had better things to do. But when President Trump was invited to come be with you tonight, he said, 'I will be there,'" Ms. Noem said.
South Dakota has only four electoral votes out of the 270 needed to win the presidency, so it's rarely on candidates' campaign calendars. However, Ms. Noem is considered a potential vice presidential running mate for the former president. A brief Trump/Noem 2024 graphic and a smattering of signs with that wording appeared at Friday's rally after she endorsed his candidacy.
One-of-a-Kind
Ms. Noem thinks the former president's folksiness, despite his billionaire status, helps explain his popularity. Despite four criminal indictments—or perhaps, as a backlash because of the indictments—President Trump is the clear frontrunner for the Republican Party's presidential nomination.
He revealed that his lawyers will attempt to dismiss most of the charges.
President Trump got the audience to laugh when he said that he thinks he is "the only person in the history of politics" whose poll numbers increased 25 points after being slapped with criminal charges.
But, on a more serious note, he said: "Republicans in the Senate and the Republicans in the House cannot let this go on, because people are being destroyed, lives are being destroyed by sick lunatics," referring to people who are bringing criminal charges against him and his allies who opposed the 2020 election results.
President Trump said his battle against the charges is a fight for "every patriotic American" who has been spied upon or treated unjustly by the "weaponized" justice system.
Ms. Noem said: "To him, every American is worth fighting for … and he will never forget about us, the little people in the little states that are the backbone of this country."
She said people often wonder: "Why are people so loyal to him?"
She answered: "I'm convinced it's because we have never seen anything or anyone like him ever before. And we've certainly never seen anyone like him serve in public office before. He is unapologetically himself. He's real. he's genuine. He is who he is and he never pretends to be something that he's not."
Emotional Moment
The former president is known as a maverick in many ways; he bucked tradition last month by skipping the first GOP presidential televised debate. And, at Friday's speech, he implied that he might do that again when the second debate is held in California on Sept. 27. Because he's leading his GOP rivals by wide margins in all opinion polls, President Trump says it makes no sense to subject himself to their attacks.
"You want a smart president, not a stupid president," he said, eliciting chuckles.
However, President Trump said he is looking forward to debating the Democrats' nominee, "whoever that may be." He doesn't know whether President Biden will be the Democrats' choice or not, considering the 80-year-old's recent struggles with physical and verbal stumbling.
As President Trump was winding down his speech, a powerful moment unfolded between him and the audience. The former president described how, in South Dakota and other parts of the American West, "generations of  hunters, trappers, cowboys, ranchers, miners, farmers, workers, and craftsmen helped build America into the greatest nation in the history of the world."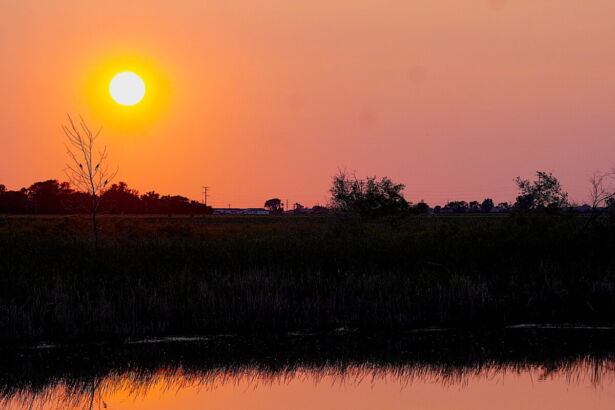 Then, as orchestral music began rising in the background, signaling he was nearing his conclusion, President Trump went stone-cold silent for at least 30 seconds. He was verklempt. Attendees stood up, some yelling, "We love you!" The former president appeared to struggle to maintain composure. He pursed his lips, shaking his head sideways as he shifted his position at the podium and finally uttered the next words: "We are a nation in decline."
The audience remained standing, mostly quietly, for the next 10 minutes as President Trump listed a litany of ills that he blames on his successor's decisions, including high inflation, interest rates and energy costs, as well as a weakened posture on the world stage.
He said people in foreign countries scoff at America because "we're led by a man who should never, ever have been allowed to be in that position," apparently referring to the 2020 election being "rigged" or "stolen."
President Trump alleged that the Department of Justice "refuses to investigate egregious acts of voting irregularities and fraud."
He assailed news reporters who "refuse to discuss the Biden crime family but enjoy covering false indictments of Donald Trump, who has done nothing wrong."
"We are a nation that has lost its confidence. lost its willpower and lost its strength. We're a nation that has quite simply lost its way," President Trump said. "But we are not going to allow this horror to continue. Three years ago, we were a great nation. And we will soon be a great nation again."
From The Epoch Times