Former president Donald Trump will visit East Palestine, Ohio next week, according to his son, who said that if leaders in Washington are "too afraid" to see the aftermath of the train derailment and toxic chemical spill with their own eyes, then "real leaders" will do so.
Don Trump Jr. made the announcement in a post on Twitter.
"Breaking News: Trump will visit East Palestine, Ohio next week. If our 'leaders' are too afraid to actually lead real leaders will step up and fill the void," he wrote.
The visit from the 45th president to East Palestine comes as the Biden administration faces criticism for what some are calling a slow response to the Feb. 3 derailment of a train carrying toxic chemicals.
Transportation Secretary Pete Buttigieg didn't address the incident until ten days after the train derailed in a fiery crash that sent a black cloud into the air over East Palestine from burning vinyl chloride.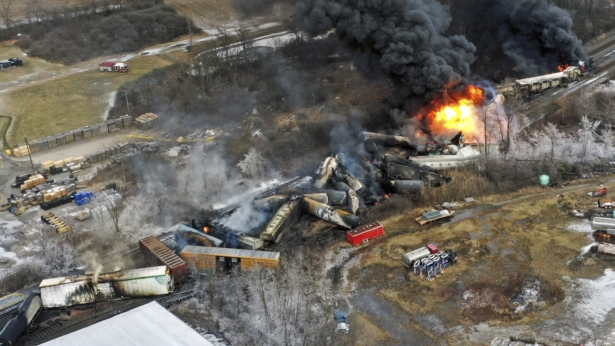 Also, a day after alerting Ohio Gov. Mike DeWine that the derailment and chemical spill doesn't qualify for an emergency declaration, the Federal Emergency Management Agency (FEMA) announced it will send a team to the disaster site.
'Trump Effect'
On the same day that Trump Jr. announced that the former president would visit the derailment site, the Biden administration said it had "mobilized a robust, multi-agency effort to support" residents of East Palestine.
George Papadopoulos, a former member of a foreign policy advisory panel to Trump's 2016 presidential campaign, linked the Biden administration's decision to provide FEMA aid to the former president's decision to visit the site.
"Trump announces he is visiting East Palestine. Up until that moment, Biden allocated exactly $0 in emergency relief to its affected population. One hour later? FEMA declares they are sending federal resources," Papadopoulos wrote in a tweet.
"That's the Trump effect. America first, always!" he added.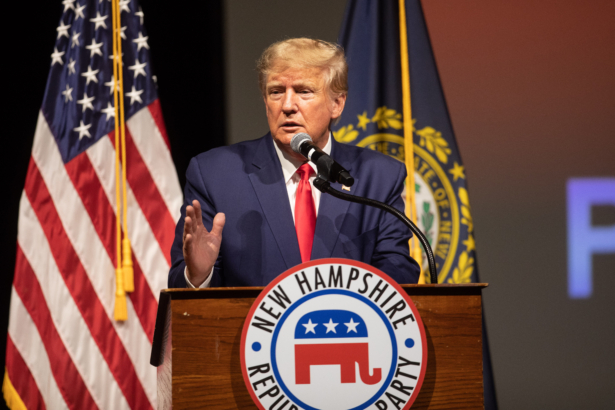 Toxic Concerns
Vinyl chloride has a range of potential impacts on animal and human health, including cancer of the liver and other organs.
Fearing an uncontrolled explosion, crews also deliberately engineered a controlled burn of vinyl chloride, which sent more smoke into the air.
Fallout from the derailment prompted the temporary evacuation of East Palestine's 5,000 or so residents.
Some locals have reported that their pets and livestock have shown concerning symptoms like vomiting and liquid diarrhea.
Multiple residents have also complained of headaches, vomiting, skin rashes, and blood in the stool.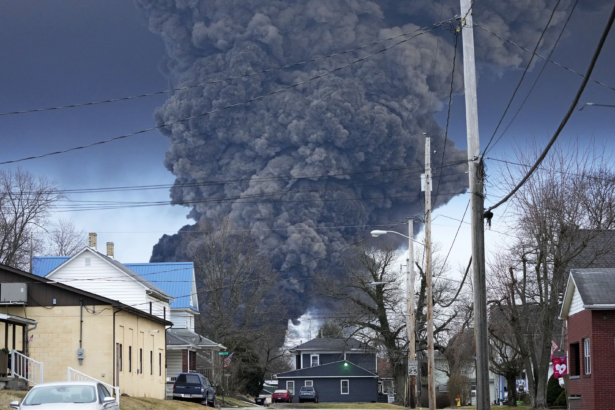 In the wake of the disaster, at least five lawsuits have been filed against Norfolk Southern, the railroad that operated the derailed train.
The company announced this week that it was setting up a $1 million fund to help the community. Norfolk Southern also said it was continuing to remove spilled contaminants from the ground and streams and monitoring air quality.
The U.S. Environmental Protection Agency (EPA) has been screening homes in East Palestine for air quality and testing water for contaminants.
EPA said in a Feb. 17 update that over 500 homes have been tested for indoor air quality.
"To date there have been no detections of vinyl chloride or hydrogen chloride above levels of concern," the agency said.
The agency also said that 38 private wells have been sampled as of Feb. 17, with another 9 scheduled for later.
'Hard' to Trust the Government
EPA Administrator Michael Regan visited East Palestine on Feb. 16, where he walked along a creek that still reeks of chemicals after the derailment that caused a fire and sent a cloud of smoke over the town.
"This incident has understandably shaken this community to its core," Regan said at a press conference.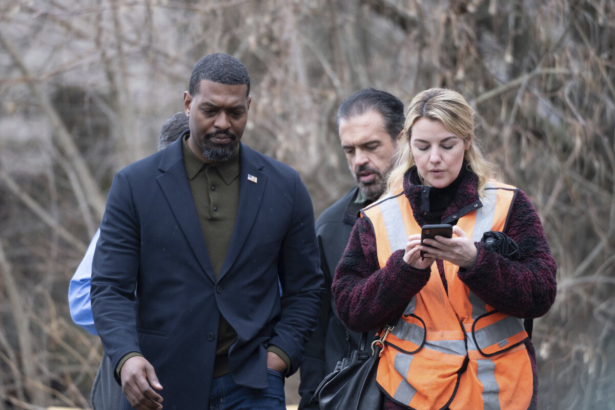 While recognizing that trust in the government was sparse in East Palestine, Regan urged residents to have confidence in the air screening and water testing in homes, wells, and the municipal water system.
Regan said that testing of municipal water found no contamination. Still, he urged residents who use private wells to continue using bottled water and get their wells tested.
The official told wary locals to "trust the government" as he sought to reassure them that their water is fit for consumption and the air safe to breathe.
However, he acknowledged, "that's hard. We know that there is a lack of trust, which is why the state and the federal government have pledged to be very transparent."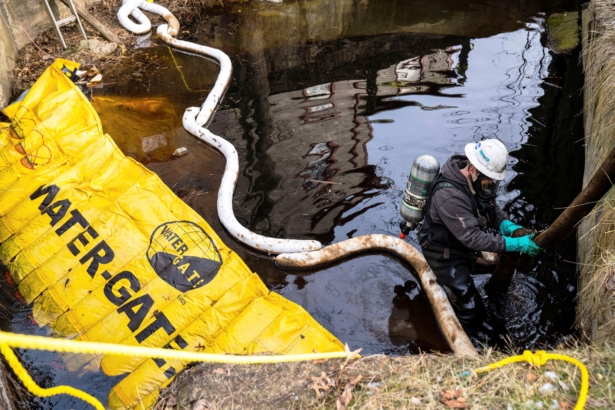 Trust the Science, Trust the Ratings
During his visit, Regan was asked by a concerned resident if he and other officials would allow their own children to drink the town water.
"If those homes have been tested by the state and given a clean bill of health, yes, as a father, I trust the science," Regan said.
"Based on the work that the state has done to test the water, the air and the water are safe for those residents that we have deemed being safe," Regan said, encouraging such individuals to "come back" to their homes.
He added that residents whose homes or wells have not been tested should contact the EPA to get them checked out.
But he insisted that he would "trust the ratings."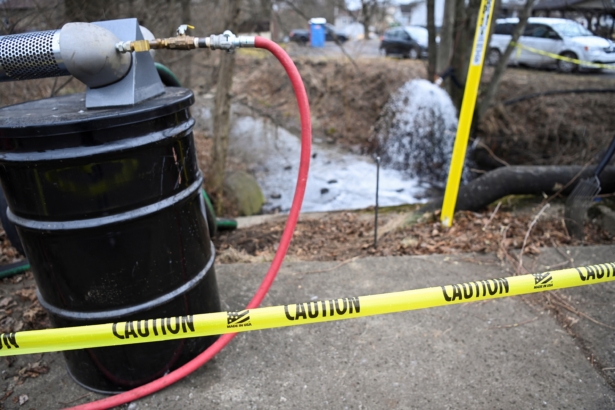 "If we say that the water is safe, and the air is safe, we believe it because we tested it and the data shows it," Regan said.
Residents Report Symptoms
Since the accident, some residents have reported headaches and feeling dizzy; others have complained about vomiting and blood in the stool, among other symptoms.
Regan said that anyone who experienced any kind of adverse reaction should seek medical attention.
"We ask that they contact the local and state health agencies because we want that information, we want to hear from people," he said.
He was quick to add, however, that he's confident in the safety of areas tested by EPA and deemed safe.
"We believe that because the science and the data proves that," he said. "But that is not to discount any experience that any resident is having," he added.
Asked about reports that "a lot" of residents had developed rashes and that one person said they were coughing up blood and had trouble breathing, Regan repeated his recommendation to seek medical attention.
From The Epoch Times