President Donald Trump says he hasn't decided whether or not he'll participate in the upcoming Republican presidential debate.
During an interview with Fox News' Maria Bartiromo that aired on July 16, Mr. Trump suggested that it may not make sense for him to participate, citing his hefty lead over his closest competitors for the nomination.
The Republican National Committee has released controversial requirements for making the cut to be on the debate stage come Aug. 23, including a candidate having received donations from at least 40,000 unique donors. A more debated requirement would demand that any candidate on the stage pledge to support the final nominee, a requirement that has drawn ire from both Mr. Trump and anti-Trump competitors.
"Will you be on that stage? Are you participating in the upcoming debate?" Ms. Bartiromo asked.
Mr. Trump replied ambiguously, saying, "Well, you know, it's quite an easy question normally. Ronald Reagan didn't do it and a lot of other people didn't do it. When you have a big lead, you know, you don't do it."
According to RealClearPolitics polling averages, Mr. Trump currently enjoys a 32.4 percent lead over his closest competitor in the GOP primary field.
"We have a lead of 50, 60 points in some cases, and some of these people are at zero," Mr. Trump said, a reference to his overall performance in some polls. Polls consistently show Mr. Trump near or above 50 percent among likely Republican voters.
Meanwhile, Mr. Trump cited polls showing that Florida Gov. Ron DeSantis—the runner-up for the nomination—is polling in the teens in some cases. While Mr. DeSantis has averaged above 20 percent support, some polls show the Florida governor as low as 14 percent, with Mr. Trump enjoying a whopping 45 percent lead.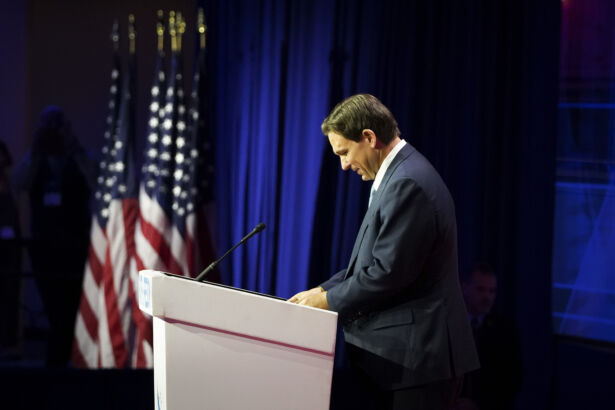 "Why would you be doing a debate? It's actually not fair. Why would you let somebody that's at zero, or one, or two, or three, be popping you with questions?" Mr. Trump said.
Ms. Bartiromo asked, "Do you see any risk that if you don't show up, Ron DeSantis has a good night and it cuts into your lead?"
Mr. Trump replied, "Or somebody else has a good night and cuts into his lead. Because that's what's happening. He's going down and a couple of them are going up."
"I think Vivek [Ramaswamy] has done a very good job frankly, I think some others have done a good job," Mr. Trump added. "So I haven't really made up my mind."
Potential VP, Cabinet Members
Mr. Trump also indicated that some of the candidates appearing on the debate stage could be options for his running mate if he wins the nomination.
"Is there anyone on that stage you see as potential running mate, as your VP?" Ms. Bartiromo asked.
"Possibly," Mr. Trump replied. "I think you have some good people on the stage. Actually, I think you have some very talented people. I've been impressed by some of them. Some of them I'm very friendly with, actually.
"I think you have good people. I think you have good potential Cabinet members too, actually," Mr. Trump added, but demurred from giving specific names.
Ms. Bartiromo raised Sen. Tim Scott (R-S.C.) as a potential running mate or cabinet member.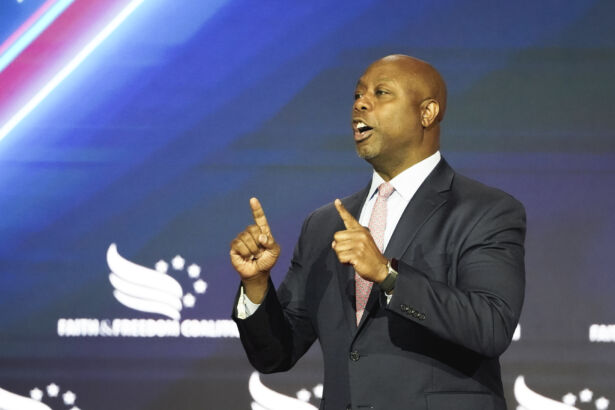 "Do you see yourself perhaps for the senator, Tim Scott?" Ms. Bartiromo asked.
"I think he's a very good guy," Mr. Trump said.
"We did opportunity zones together. It's never been talked about as one of the most successful economic development things ever done in this country," he added, referencing a policy under which certain disadvantaged and poverty-stricken communities are eligible for tax exemptions in the hope of kindling economic growth.
"Tim is very good," Mr. Trump said. "I mean, I could see him doing something with the administration, but he's … right now campaigning and I'm sure Tim and everybody else would say 'I'm only interested in one.' But Tim is a talented guy and you have other very talented people."
Winning Suburban Voters, Women
Mr. Trump also expressed confidence that he could win the vote of suburban women, a key voting demographic that, according to some exit polls, helped Mr. Trump win in 2016.
"Do you have a plan to get hundreds of suburban women to believe that your policies will make their lives better?" Ms. Bartiromo asked.
Mr. Trump replied, "Yes, it's called safety. It's called the border. It's called a strong military. It's called low taxes and low interest rates, so you can buy a home. It's called keeping low-income housing out of the neighborhood of somebody that's very proud of their house.
"But it's really about safety and it's about low taxes, and it's about not going into ridiculous wars."
From The Epoch Times