ANAHEIM, Calif.—After hearing former President Donald Trump describe their state's Leftist-induced woes—and his resolve to reverse them—California Republicans said they feel new optimism in this Democrat stronghold.
If circumstances worsen, more Democrats and voters with "no party preference" might consider casting ballots for the Republican former president to ease their pain, several attendees at the California GOP (CAGOP) Fall Convention told The Epoch Times.
"He's giving us hope that we can be a 'Golden State' again," said Shelley Freeman, who was among more than 1,500 people who paid $500–$600 apiece to hear President Trump speak at a luncheon Sept. 29, the first day of the three-day convention at the Anaheim Marriott Hotel.
But ensuring a fair election poses a big concern here, attendees said. So does getting Democrats or "Never Trumpers" to open their eyes to the former president's proposal for a return to law and order.
"They wear what I call the 'I-Hate-Trump' glasses," said conventioneer Joan Riebli. "But if you take them off for just a second, things start to look totally different."
Ron Edwards, a conventioneer who lives near San Francisco, told The Epoch Times that the next election could be largely decided based on "inflation and the pain that the working men and women feel when they mark their ballots." He says President Trump's pledge to impose law and order "is a true need that we have in America that transcends party."
Comedic Relief
President Trump seems to understand that, in California, sometimes derisively labeled, "the Left Coast," environmental and social policies have become entrenched and are wreaking havoc on people's daily lives worse than in other states, attendees told The Epoch Times.
"While California was once a symbol of success, today, under the radical Left fascists that run your state, it is becoming a symbol of our nation's decline," President Trump said. He also declared: "This is a state that the right Republican can win and actually win easily."
To ensure fair elections, President Trump advocates eliminating mail-in ballots, replacing voting machines with paper ballots, limiting voting to Election Day, and requiring voters to present valid ID cards at the polls. But until those changes can be made, Republicans must work within the existing system, he said. To win, Democrats must cheat because "Their policies are so bad that they couldn't get elected …Who's going to get elected with open borders, a woke military, high interest rates, high taxes, a country that's not respected anywhere in the world?"
As he described the fallout from "woke" policies in California, President Trump kept the sold-out crowd in stitches for much of his 90-minute talk. He appeared more animated than usual, observers noted.
"It was like a stand-up comedy routine," Ms. Riebli said.
She drove seven hours from her home in Northern California to attend the CAGOP convention and hear President Trump. "He was at the top of his game, and 'spot-on' about the problems we're up against," she said.
Blaming nonsensical policies on Democrat leaders, President Trump repeatedly exclaimed, "These people are crazy!"
Fuel regulations unique to California help drive up the cost of gasoline above $6 a gallon, nearly twice the national average.
Water-use restrictions turn fertile farmlands parched and barren, while millionaires are discouraged from taking decent showers.
"They're told to hurry up; you're only allowed a small amount of water … That's why rich people from Beverly Hills, generally speaking, don't smell so good," President Trump remarked, touching off peals of laughter.
The former president, in a reference to his distinctive comb-over hairstyle, quipped that water flow is key because "I want to work really hard on my hair." The audience snickered.
President Trump also blamed Democrat policies for fostering illegal immigration, large homeless encampments, "out-of-control taxes," rolling power outages, "child sex mutilation" stemming from  transgender ideology, and "bands of looters, criminals and thugs."
"Other than that, I think they're doing quite a good job," he said sarcastically. As the audience howled with laughter, he added: "How the hell do people vote for these people?"
'Sacrificed Everything'
The former president made few references to the criminal indictments he faces, perhaps because federal prosecutors have been pushing for judges to restrict his speech related to those cases.
The former president has pleaded not guilty to charges alleging that he mishandled National Defense Information, falsified business records in New York, and conspired with others to upend the results of the 2020 election in Georgia. President Trump maintains that the election, which declared then-candidate Joe Biden the winner, was "rigged."
In addition to the criminal cases, the former president faces several civil lawsuits. In one such case, a state judge in New York ruled that President Trump and his company are liable for fraud, for alleged overvaluation of assets and net worth in real-estate transactions, The Epoch Times reported.
The native New Yorker amassed billions of dollars as a real-estate developer for decades before he entered politics in 2015 and made a successful run for the presidency, followed by the hotly disputed 2020 victory awarded to Democrat Joe Biden.
Ms. Freeman said it hit her hard when she learned that the New York judge is decertifying all of Trump's businesses.
"He has literally sacrificed everything that he and his family have ever worked for; he's doing that for us," she said. "So people need to think about that. Everything that that man has ever built, is now sacrificed and being lost for us—the whole country—and he's still here … He's not backing down; it's incredible."
He called the audience "courageous patriots" and said they are "the last line of defense between this state and total anarchy."
But President Trump also said: "And I am here to tell you that help is on its way." He pledged to begin fixing California's issues on Inauguration Day 2025. To get there, he must win his party's nomination and go on to defeat the Democrats' nominee in November 2024.
Republicans 'Isolated' in SoCal
President Trump suggested that California Gov. Gavin Newsom has become the "top surrogate" for President Biden because "he doesn't think Biden is going to make it" through the rest of the 2024 presidential campaign.
The Democrat president has sometimes been disoriented during public appearances, raising questions about the 80-year-old's fitness to hold office. At the same time, some politicos think Democrats might consider making Mr. Newsom their nominee.
As of Sept. 29, President Trump was holding a 1 percent lead over President Biden, RealClearPolitics (RCP) said.
Earlier this month, an ABC News/Washington Post poll showed President Trump defeating President Biden by 10 percentage points. Critics dismissed that poll as an "outlier," and possibly inaccurate.
But President Trump pointed out that a second poll, which the New York Post released just before his CAGOP speech, also showed him with a double-digit lead on President Biden.
During the GOP convention, speeches from a trio of other GOP hopefuls—Florida Gov. Ron DeSantis, Sen. Tim Scott (R-S.C.), and businessman Vivek Ramaswamy—were also on the agenda.
Those appearances gave Republicans "a sudden surge of relevance" in a state where Republicans make up less than a quarter of registered voters, the Sacramento Bee reported.
"No Republican has won a statewide office in California since 2006," the newspaper pointed out.
And no Republican presidential candidate has won California in a general election since 1988, when George H.W. Bush defeated Democrat Michael Dukakis, according to 270towin.com. President Bush's election win followed back-to-back victories for Republican President Ronald Reagan in 1980 and 1984.
Patricia Ambrose, a conventioneer from Los Angeles County, said: "As Republicans in a 'blue' [Democrat] state, we feel so lost and so isolated." Ms. Ambrose noted that President Trump focused heavily on specifics affecting her state. Typically, he provides more limited remarks relevant to each venue. Ms. Ambrose thinks he demonstrated a strong understanding of issues important to Californians.
Numbers Tell Tale
During the 2024 election cycle, President Trump is leading a crowded GOP field. Although he faces more than a half-dozen challengers, President Trump is drawing 52 percent of Republican voters in California and 57 percent of Republicans nationally, according to the RCP average.
Under a new CAGOP rule change, "if a candidate secures a majority [50 percent plus one] of the statewide vote total, that candidate will receive all 169 of California's delegates," the state GOP said in a July 29 statement.
To win the Republican Party's nomination, a candidate must secure an estimated 1,234 delegates from across the nation, according to Ballotpedia.
Some pundits say further Republican debates are pointless, considering the wide margins that separate President Trump from all of his competitors; he has skipped both previous debates for GOP presidential contenders.
California holds the nation's highest allotment of electoral votes, 55—making up one-fifth of the 270 electoral votes needed to win the presidency after the November 2024 election.
President Trump, however, appears unlikely to win the Golden State in the general election if past patterns hold true. He lost the state by more than 30 points in both 2016 and 2020, and is poised to lose the state to Joe Biden by a similar margin, pollsters say.
About 47 percent of registered voters are Democrats, while Republicans and those without a party preference each account for about a 23 percent share.
Winning?
In the past, President Trump has asked one of his trusted advisers, attorney Harmeet Dhillon: "Can I win California?"
Ms. Dhillon, who is a Republican delegate, told The Epoch Times: "Anything is possible, and the way the state is going, and I think we're going to pick up more votes than we had in prior cycles. But California is a challenge."
A San Francisco resident, Ms. Dhillon said crime, grocery prices, and the cost of housing and education have all increased "out of control."
"So the tide is turning in California towards more of a conservative outlook, and that gives Republicans opportunities," Ms. Dhillon said. "And even though we may not win at the presidential level with the top of the ticket, having a strong and popular top of the ticket gets turnout going."
Ms. Dhillon said she senses increasing support for President Trump among minority voters and blue-collar workers. "Mainstream media" coverage tends to cast the Republican Party as the party of white men, she said, adding, "That is not the case."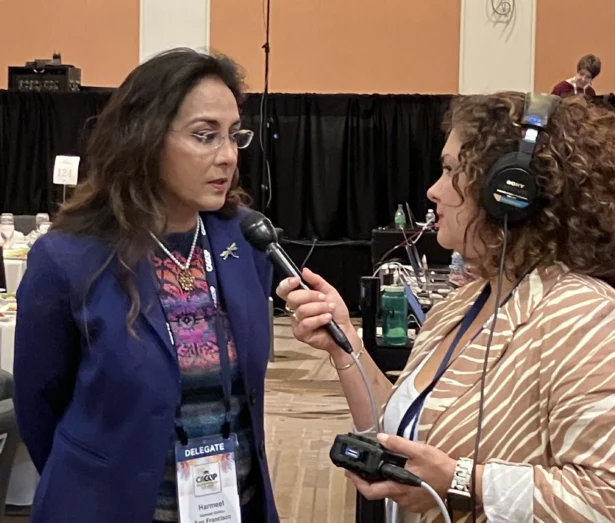 "People of all faiths don't want their children to be subjected to Left-wing propaganda in the schools. These issues, separately, are uniting a growing number of Americans around the Republican Party," she said.
Mariam Dagdidian, who left Armenia when she was 10 and became a U.S. citizen after she turned 18, proudly displayed a Trump screensaver on her cellphone. She is a fan of the former president for many reasons but says that her biggest concern is that, "under Biden, everything is upside-down."
"Gas prices and inflation are high; and we don't feel safe and we don't have the border security," she said.
Evelyn Jones, a 52-year-old Hispanic woman from Orange County, said she supported then-candidate Donald Trump from the outset of his candidacy in 2015.
"I think that we needed someone that is more business-savvy, and I thought he was perfect," she said, noting she is a graduate of a college business program.
She voted for him during both of his prior presidential runs and intends to do so again.
"President Trump has been consistent. He has not given up since Day One. So that's why I support him," she said.
Ms. Jones, a Republican delegate, comes from El Salvador, a country known for political persecutions. The criminal charges against President Trump remind her of a tactic that would be employed in her family's homeland.
Considering that California's primary moved from June to March 5, making it an early primary state that helps set the tone for the rest of the primary season, Ms. Jones is glad that the former president came to California.
Trump May Be 'Only One'
However, some vociferous protesters have stirred trouble.
When then-candidate Donald Trump spoke to the CAGOP's 2016 convention in Burlingame outside San Francisco, about 400 miles north of Anaheim, protesters pushed through barriers and swarmed the hotel. To get inside and make his speech, then-candidate Donald Trump "hopped a fence and entered through the back door of the hotel," CBS News reported at the time.
Hours after he spoke in Anaheim on Friday, a large group of masked protesters gathered on a street corner near the convention hotel on Friday evening and shouted obscenities into a bullhorn, loudly enough that hotel guests on the 15th floor could hear vulgar chants aimed at President Trump and police.
In contrast, shortly after his speech, fans greeted the former president when he showed up at Carvel Ice Cream Shop near Los Angeles, RightSide Broadcasting reported.
Conference attendee Barbara Huntley of Modesto, California, told The Epoch Times she expects to see more people warming up to President Trump. "Things are changing. People are coming out. People are waking up. People are talking. We're all coming together. We're starting to get the younger crowd."
She's confident that, despite the obstacles President Trump faces, he'll come out better on the other side. "Trump's the only one that can pull it off. Not just because he's one man, but because it's all of us, 'We the People.'"
From The Epoch Times