In a unanimous decision, the Supreme Court of the State of Georgia denied former President Donald J. Trump's attempt to scuttle a grand jury report in Fulton County on the 2020 presidential election in that state.
The July 17 decision follows his repeated attempts to quash that special purpose grand jury report, which could lead to another criminal indictment for the previous commander-in-chief.
Mr. Trump first sought to challenge the report in March. A petition to the Fulton County Superior Court from his attorney, prominent criminal defense lawyer Drew Findling, asserted that the statutes under which the investigation was being conducted were unconstitutional.
It also drew attention to actions by the grand jury's forewoman, Emily or Emma Kohrs. Ms. Kohrs spoke to various media outlets, including in a highly publicized appearance on CNN, raising concerns of a compromised investigation process due to the public remarks by the forewoman as the trial was ongoing.
Mr. Findling's filing also focused on Fulton County District Attorney Fani Willis, who began the investigation in 2021.
Shortly before requesting that a special purpose grand jury be impaneled, Ms. Willis told The Associated Press that her probe concerned, among other events, Mr. Trump's Jan. 2, 2021, phone call with Georgia Secretary of State Brad Raffensperberger.
"I just want to find 11,780 votes, which is one more than we have," then-President Trump said to Mr. Raffensperger.
The March filing argued, among other things, that Ms. Willis had "personal involvement and interest" in the case to boost her political profile.
Ms. Willis responded in May, arguing that the filing and a similar motion did not show that the relevant statutes are unconstitutional and that the standards to disqualify her have not been met.
Those filings, according to Ms. Willis, "cannot succeed because their requested remedies have no basis in the law and, in fact, fly in the face of the orderly administration of the laws of the State of Georgia."
"If an investigation results in actual criminal charges against the Movants [Mr. Trump], the justice system ensures they will have no shortage of available remedies to pursue," it continues.
The supervising judge in the case, Robert McBurney, has not yet ruled on Mr. Findling's motion. The filing had asked that someone other than Mr. McBurney hear it.
Mr. Findling has made a new attempt at quashing the report with Georgia's Supreme Court while making a second, similar request to the Fulton County Superior Court.
The filings seek a "writ of mandamus and prohibition" against Ms. Willis and Mr. McBurney–in simpler terms, to command them to do their jobs as defined by law.
Both also sought Ms. Willis's disqualification.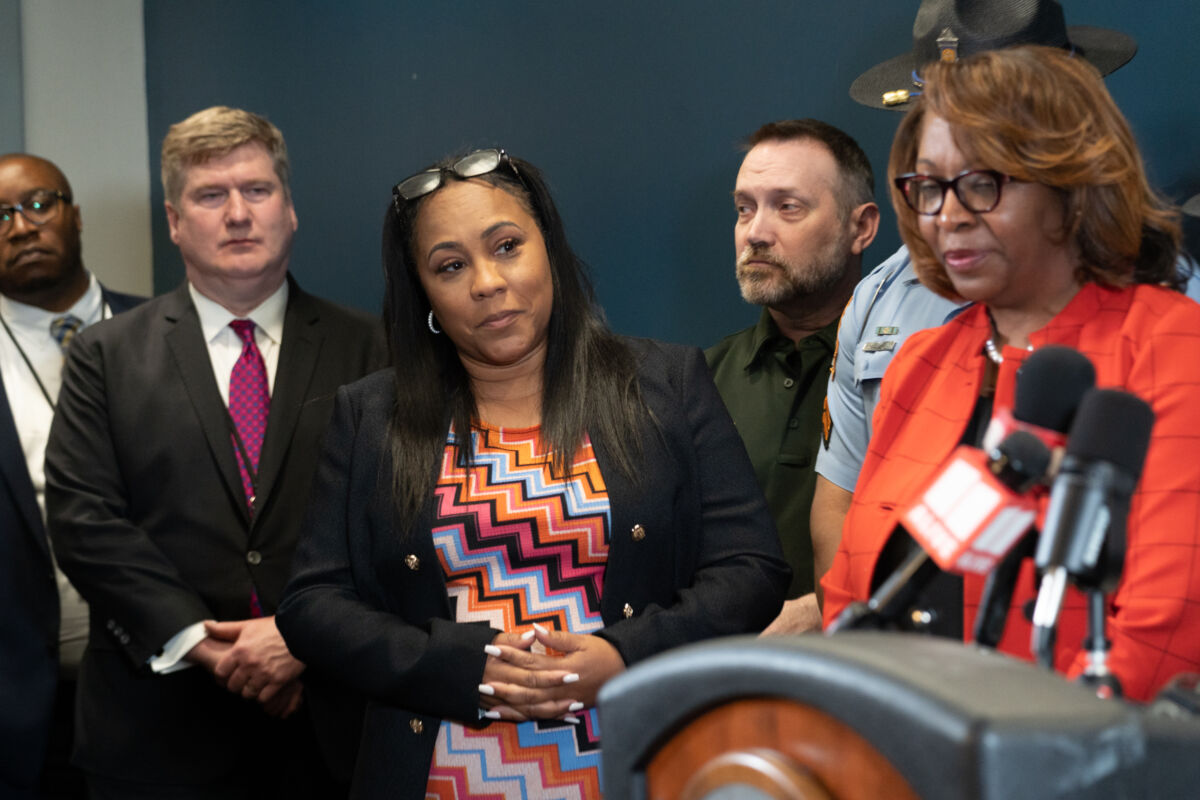 Filed on July 13, the Supreme Court petition states that Ms. Willis has "signaled that she will use the report … to secure an indictment against Petitioner [Mr. Trump] within weeks, if not days."
A new grand jury was sworn in to consider the case earlier this month.
Mr. Findling's filing argues that the allegedly improper conduct could harm Mr. Trump's reputation "as he seeks his party's nomination for the Presidency of the United States via a flagrant disregard for and violation of his fundamental constitutional rights."
It also urged Georgia's high court to grant extraordinary relief despite Mr. McBurney's court not having ruled yet.
The Supreme Court's ruling disagreed, arguing that Mr. Trump has not shown he is being unfairly barred from the "ordinary channels."
"Although he complains that Judge McBurney has yet to rule on those [his] motions, he is not asking this Court to compel Judge McBurney to rule. Instead, he is asking this Court to step in and itself decide the motions currently pending in the superior court," the decision states.
The Supreme Court decision states that the petition lacks "either the facts or the law necessary to mandate Willis's disqualification by this Court at this time on this record."
It also questions the decision to seek a writ of mandamus in the Supreme Court and the Fulton County court simultaneously. It argues that there has not been enough time for a result from the normal process, which calls upon Mr. McBurney to disqualify himself and allow another judge to rule.
The Georgia decision comes as Mr. Trump faces three other criminal probes while campaigning for the 2024 Republican presidential nomination.
In June, prosecutor Jack Smith indicted the former president and his valet, Waltine Nauta. The charges stem from Mr. Trump's alleged mishandling of classified documents from his presidency. Fully 31 of Mr. Smith's 38 counts are under the Espionage Act, one for each document Mr. Trump has been accused of improperly retaining. Mr. Trump argues that the relevant legislation in the case is the Presidential Records Act.
In April of this year, the former president pleaded not guilty to an indictment brought by Manhattan District Attorney Alvin Bragg.
Mr. Bragg's indictment concerns alleged record falsification in connection with adult film actress Stormy Daniels. Ms. Daniels alleges she signed a non-disclosure agreement and accepted payments to keep quiet about an affair with Mr. Trump.
Mr. Trump also faces a federal investigation over his alleged role in allegedly undercutting the peaceful transfer of power on Jan. 6, 2021.
Despite, or perhaps in part because of, those criminal cases, the former president's popularity has surged, at least according to a recent NBC News poll.
The June survey of 1,000 registered voters found that 51 percent of self-described Republican primary voters named Mr. Trump as their first choice for nominee, up from 46 percent in April.
Florida Gov. Ron DeSantis's numbers went in the opposite direction among those respondents. While 31 percent selected Mr. DeSantis as their first choice in April, just 22 percent did so in June.
The Associated Press contributed to this report.
From The Epoch Times