Former Fox News host Tucker Carlson released the first episode of his new show on Twitter on Tuesday night, delving into the mysterious destruction of a dam in Ukraine.
"As of today, we have come to Twitter, which we hope will be the short wave radio under the blankets," Carlson stated toward the end of the video. "We're told there are no gatekeepers here. If that turns out to be false, we'll leave. But in the meantime, we're grateful to be here."
Carlson signed off the show, dubbed "Tucker on Twitter," saying that he will be back on the platform with "much more, very soon."
The former Fox News host, who exited the network more than a month ago under unclear circumstances, also made reference to the destruction to the Kakhovka dam in Ukraine this week.
"The Kakhovka dam was effectively Russian," Carlson said after the clip started. "It was built by the Russian government. It currently sits in Russian- controlled territory. The dam's reservoir supplies water to Crimea, which has been for the last 240 years home of the Russian Black Sea Fleet."
And he added: "Blowing up the dam may be bad for Ukraine, but it hurts Russia more, and for precisely that reason, the Ukrainian government has considered destroying it."
"So really, once the facts start coming in, it becomes much less of a mystery what might have happened to the dam, and a fair person would conclude that the Ukrainians probably blew it up, just as you would assume they blew up Nord Stream, the Russian natural gas pipeline last fall," Carlson stated. "And in fact, the Ukrainians did do that, as we now know."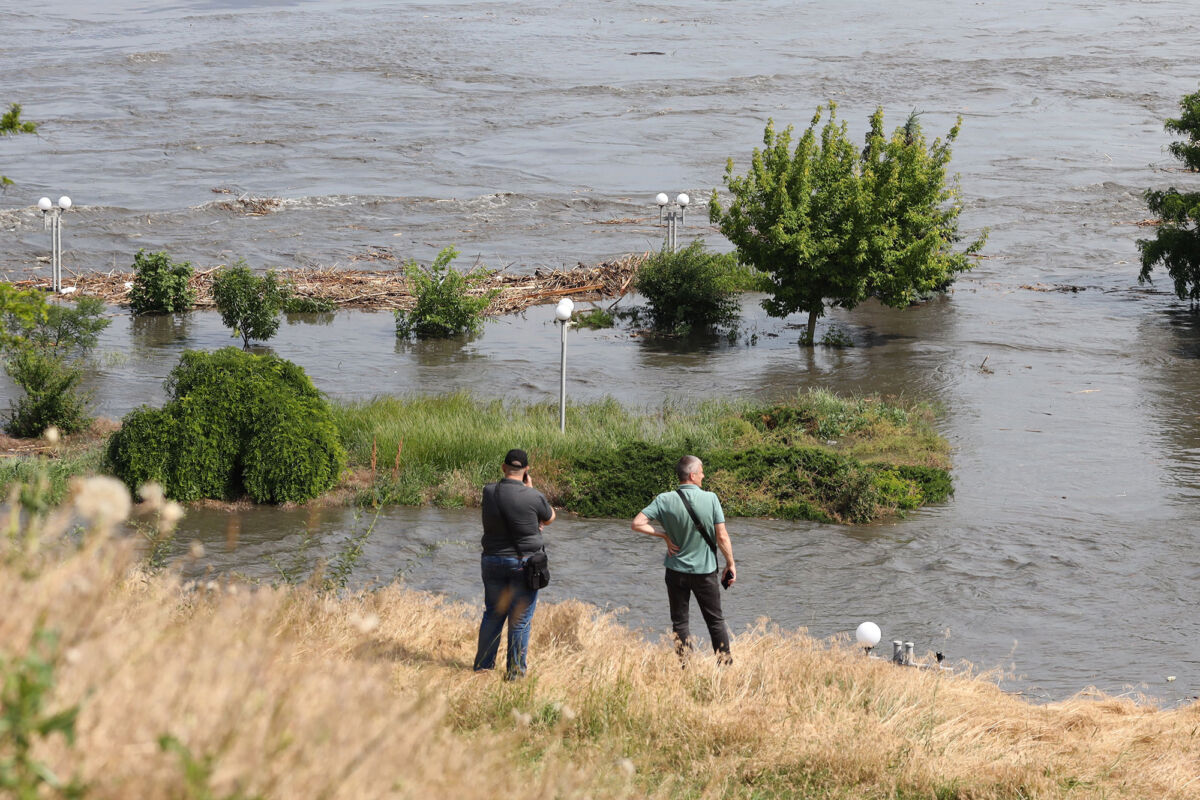 Later, he commented on Ukrainian President Volodymyr Zelenskyy, who has been near-universally feted by Western governments and praised in the corporate press. "Ukraine, as you may have heard, is led by a man called Zelenskyy. We can say for a dead certain fact that he was not involved. He couldn't have been; Zelenskyy is too decent for terrorism," he said.
In a sarcastic tone, he continued, "our shifty, dead-eyed Ukrainian friend in the tracksuit is uniquely incapable of blowing up a dam. He's literally a living saint, a man in whom there is no sin."
U.S. media outlets, he added, "wasted no time this morning accusing the Russians of sabotaging their own infrastructure" by blowing up the dam.
Much of his Twitter broadcast was spent attacking news organizations for always assuming Russian President Vladimir Putin is "evil." Carlson instead threw attacks at Zelenskyy, describing him as a "sweaty and rat-like-comedian-turned oligarch" who is a "persecutor of Christians" and "a friend of Blackrock."
The former Fox host then talked about public statements from a former U.S. military intelligence official, David Grusch, this week when he said the U.S. government recovered pieces of UFO spacecraft that was constructed by a "non-human species" and the bodies of extraterrestrials.
Fox News in late April confirmed in a news release that it had parted ways with Carlson despite him having hosted one of the top shows on the cable news channel. Neither Fox nor Carlson have disclosed the reasons for his departure, and Carlson continued to remain mum about what happened during the Twitter show and made no reference to his former employer.
In the first month without Carlson, Fox News' ratings took a hit, according to Nielsen data. The network has seen a 37-percent year-over-year decline to 1.42 million during the primetime hours of 8 p.m. and 11 p.m., while left-wing competitor MSNBC saw its ratings increase to 1.16 million primetime viewers, or a 14-percent gain year-over-year, in May.
Last month, Carlson said he would be bringing his show to Twitter, although it's not clear yet if it will come in nightly installments. Current Twitter owner Elon Musk appeared to welcome him to the platform on Tuesday night.
"Would be great to have shows from all parts of the political spectrum on this platform!" Musk wrote.
Carlson's first episode of his Twitter show was just over 10 minutes in length and had over 10.5 million views after about two hours.
From The Epoch Times