Former Fox News host Tucker Carlson's first Twitter show on Tuesday night went viral, generating more than 85 million "views" in less than 24 hours.
In a 10-minute-long monologue, Tucker made reference to the destruction of a dam in Ukraine. He also claimed that legacy news outlets have ignored the "bombshell of the millennium" after a government whistleblower revealed that spacecraft made by non-human intelligence have been recovered by governments around the world.
"Nobody knows what's happening. A small group of people control accesses to all relevant information. And the rest of us don't know. We're allowed to yap all we want about racism, but go ahead and talk about something that really matters and see what happens. If you keep it up, they'll make you be quiet. Trust us. That's how they maintain control," Carlson stated.
Toward the end of the show, Carlson suggested that he would leave the platform if Twitter opts to censor him. Carlson then signed off the show, now called "Tucker on Twitter," saying that he will be back on the platform with "much more, very soon."
"As of today, we have come to Twitter, which we hope will be the short wave radio under the blankets," Carlson, who spoke in what appeared to be a home studio, said toward the end of the video. "We're told there are no gatekeepers here. If that turns out to be false, we'll leave. But in the meantime, we're grateful to be here."
Fox News in late April confirmed in a news release that it had parted ways with Carlson even though he hosted one of the top shows on the cable news channel. Neither Fox nor Carlson has disclosed the reasons for his departure, and Carlson continued to remain mum about what happened during the Twitter show, making no reference to his former employer.
In the first month without Carlson, Fox News' ratings took a hit, according to Nielsen data. The network has seen a 37 percent year-over-year decline to 1.42 million during the primetime hours of 8 p.m. and 11 p.m., while left-wing competitor MSNBC saw its ratings increase to 1.16 million primetime viewers, or a 14 percent gain year-over-year, in May.
Last month, Carlson said he would be bringing his show to Twitter, although it's not clear yet whether it will come in nightly installments. Current Twitter owner Elon Musk appeared to welcome him to the platform on June 6.
"Would be great to have shows from all parts of the political spectrum on this platform!" Musk wrote in a post.
Twitter's "view count is actually understated, as it does not include anything from our API, for example tweets you see in Google search results or on Bloomberg terminals," Musk also wrote before saying: "It simply counts if you saw the post on the X/Twitter app or via web browser, not how long you watched."
Ratings
In comparison, Fox News' broadcast with Jesse Watters reached 2 million viewers on Monday night, while Carlson's replacement show on the network generated about 1.5 million viewers. However, unlike Twitter, Fox News programs feature major advertisers.
An executive with Fox News, Jeff Collins, told Variety magazine last month that big-name corporate advertisers have returned to Fox News' 8 p.m. timeslot after Carlson's exit. For example, Procter & Gamble, pharmaceutical company Novo Nordisk, and lawn-care brand Scotts have returned.
"We have had over 40 new advertisers come into the hour since we launched the new program, including some of the largest in the country and, really, across all major categories," he said. "We have seen new advertisers come in, and new demand."
Another executive, Fox Corporation's Marianne Gambelli, told the magazine that the company is planning to bring back a full slate of national advertisers at the 8 p.m. hour, saying: "That's our intent."
A number of corporate advertisers dropped Carlson's show due to controversy about the former host's on-air comments. Companies that left, according to multiple reports, include the Walt Disney Company, Sandals, T-Mobile, NordicTrack, and more.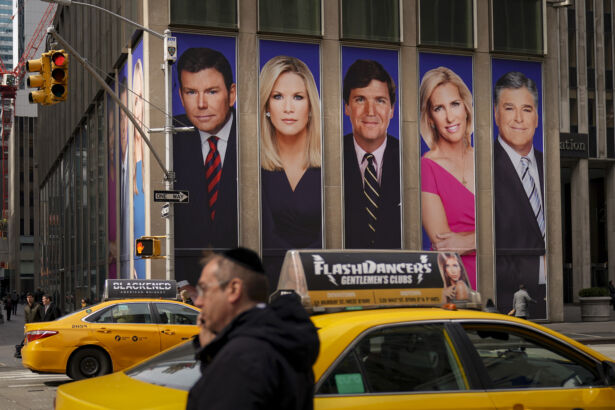 As of Wednesday, Fox News has not produced any articles about Carlson's debut show and hasn't featured the development on any of its Tuesday night or Wednesday programming.
There have been reports that Carlson is under contract until January 2025 and has retained high-powered Hollywood attorney Bryan Freedman to negotiate a contract exit from the network. Amid those reports, Freedman last month told Axios that his client won't be silenced.
"The idea that anyone is going to silence Tucker and prevent him from speaking to his audience is beyond preposterous," Freedman said.
The Axios report, citing alleged sources close to the former Fox host, indicated that Carlson wants to launch a "media empire of his own" after leaving Fox News. He was also offered major deals from Newsmax and video-sharing site Rumble.
From The Epoch Times