The United Auto Workers (UAW) union expanded its strike to a Stellantis pickup truck facility in Michigan, resulting in thousands of workers walking off the job.
The UAW confirmed on Oct. 23 that roughly 6,800 union-represented members at the Sterling Heights Assembly Plant joined its Stand Up Strike. The latest labor development effectively halted production at the automaker's massive plant that makes the RAM 1500 trucks. Stellantis is one of the "Big Three," including Ford and General Motors.
Videos posted and shared on X show the workers hitting the picket lines and shouting, "No bucks, no trucks!"
The unannounced work disruption raised the total number of UAW members on strike at the Detroit Three automakers to more than 40,000.
The union explained that Stellantis "lags behind both Ford and General Motors in addressing the demands of their UAW workforce."
"Currently, Stellantis has the worst proposal on the table regarding wage progression, temporary worker pay and conversion to full-time, cost-of-living adjustments (COLA), and more," the union leadership said in a news release.
This is the second time that the union has initiated a surprise strike against a factory. On Oct. 11, the UAW launched an unannounced strike against Ford's Kentucky Truck Plant, leading to nearly 9,000 workers walking off the job and shutting down output.
The work stoppage at the Kentucky facility has affected some operations at Ford's Sterling Axle Plant and resulted in temporary layoffs, the company confirmed to The Epoch Times.
"An additional 67 Sterling Axle Plant employees were asked not to report to work beginning Oct. 23, bringing Sterling Axle's layoff total to 485," a Ford spokesman said. "This layoff is a consequence of the strike, because Sterling Axle Plant must reduce its production of parts that would normally be shipped to Kentucky Truck Plant."
A Change in Strategy
Previously, the organization would announce escalations to the Stand Up Strike on Friday, but UAW President Shawn Fain confirmed in a recent Facebook Like video message that leaders would be employing a new strategy. While the previous work stoppages "did produce significant movement," the Big Three companies started "to slow walk bargaining until just before each deadline."
"I tell all the members to be ready to stand up. We're not waiting until Fridays anymore," Mr. Fain said. "We're not sticking with one pattern or one system of giving these companies an extra hour or an extra day. They know what needs to happen, and they know how to get it done."
In an Oct. 20 video shared on social media, Mr. Fain told members that the union can obtain more gains for workers if it continues to hold out longer in contract talks.
In recent days, Mr. Fain confirmed that General Motors and Stellantis have presented wage offers that matched Ford's 23 percent increase over a four-year contract. But more can be done, he noted.
"We've got cards left to play, and they've got money left to spend," Mr. Fain stated.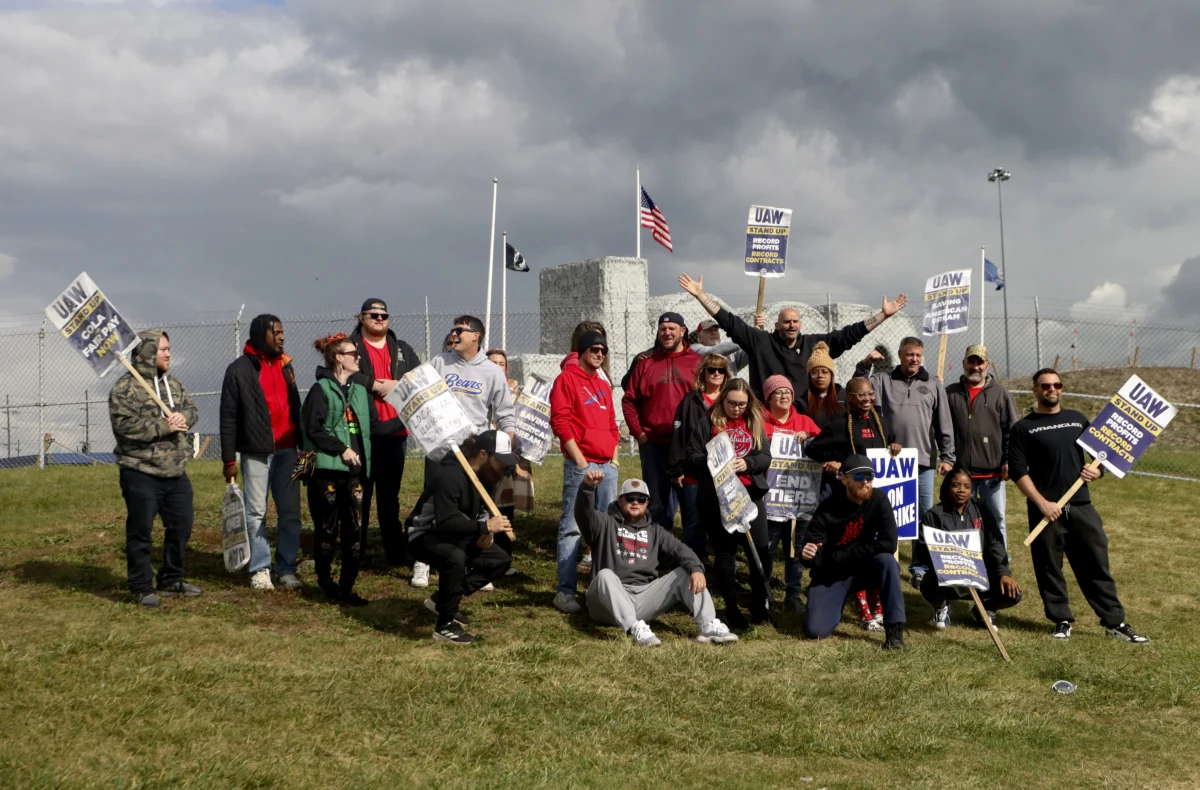 What the Big Three Are Saying
GM noted that it presented an offer on Oct. 13 with "substantial movement in all key areas in an effort to reach a final agreement with the UAW and get our people back to work."
The Buick and Cadillac maker has extended raises for most of the workforce to $40.39 per hour, totaling approximately $84,000 per year by the end of the agreement's term. In addition, GM stated that it reinstated cost-of-living raises and plans to contribute 8 percent of employees' salaries into 401(k) defined-contribution plans.
"It is time for us to finish this process, get our team members back to work and get on with the business of making GM the company that will win and provide great jobs in the U.S. for our people for decades to come," a GM spokesman said in a statement to The Epoch Times.
Ford compared its proposals to competitors, noting that it has been the most generous to the UAW.
"We know that our UAW employees are hurting in this prolonged strike because of lost wages and lost profit sharing," Ford's statement said. "We're eager to conclude these negotiations with a contract that meaningfully improves their lives and provides a strong future for everyone."
When the UAW launched its strike in September, the union sought a more than 40 percent wage increase over four years, restoration of the defined-benefit pension plan, and a 32-hour work week with 40-hour pay. Since then, the UAW leadership has trimmed its demand to 36 percent during the life of the contract. A recent Bloomberg report, citing sources close to the situation, suggested that Mr. Fain then lowered it to 25 percent.
Some experts believe that the companies are bracing for a prolonged labor dispute.
General Motors published a Securities and Exchange Commission filing on Oct. 4 revealing that it established a new 364-day revolving credit agreement with JPMorgan Chase for an available borrowing limit of $6 billion. It is scheduled to mature on Oct. 1, 2024.
Adam Jonas, an auto strategist with Morgan Stanley, projected that the automakers could lose about $250,000 in lost profit on each day of the strike.
"The value of N. American light production of the D3 (F, GM, STLA collectively) is approximately $750mm per day (approx. 15k units per day)," Mr. Jonas wrote. "Applying slightly more than a 30% decremental (yes, mix is that high) implies around $250mm of lost profit per day (assuming 100% of production impacted)."
Market analysts forecast that meeting all of UAW's initial demands would raise average hourly labor costs to around $136.
But Mr. Fain has told the press that he is uninterested in defending corporations with record profits or helping SpaceX founder and CEO "Elon Musk building more rocket ships so he can fly in outer space and stuff."
"We're going on offense. We're done aiming low and settling lower. It's time we started aiming high and seeing how close we can get to total economic and social justice," Mr. Fain said.
The Epoch Times reached out to Stellantis for comment.
From The Epoch Times