The Ultimate Fighting Championship (UFC) announced that Bud Light will become its official sponsor as part of a partnership with Anheuser-Busch, despite the beer facing a significant months-long boycott over its decision to promote a transgender influencer.
"Anheuser-Busch and Bud Light were UFC's original beer sponsors more than fifteen years ago. I'm proud to announce we are back in business together," UFC CEO Dana White said in a statement about the partnership on Tuesday. "There are many reasons why I chose to go with Anheuser-Busch and Bud Light, most importantly because I feel we are very aligned when it comes to our core values and what the UFC brand stands for. I'm looking forward to all of the incredible things we will do in the years ahead."
Bud Light's sales have suffered over the past six months or so, while parent company Anheuser-Busch's U.S. division confirmed in an August earnings report that the boycott cost the company some $395 million.
In April, the company suffered a conservative-led backlash after it produced a Bud Light can with transgender activist and influencer Dylan Mulvaney before it was posted to social media. The company later released a statement saying it did not want to be part of a "discussion that divides people," while Anheuser-Busch InBev CEO Michel Doukeris later distanced the brand from the Mulvaney controversy and said there was never any partnership.
After the UFC-Bud Light announcement, a number social media users suggested a boycott of both Bud Light and the mixed martial arts promotion. Some took issue with Mr. White's comment that Bud Light and the UFC "are very aligned when it comes to our core values" and immediately made reference to the transgender controversy that erupted earlier this year.
"Are you saying that UFC is okay with Bud Light promoting the evil transgender ideology of Dylan Mulvaney? Signed, millions of fans who will boycott you too," asked conservative host Liz Wheeler on X, formerly Twitter.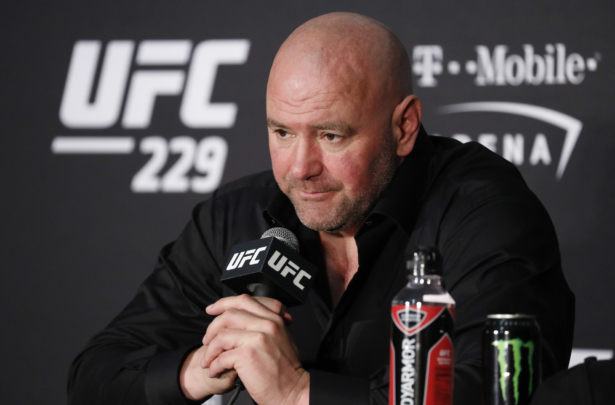 "No one is drinking Bud Light at any tailgate I've been to this fall. Brand is dead," said Outkick's Clay Travis. "Lighting that money on fire would have been less embarrassing than what's about to happen. Fighters are gonna hate this. Fans will hate it. The customers aren't coming back," wrote former Republican congressional candidate Robby Starbuck.
On a multitude of UFC and Bud Light posts on X, users called for boycotts of both brands.
Current UFC middleweight champion Sean Strickland was critical of the transgender influencer earlier this year, writing on Twitter that "to be rich and famous you use to have to be exceptional, go to the moon, win a championship, cure a disease." But now, according to the fighter, you only have to "wear a dress, make a tiktok [and] bam you're on a budlight can (sic)."
What Was Said
With the UFC partnership, Bud Light appears to be taking steps to rehabilitate its image with some of its customer base following the Mulvaney fracas. The company has also appeared to increase its visibility at NFL games and has Kansas City Chiefs star Travis Kelce as a pitchman for a number of advertisements.
"Anheuser-Busch and Bud Light have always been on the cutting edge of iconic sporting moments that fans remember forever, and reuniting with UFC is a continuation of this industry leading legacy," Anheuser-Busch CEO Brendan Whitworth said in the press release about the UFC. "As one of the largest and longest standing sport sponsors, we are excited to work with UFC to celebrate our passionate fans while always making a positive impact in communities across America."
Neither the UFC nor Anheuser-Busch disclosed the contours of the deal, including how much it's worth. An unnamed source who is allegedly familiar with the deal told CNBC that it's worth around nine figures, or more than $100 million.
Notably, the UFC used to have Modelo as its beer sponsor. Modelo Especial earlier this year surpassed Bud Light in terms of total sales in the United States, with the Anheuser-Busch product being dethroned its No. 1 spot for the first time in decades.
In a comment to Fox News host Sean Hannity on Tuesday night, Mr. White, the longtime UFC CEO, claimed the deal was not "determined by money."
"There are many other things that are important to me other than just the money," he said. "And the people that were all involved in this negotiation, on every side, absolutely, positively know that my choice was not determined by money."
Mr. White added that Bud Light was "first beer company that we really did business with," adding, "They were our first real big sponsor when we were getting started, and now we're back with them." Anheuser-Busch, which includes Bud Light, was an official sponsor of the UFC about a decade ago—before the Modelo partnership.
The Epoch Times has contacted Anheuser-Busch for comment.
From The Epoch Times