A UK parliamentary researcher with links to senior MPs has been arrested on suspicion of spying for the Chinese regime, a report said on Saturday.
The suspect, who was arrested and released on bail in March, is a male Briton in his late twenties who had studied and worked in China, according to The Times of London.
The report said the man had links with senior Conservative MPs with high-level security clearances and had helped to shape the UK's China policy.
Another man in his thirties was also arrested and released on bail in the police investigation.
The Metropolitan Police said the men were arrested under on suspicion of offenses under section 1 of the Official Secrets Act, 1911.
Following the report, Prime Minister Rishi Sunak told broadcasters at the Group of 20 summit in New Delhi that he had raised "a range of different concerns" with Chinese Premier Li Qiang, including his "very strong concerns about any interference in [the UK's] parliamentary democracy, which is obviously unacceptable."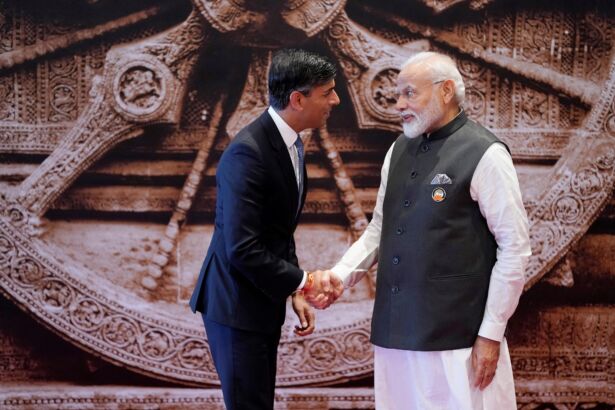 According to The Times of London, it's understood the parliamentary researcher, hired by an unnamed MP, had interactions with "a number of senior Tory MPs," including Alicia Kearns, the chairwoman of the Foreign Affairs Committee, and her predecessor Tom Tugendhat before he became the security minister.
The report also said the man had worked with MPs for a number of years on foreign policy "including relations with Beijing."
Security officials suspect that the Chinese regime may have recruited the man as a sleeper agent when he was in China and deliberately sent him back to the UK to infiltrate the circle of politicians who are critical of the regime, the report stated.
It cited an unnamed source from Whitehall, saying the man had been "regularly complaining about a lack of nuance among China-sceptic MPs and seemed to have a particular issue with [Sir] Iain Duncan Smith," who co-founded the Inter-Parliamentary Alliance on China—an international cross-party group of legislators pushing for tougher China policies.
"I'm pretty sure he turned some backbenchers from China hawks into being apathetic about Beijing," the source stated.
Luke de Pulford, creator and Executive Director of IPAC, told the publication that members had "long suspected that something was badly wrong because there were consistent efforts from a hostile researcher to smear IPAC MPs and label them as extreme on China policy."
In a statement emailed to The Epoch Times, the Met said, "Officers from the Metropolitan Police Service arrested two men on 13 March on suspicion of offenses under section 1 of the Official Secrets Act, 1911.
"A man in his 30s was arrested at an address in Oxfordshire and a man in his 20s was arrested at an address in Edinburgh. Searches were also carried out at both the residential properties, as well as at a third address in east London.
"Both men were taken to a south London police station, and were subsequently released on police bail until a date in early October.
"The investigation is being carried out by officers from the Met's Counter Terrorism Command, which has responsibility for investigations relating to allegations of Official Secrets Act and espionage-related offenses. Enquiries continue."
Speaking in New Delhi, Mr. Sunak told broadcasters he couldn't comment on the specifics of an ongoing investigation and confirmed he had spoken to Mr. Li about any "unacceptable" interference in the UK's parliamentary democracy.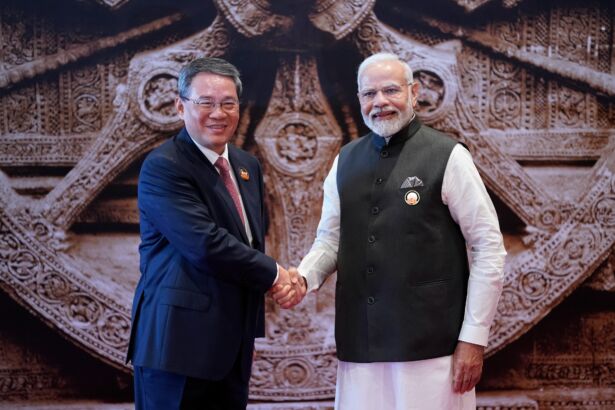 The revelation came days after Foreign Secretary James Cleverly was sent on the first ministerial trip to China in five years to repair the UK's relationship with Beijing and two months after the Commons spy agencies watchdog said the Chinese regime had managed to overtly "penetrate every sector of the UK's economy" as well as targeting "the UK and its overseas interests prolifically and aggressively" by collecting both classified and open-source information.
Ministers are facing renewed questioning of the government's China policy including its engagement with China and the decision to officially label the Chinese regime as an "epoch-defining challenge" rather than a threat.
Mr. Sunak defended the government's engagement with China, insisting the approach is "completely aligned with that of our allies."
"If you look at how countries like America, Japan, Canada all engage with China, that's what they do, because engaging with people allows you to raise concerns directly," he said. "I think that's a more powerful thing to do."
"Where there are areas of disagreement or areas of concern that we have … There's no point carping from the sidelines, I'd rather be in there directly expressing my concerns, and that's what I did today," he added.
Appearing on Sky News's "Sunday Morning with Trevor Phillips" programme, Justice Secretary Alex Chalk said China is "an epoch-defining threat" before quickly correcting himself, saying "challenge, forgive me."
He said ministers have got to take spying "extremely seriously," and police and other agencies "will take it as seriously as well."
Asked whether the parliamentary pass system needed to be made more secure, he said: "There is a rigorous approach that is taken in terms of being provided with passes, but plainly this has got to play through in terms of this investigation, and whatever lessons need to be learned by the parliamentary authorities I am sure will be learned."
Shadow business secretary Jonathan Reynolds told the BBC's "Sunday With Laura Kuenssberg" programme that it's "naïve" to suggest Beijing isn't a threat to the UK, although he hasn't indicated Labour would take a drastic turn.
Commenting on the revelation of the suspected spying in Parliament, Mr. Reynolds said he was "appalled by these allegations."
"On China policy more broadly," he said, "there is clearly a set of economic relationships which are already in place, you can't just decouple from China, but you can't treat China like an American or a European company coming through.
"It is a mix of co-operation where that is possible, but we will have to confront these issues where they exist," he said.
From The Epoch Times