Ukraine's interior minister and two other senior ministry officials were killed when their helicopter crashed on the outskirts of Kyiv on the morning of Jan. 18, according to local authorities and other officials.
At least 17 people were killed in the crash, including four children, which reportedly occurred near a nursery school in the Brovary district northeast of the capital.
As of the time of writing, the cause of the crash was unknown.
Local authorities say nine of those killed were passengers on the ill-fated helicopter, a French-made Super Puma, while another six were killed on the ground.
At least one nearby building was set ablaze by the crash, which reportedly left another 25 other people, including several children, injured.
Local authorities have since confirmed that Interior Minister Denys Monastyrskyi, appointed by Ukrainian President Volodymyr Zelenskyy in 2021, was among those killed.
Yevheniy Yenin, the minister's first deputy, along with the ministry's state secretary, was also killed in the crash, according to national police chief Ihor Klymenko.
"As a result of the crash in Brovary, the leadership of the Ministry of Internal Affairs of Ukraine was killed," Klymenko said, adding that the helicopter had belonged to the State Emergency Service.
A lawyer by trade, Monastyrskyi, 42, won a seat in Ukraine's 2019 parliamentary election for Zelenskyy's "Servant of the People" party.
He served as head of parliament's Law Enforcement Committee before replacing Arsen Avakov as the interior minister following the latter's resignation in July 2021.
Speaking on Twitter, British Home Secretary Suella Braverman described Monastyrskyi as "a leading light in supporting the Ukrainian people during [Russian President Vladimir] Putin's illegal invasion."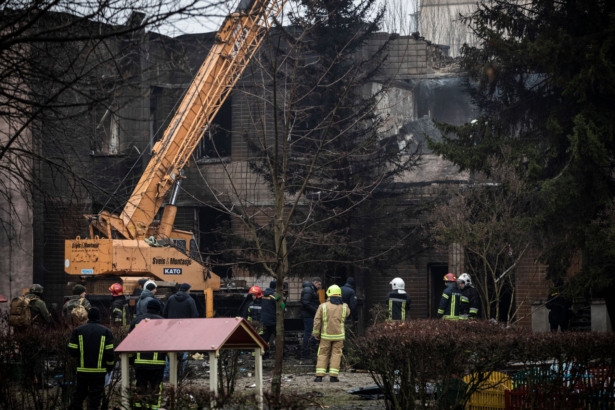 Causes Unknown
Until now, Ukrainian officials have refrained from attributing the deadly helicopter crash to a Russian attack.
"It's too early to talk about causes," Yuriy Ihnat, a spokesman for the Ukrainian Air Force, said in televised comments.
According to the spokesman, investigations could take several weeks.
The Ukrainian prosecutor general's office has launched an investigation and said all possible causes were being considered.
While the crash was reported in Russian media, Moscow has so far refrained from issuing a formal statement on the incident.
Russian Missile
Last week, at least 45 people were killed when a Russian missile struck an apartment building in Ukraine's east-central city of Dnipro.
While Kyiv and its allies condemned the incident, Russian officials say the missile was downed by Ukrainian air-defense systems deployed in the residential area.
"A Russian missile that targeted an energy facility was downed by Ukrainian air defense," Vasily Nebenzya, Russia's permanent representative to the UN, said on Jan. 17.
"Since the air-defense launcher was positioned in a residential quarter contrary to the norms of international humanitarian law … the missile fell onto a residential building," Nebenzya said at a session of the UN Security Council.
The Epoch Times was unable to verify the claim.
Drone Strikes
Since mid-October, Russian forces have carried out frequent drone and artillery strikes on Ukrainian energy facilities across the country, including in and around the capital.
Ukrainian officials have said that at least half of Ukraine's total energy infrastructure has been damaged by repeated barrages, causing blackouts and widespread energy disruptions.
Kyiv and its allies say the Russian strikes are meant to ratchet up pressure on the civilian population and should therefore be viewed as "war crimes."
Moscow, for its part, says its forces use high-precision munitions to avoid civilian casualties and that the strikes serve a purely military purpose.
Last September, Moscow formally incorporated four regions of Ukraine into the Russian Federation after holding controversial referendums.
Ukraine and its western backers staunchly reject the legitimacy of the move, which they say amounts to the illegal annexation of territory by Russia.
Encouraged by its powerful allies, Kyiv has vowed to recover the four lost territories, along with the Black Sea region of Crimea, which Russia similarly annexed in 2014.
Reuters contributed to this report.
From The Epoch Times