The University of Michigan in Ann Arbor confirmed in several recent statements that it will require students who test positive for COVID-19 leave campus dorms and isolate in another location, including hotels.
University health officer Robert D. Ernst said in a message on Sept. 1 that the school's COVID-19 guidance "could include relocating to your permanent residence, staying with a nearby relative or friend, or finding a hotel space" after one tests positive for the virus, according to reports. "Students in Michigan Housing must leave their residence halls during isolation, even if they are in a single room."
He added that students are encouraged to make an isolation plan" ahead of time to "provide peace of mind" for them.
That message reflects guidance that has been included on the university's COVID-19 website section for several months. However, it was highlighted last week by Dr. Jay Bhattacharya, a professor of medicine and health policy at Stanford University who has opposed COVID-19 mandates, on Twitter, now known as X.
"At the @UMich, students testing covid positive must leave their dorms for 5 days & live in the community," he wrote on the platform. "A hotel room or a relative's house is ok. This cruel policy is designed to spread covid from the university into the wild. It won't stop covid from spreading @umich."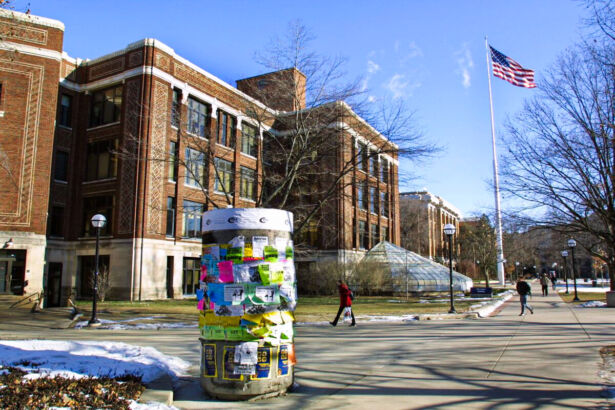 It advises students to report a positive COVID-19 test result, make an "isolation plan" that includes relocating to another residence, and it said that most plans are about five days in length. "Students at Michigan Housing need to leave their residence halls during isolation, even if they are in a single room," the website said, referring to on-campus dorms.
"The isolation guidelines below need to be met," the policy statement also said in what appears to be a mandate—not a recommendation.
The Epoch Times has contacted the University of Michigan for comment.
The University of Michigan confirmed Fox News on Tuesday that the measures are in place, claiming there is a rise of COVID-19 cases on the campus. The measures are meant to slow the spread of the virus, it said.
"Isolation and quarantine are standard practices for preventing the transmission of many infectious diseases including COVID-19, measles, tuberculosis, and many others," the university told Fox News and a local news outlet. "The website highlights COVID-19 because we are seeing many cases of this particular disease on campus. Other diseases would be addressed accordingly if they were seen in our campus population."
For the University of Michigan, the cost of tuition, living expenses, and other fees stands at around $35,000 for this school year for Michigan residents, according to its website. Out-of-state students will pay around $76,000 for the 2023-to-2024 school year.
Aside from isolation, it doesn't appear that the university will mandate masks on campus or in class. As of last year, wearing a mask was made optional on three of the University of Michigan's campuses, which applied to staff, students, and visitors.
It's not clear if masking will be reimplemented, although at least one college and one school in Maryland reimposed the mandate in recent days. Several hospitals have also made mask-wearing a requirement to enter their facilities.
A college in Atlanta, Morris Brown College, told news outlets over the weekend that a two-week-long mask mandate that was imposed in August has expired. College President Kevin James confirmed the end of the rule but that it has "several safety protocols in place."
In New Jersey, Rutgers University has said that it will require masking and that students receive the COVID-19 vaccine as class starts this year.
"If their choice is that they cannot be here under these conditions, we understand that. We wanted to give them that … opportunity, though, to make that choice and not be rushed into that choice," Antonio Calcado, chief operating officer at Rutgers University, said in a recent statement.
The U.S. Centers for Disease Control and Prevention (CDC) earlier this year reported that the COVID-19 public health emergency is over. In a statement to The Epoch Times last week, a spokesperson for the federal health agency said that COVID-19 hospitalization levels are relatively low in about 96 percent of the United States, and it also told other media outlets that there are no discussions on issuing new mask guidelines or mandates.
In the meantime, a number of Republicans have suggested that Americans push back against mandates. Sen. J.D. Vance (R-Ohio) this week introduced a bill that would prohibit any federal mask mandate, while others in Congress have said they would block funding to any bill that promotes COVID-19 restrictions.
"We tried mask mandates once in this country. They failed to control the spread of respiratory viruses, violated basic bodily freedom, and set our fellow citizens against one another," Mr. Vance said in a statement.
From The Epoch Times