Republican lawmakers on April 4 reacted to the unveiling of 34 felony charges against former President Donald Trump with condemnation, with one Congresswoman calling the move "unprecedented and chilling."
At an arraignment hearing in Manhattan, 34 class E felony charges, the least serious type of felony in New York state, were announced against Trump for allegedly falsifying business records. Trump, appearing somber and stoic during the court appearance, pleaded not guilty to the charges.
The 34 charges come as part of Manhattan District Attorney (DA) Alvin Bragg's investigation into a hush money payment to adult entertainment actress Stormy Daniels in the weeks before the 2016 presidential election. Daniels claims she and the former president had an affair in 2006—claims Trump has denied.
According to court documents, prosecutors allege that Trump directed his then-attorney Michael Cohen to pay Daniels $130,000 to keep her from going public about the alleged affair, which he later illegally reimbursed to Cohen as routine legal expenses, in violation of campaign finance laws.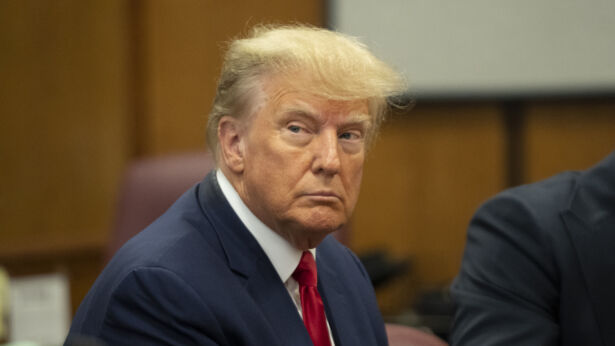 "The People of the State of New York allege that Donald J. Trump repeatedly and fraudulently falsified New York business records to conceal crimes that hid damaging information from the voting public during the 2016 presidential election," Bragg said in a statement.
Republicans have been quick to discredit Cohen, noting the attorney's virulent dislike of Trump. Bragg's investigation has been blasted by Republicans as politically motivated.
'Permanently Changes Politics Forever'
Sen. Marco Rubio (R-Fla.), a key Trump rival in 2016, denounced the arraignment, saying it "permanently changes politics in America forever."
"Today is a bad day for all of us & we are going to regret it for a very long time," Rubio wrote in a caption posted with a video on Twitter.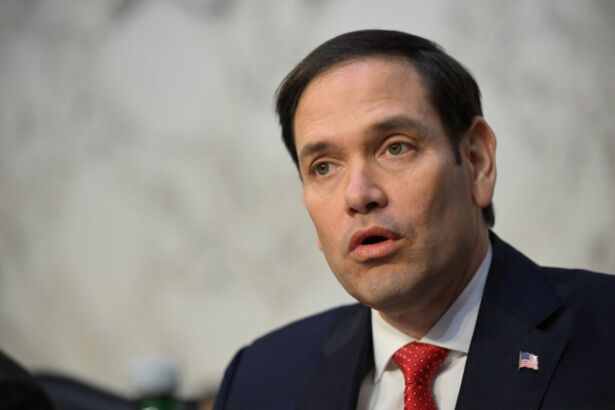 "Today, American politics crosses a line that it's never going to come back from," Rubio said. "After today, especially on the basis of how ridiculous these charges are."
Specifically, Rubio said that the case gives a green light to other prosecutors on both the left and right to target their political enemies.
"What's gonna stop them? Nothing's gonna stop them. Because today we set a new normal," Rubio said. "Today, we set the new normal that if you really want to take someone down, nothing should stop you. You should be able to manipulate the law anyway you want to charge someone."
Sen. Mitt Romney (R-Utah), who has often clashed with the former president, also expressed the sense that Bragg "stretched [charges] … in order to fit a political agenda."
Romney, in a statement, repeated a common Democrat talking point that "no one is above the law." But, he said, "everyone is entitled to equal treatment under the law."
"The prosecutor's overreach sets a dangerous precedent for criminalizing political opponents and damages the public's faith in our justice system," Romney said, echoing Rubio's comments.
'Unprecedented and Chilling'
Republicans have placed the charges into their larger concerns about what they characterize as the weaponization of the federal government against political enemies of President Joe Biden's administration.
House GOP Conference Chairwoman Elise Stefanik (R-N.Y.), a staunch Trump ally, called the arrest "an unprecedented and chilling chapter in the Left's weaponization of the justice system against their leading political opponent."
"This dangerous and illegal overreach by a radical DA has completely backfired for the corrupt Far Left Democrats who would rather desperately tear apart the fabric of our country than face President Trump at the ballot box," Stefanik added. " The American people are smart and they know this is politically charged and that President Trump will defeat these charges in court and turn the tables on the Far Left Democrats by exposing their corruption and abuse of power."
Stefanik predicted that the case would end in the re-election of Trump for a second term in the Oval Office.
"President Trump will defeat this latest witch-hunt, defeat Joe Biden, and will be sworn in as President of the United States of America in January 2025," the New York Republican said.
Rep. Jim Jordan (R-Ohio) added his belief that the indictment was retaliation for Trump choosing to run again. "The indictment wouldn't happen if President Trump didn't run for office," he wrote on Twitter.
Rep. Marjorie Taylor Greene (R-Ga.), a longtime Trump ally, took to Twitter ahead of the arraignment. She also appeared at a rally outside of the Manhattan courthouse before the hearing.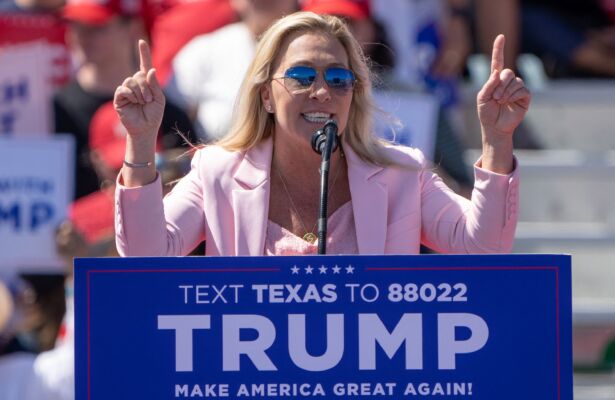 "This is a stain on our Republic," Greene wrote.
"Pray for President Trump," Greene wrote in another tweet. "Pray for our country. This is awful."
At the rally earlier today, Greene commented, "This is what happens in communist countries."
Rep. Andy Biggs (R-Ariz.), another longtime Trump ally, echoed the sentiment.
"President Trump's arrest and indictment are what'd you see in authoritarian regimes," Biggs said. "This is what you'd see in China, Venezuela, Iran, North Korea, and the former Soviet Union."
Biggs called it "disgusting," and promised "Bragg won't be let off the hook"
"President Trump has been arrested before Hunter Biden, Hillary Clinton, and the thousands of dangerous criminals roaming around freely in NYC," Biggs said.
Schumer Reacts
Trump arrived by motorcade at the Manhattan courthouse to face arraignment around 1:45 p.m. ET. The president was not placed in handcuffs, nor did he have a mug shot taken, despite speculation that he would.
Before his arrival, the president took to Truth Social, where he posted: "Heading to Lower Manhattan, the Courthouse. Seems so SURREAL WOW, they are going to ARREST ME. Can't believe this is happening in America. MAGA!"
While Republicans were quick to denounce the arrest, Democrats have been more tight-lipped.
Senate Majority Leader Chuck Schumer (D-N.Y.) and House Minority Leader Hakeem Jeffries (D-N.Y.) each made comments denouncing efforts to intimidate or change the outcome of the case.
"I believe that Donald Trump will have a fair trial that follows the facts and the law," Schumer wrote on Twitter.
"There's no place in our justice system for any outside influence or intimidation in the legal process. As the trial proceeds, protest is an American right, but all protests must be peaceful."
From The Epoch Times