Amid rising tensions as Kyiv allegedly prepares an assault on Crimea and struggles to hold Bakhmut, the United States will transfer military equipment worth up to $400 million to Ukraine to aid its defense against the Russian invasion, including high-mobility rocket systems, mortars, and anti-vehicle rounds, the Department of Defense announced on March 3.
"Pursuant to a delegation of authority from President [Joe] Biden, I am authorizing our 33rd drawdown of U.S. arms and equipment for Ukraine since August 2021, valued at $400 million," Secretary of State Antony Blinken said in a statement. "This military assistance package includes more ammunition for U.S.-provided HIMARS and howitzers, which Ukraine is using so effectively to defend itself."
HIMARS are mobile rocket-launching vehicles worth roughly $4 million a piece with each individual rocket costing around $168,000. The Biden administration has donated 20 of these vehicles—manufactured by Lockheed Martin—to the Ukrainian military since the start of the war.
Biden has sent 143 howitzers—big artillery guns reminiscent of World War II—to Ukraine at a per-unit cost of around $5 million.
Demolition munitions and equipment for obstacle clearing are also included in the package, as well as testing and diagnostic equipment to support vehicle maintenance and repair, spare parts, and other field equipment to help the Ukrainians sustain their forces in combat.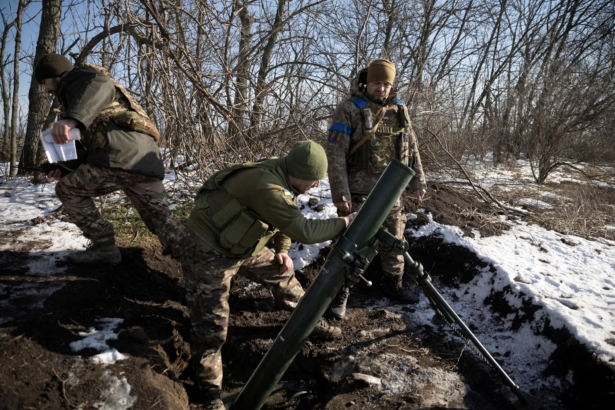 'Rally the World'
"The United States will continue to rally the world to support Ukraine," White House Press Secretary Karine Jean-Pierre said on Friday.
While the international community broadly supports Ukraine, there are signs of fatigue. Two nations—Mali and Nicaragua—voted against the United Nations resolution to denounce Russia last month, despite not doing so in March of 2022.
The United States has changed the type of aid it provides as the war has progressed, offering arms that it said were off-limits at the start of the war. Some European countries have also pledged their support by giving tanks, armored vehicles, artillery systems, and ammunition.
Critics argue that the aid package is poor timing and shows the Biden administration's incautious attitude towards the war.
'Nuclear-Armed'
"The latest weapons package comes as the U.S. is pushing Ukraine to launch a major counteroffensive and U.S. and Ukrainian officials are openly discussing attacks on Crimea, a clear red line for Putin," said Dave DeCamp, news editor for Antiwar.com. "Each new package and each day that passes without peace talks increases the risk of a major escalation that could lead to a direct clash between NATO and Russia, a scenario that would be catastrophic for the entire world."
This latest package comes ahead of Ukrainian President Volodymyr Zelenskyy's vow to retake Russian-occupied Crimea, Ukraine's southern peninsula, which the Russians annexed in 2014. Moscow considers the region part of Russia, and most Crimean residents share this view.
In September, Russian President Vladimir Putin said he would respond with a nuclear strike "if there is a threat to Russia's territorial integrity." Officials from the State Department and Norwegian allies have expressed concern now that Crimea is in Kyiv's crosshairs, fearing Putin could deploy a tactical nuke.
General Mark Milley, chairman of the U.S. Joint Chiefs of Staff, echoed these worries in an interview with the Financial Times last month and said the war will ultimately have to end at the negotiating table.
"In this particular case, it's against a country that is large and is nuclear-armed. So you have to be very, very conscious about managing escalation."
From The Epoch Times