U.S. Army engineers were seen in Texas laying down barbed wire and building a facility to house U.S. Customs and Border Protection personnel and other officials sent to the U.S.-Mexico border.
The Associated Press and Getty Images published photos and video footage of Army personnel setting up walls and installing the barbed wire over the weekend. The encampment is located at the U.S. port of entry in Donna, Texas, around 20 miles from McAllen.
On Nov. 4, a representative for the Pentagon said that the Department of Defense hasn't received a request to build facilities to house migrants, AP reported.
A caravan of several thousand migrants from Central America is currently in Mexico and is heading north with the intent of getting into the United States.
President Donald Trump last week ordered troops to the border, saying that as many as 15,000 troops could be sent as part of Operation Faithful Patriot.
"I saw that beautiful barbed wire going up," Trump said during a campaign rally in Montana, of the Army engineers' construction over the weekend. "Beautiful sight."
"The Democrats want to invite caravan after caravan to flood your communities, depleting our resources and flooding our nation," Trump said to the Montana crowd, ABC News reported.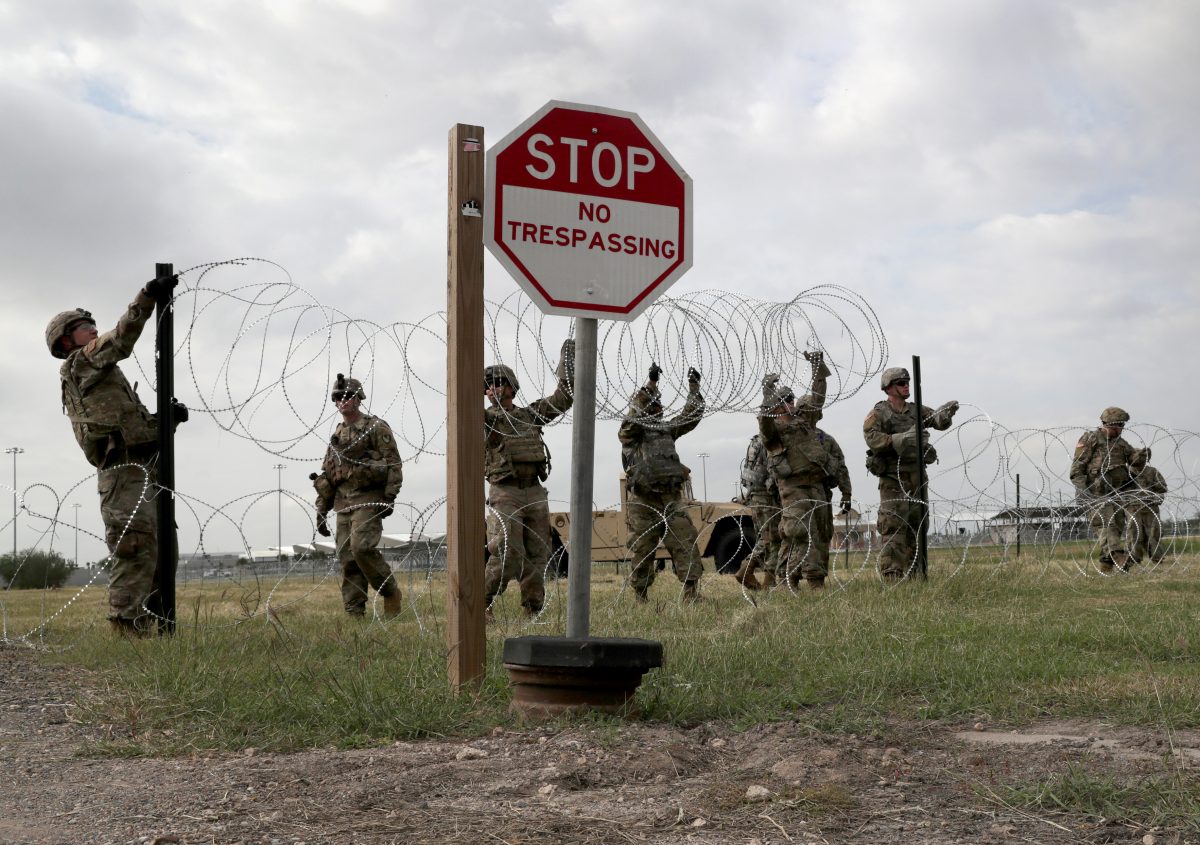 In the caravan, Trump said there are "bad hombres in that group," making reference to a Department of Homeland Security report saying that 270 people from 20 countries are traveling with the caravan and have a variety of criminal histories, including rape and robbery. "So they came out with a list of 300 really bad ones, really bad ones. They're in there," Trump noted.
"We continue to be concerned about individuals along the caravan route. In fact, over 270 individuals along the caravan route are gang members or have criminal histories, including known gang membership," the DHS statement said. "Those include a number of violent criminals—examples include aggravated assault with a deadly weapon, armed robbery, sexual assault on a child, and assault on a female."
Last week, speaking to reporters, Trump issued a warning to migrants in the caravan not to throw rocks at border authorities.
"We will consider that a firearm," Trump said on Nov. 1, Fox News reported. "We will consider that the maximum we can consider that, because they're throwing rocks viciously and violently. …. We're not going to put up with that. They want to throw rocks at our military, our military fights back. I told them to consider it a rifle. When they throw rocks, like they did at the Mexico military and police, I said, consider it a rifle."
Some news outlets misconstrued Trump's statement, publishing headlines that Trump ordered soldiers to shoot migrants who throw rocks. "I didn't say shoot. But they do that with us [throw rocks]—they're going to be arrested for a long time," Trump told reporters on Nov. 2.
The caravan poses a serious threat to the sovereignty of the nation's borders, the president said, suggesting that more caravans will form and will head to the border.
"If these caravans are allowed into our country, only bigger and more emboldened caravans will follow … and you see that's what's happening now," Trump said.
From The Epoch Times