The U.S. authorities on May 9 arrested a man who is believed to have been secretly providing the Chinese Communist Party (CCP) a "blacklist" of U.S.-based pro-democracy dissidents from 2018 to 2022.
Litang Liang, 64, a U.S. citizen living in the Brighton neighborhood of Boston, is charged with conspiring to act as an agent of a foreign government and of doing so without notice to the United States, according to an indictment (pdf) reported by the Boston Globe.
The indictment says the purpose of the conspiracy was "to act at the direction or control of the PRC government in order to covertly advance the PRC government's goals and agenda within the United States," referring to the country's official name of the People's Republic of China.
The indictment alleges that Liang has been in contact with CCP officials in New York since 2018 and provided them with information about Chinese individuals and entities in Boston.
He was also accused of organizing a counter-protest in the United States against pro-democracy dissidents, providing photos and information about U.S.-based dissidents to CCP officials, and giving the names of potential recruits to the CCP's Ministry of Public Security.
In July 2018, Liang sent a CCP official the identity of a former "student activist" whom he believed had destroyed China's flags in Boston's Chinatown, the indictment says.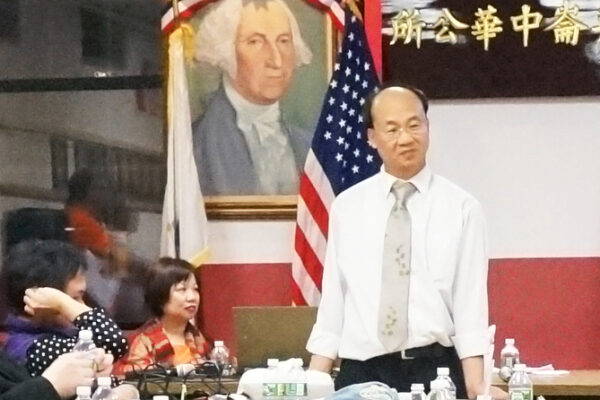 Close Contact With CCP
In October 2018, Liang allegedly sent a CCP official photographs and videos of an individual he claimed had "sabotaged" China's flags and conducted a press conference denouncing that individual.
In that same year, Liang allegedly helped organize an event in Boston that was attended by a "high-ranking" CCP official and provided information about an attendee who worked for "an elected official in Boston."
He also allegedly forwarded a list of members of a local Chinese organization with pro-Taiwan leanings to a CCP government official, the indictment says.
During a 2019 rally against Hong Kong's controversial extradition bill in Boston, Liang allegedly organized a counter-protest to the rally. He also took photos and videos of pro-democracy dissidents in Boston.
The indictment states that Liang had also provided a CCP official with the names and professional affiliations of two individuals in Boston to be recruited by the Chinese Ministry of Public Security in July 2022.
Liang established the New England Alliance for the Peaceful Unification of China in January 2019.
In September 2019, he allegedly photographed anti-China dissidents—who he described as "a bunch of clowns trying to cause trouble"—in front of the Boston Public Library and sent the photos to a CCP official.
Liang will remain in custody until a detention hearing on May 11, during which U.S. Magistrate Judge Jennifer Boal will decide whether Liang will be released pending his trial, the Boston Globe reported.
From The Epoch Times