The U.S.-Canada border was a widely discussed topic as President Joe Biden and Canadian Prime Minister Justin Trudeau got together for bilateral meetings in Ottawa, and Biden addressed the Canadian Parliament before the two leaders held a joint press conference on a busy March 24.
The two leaders announced that starting on 12:01 a.m. on March 25, migrants at illegal border crossings between the two countries will be turned back. The move follows years of migrants using illegal points of entry, such as Roxham Road, to enter Canada from the United States to make asylum claims. The flow of the migrants had surged in recent months.
The two countries share a 5,525-mile-long border, Biden noted.
"Every day, hundreds of thousands of people cross the borders, going north and south, to work or just to visit, knowing they'll find a warm welcome on the other side of the border," Biden said.
"Americans and Canadians are two people, two countries, in my view, sharing one heart," Biden said. "It's a personal connection: No two nations on Earth are bound by such close ties—friendship, family, commerce and cultures."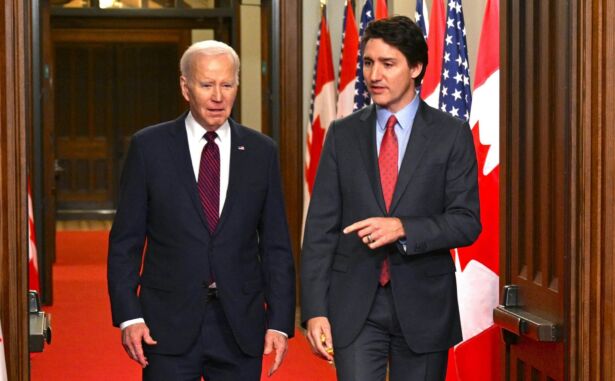 Trudeau quoted former President Ronald Reagan, who in a 1987 speech to the Canadian Parliament called the U.S.-Canada border "a meeting place rather than a dividing line."
"More than 30 years later, our border is no longer just the place where we meet each other," Trudeau said. "This is the place where we will meet the moment; it's the place where we will meet the future."
Loophole
To address the issue of illegal migrant border-crossings from the United States into Canada, Biden and Trudeau announced an update to the Safe Third Country Agreement between the two countries.
In announcing the update, Canada said it will also allow 15,000 migrants from the Western Hemisphere to apply for entry into the country "on a humanitarian basis."
Trudeau had requested assistance from the Biden administration to limit the flood of migrants who are entering Canada from the United States and asking for asylum.
The deal will allow the two countries to turn away migrants who are caught between official points of entry along the U.S.-Canada border.
According to a 2002 agreement between the two countries, asylum seekers must apply in the first country they arrive in.
That pact was applicable only at official border crossings, creating a loophole for migrants who travel from the United States to Canada and illegally cross at Roxham Road, which is a half-hour taxi ride from the Plattsburgh, New York, bus station.
"The United States and Canada will work together to discourage unlawful border crossings and fully implement the updated 'Safe Third Country' agreement," Biden told members of Parliament.
In the joint press conference, Trudeau said, "Canada and U.S. will continue to work together as partners to keep our people safe. Keeping people safe also includes keeping asylum seekers safe, keeping our borders secure, and keeping our immigration system strong. Both of our countries believe in safe, fair, and orderly migration, refugee protection, and border security.
"This is why we will now apply the Safe Third Country Agreement to asylum seekers between official points of entry," Trudeau added. "After midnight tonight, police and border officers will enforce the agreement and return irregular border crossers to the closest port of entry with the United States."
Biden and Trudeau met in Ottawa days after Chinese leader Xi Jinping and Russian President Vladimir Putin met in Moscow, where they proclaimed a partnership that would help shape a new world order guided by China and Russia.
Before the press conference, Biden and Trudeau released a joint statement condemning Russia "for its illegal, unjustifiable, and unprovoked war against Ukraine, and will continue imposing economic costs on Russia, while maintaining our unwavering support for Ukraine for as long as it takes."
The two leaders also said they "acknowledge the serious long-term challenge to the international order posed by the People's Republic of China, including disruptive actions such as economic coercion, non-market policies and practices, and human rights abuses.
"While we will cooperate with China in areas of mutual interest, such as on climate change, we remain committed to ensuring our ability to compete effectively with China on a level playing field," the statement read. "Canada and the United States will also continue to cooperate on countering foreign interference in our societies in a manner that reflects our shared democratic values."
During the press conference Trudeau was asked: "Knowing what you know, are you comfortable with the idea of your children or family members using TikTok?"
In response, the prime minister said, "We made a similar decision to the American government and others when we said that we do not feel that the security profile is safe for government-issued phones.
"There are concerns around privacy and security and that is why we have banned TikTok from government-issued phones."
Then Trudeau smiled and said that, since his children have government-issued phones, access to TikTok will no longer be an issue.
From The Epoch Times