The United States has condemned a Hong Kong court decision to sentence pro-democracy media tycoon Jimmy Lai. to prison, a move that the Chinese Communist Party (CCP) regime has characterized as an attempt to "whitewash criminals."
U.S. State Department spokesman Ned Price on Sunday urged Chinese authorities "to respect freedom of expression, including for the press, in Hong Kong" following the "unjust" outcome of Lai's trial over lease fraud regarding his businesses.
Lai was accused of using his media organization to conceal the operations of a consultancy firm based at the headquarters of his now-defunct liberal newspaper Apple Daily. The lease terms stipulated that the premises could only be used for printing and publishing.
Lai was fined HK$2 million (roughly US$257,000) for the breach of the land lease terms and disqualified from being a company director for eight years.
But the court also sentenced Lai to five years and nine months in jail over the breach.
"The United States condemns the grossly unjust outcome of Jimmy Lai's latest trial sentencing. By any objective measure, this result is neither fair nor just," Price stated on Twitter.
The CCP hit back and said it firmly rejected Price's "irresponsible comments" and urged the United States to refrain from interfering in Hong Kong's judiciary and China's internal affairs "under the pretext of human rights."
A spokesperson for China's Foreign Affairs Office in Hong Kong said in a statement that Washington's actions only exposed Lai's identity "as an agent and a pawn" of the United States; a charge commonly lobbied at individuals who sympathise or align with libertarian democratic values that are antithetical to the ruling communist party's own ideology, which was itself foreign to China when the communists claimed power in 1949.
An Attempt to Silence Lai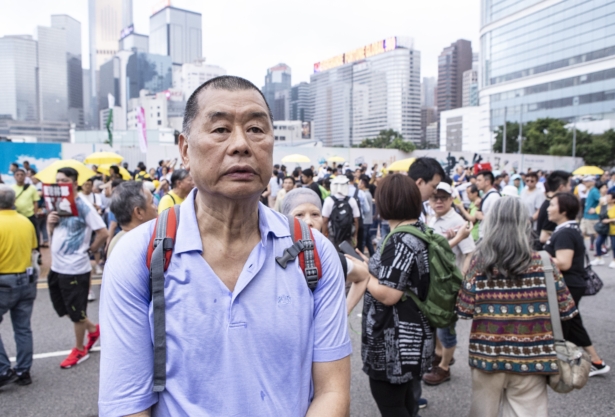 International human rights groups have denounced the court's verdict and called for Lai's immediate release.
Beh Lih Yi, the Committee to Protect Journalists (CPJ) Asia Program Coordinator, said the prosecution against Lai should be dropped because the 75-year-old defendant has already served two years in prison.
"The harsh sentence handed to Jimmy Lai on trumped-up fraud charges shows how Beijing and Hong Kong will stop at nothing to eliminate any dissenting voices," Beh said on Dec. 10. "Authorities must end this persecution once and for all."
Reporters Without Borders East Asia Bureau head Cedric Alviani said the "staggering severity" of Lai's sentences show "how desperate the Chinese regime is to silence this symbolic figure of press freedom in Hong Kong."
Alviani called on the international community to increase pressure on the Chinese regime to "secure Lai's release alongside all other journalists and press freedom defenders detained in Hong Kong and in the mainland."
Subject to 'Lawfare'
Caoilfhionn Gallagher KC, the leader of Lai's international legal team, said that Lai was being subjected to "lawfare," with multiple prosecutions aimed at "silence and discrediting" him and sending a clear message against criticizing Beijing or the authorities in Hong Kong.
Gallagher said that the British government has remained silent on the case despite the fact that Lai is a British national.
She urged British Prime Minister Rishi Sunak and his foreign secretary to treat the case with urgency and speak out in support of the British citizen.
"It is frankly astonishing that we have heard more about this spurious fraud conviction from the U.S. government than Mr Lai's own government," Gallagher said in a statement posted on Twitter.
Lai's son, Sebastien Lai, also called on the British government to take action to secure his father's freedom.
"My father is a British citizen who has done nothing wrong," he was quoted as saying by Lai's international legal team. "The UK must do all it can to stop this, and do it now."
Lai has been behind bars since December 2020 for his role in unauthorized assemblies. He was also charged under the draconian National Security Law (NSL) for allegedly colluding with that the CCP considers "foreign forces."
His trial over the NSL charges was delayed after Hong Kong leader John Lee asked Beijing to rule on whether foreign lawyers could work on national security cases following a court's decision to allow Lai to hire a British lawyer.
The NSL, which punishes what the CCP broadly defines as secession, subversion, terrorism and collusion with foreign forces with up to life in jail, has been condemned by democratic governments around the world and human rights groups as a tool to crush dissent in the semi-autonomous city.
Reuters contributed to this report.
From The Epoch Times