The U.S. debt ceiling agreement established by President Joe Biden and House Speaker Kevin McCarthy (R-Calif.) during the Memorial Day long weekend cleared a critical hurdle that will allow House lawmakers to vote on the deal.
The House Rules Committee passed it with a vote of 7 to 6, advancing the debt limit bill—the Fiscal Responsibility Act—to the congressional floor on May 30 for a debate and vote.
Rep. Chip Roy (R-Texas) and Rep. Ralph Norman (R-S.C.) voted against it, joining all four Democrats on the powerful committee. There had been concern that it would not make it out of the committee because some of the loudest conservative critics are members, including Rep. Thomas Massie (R-Ky.), who supported the legislation going before his colleagues.
Dozens of amendments were put forward by Republicans and Democrats. However, the Rules Committee denied each proposal to ensure the debt limit deal crafted by White House and House GOP negotiators was intact.
"I don't like this process that led to this bill. There are things to dislike and things to like about this bill," Massie said during the hearing. "When people want to express their ideology, the floor of the House on the actual final passage of the bill is the place to do that."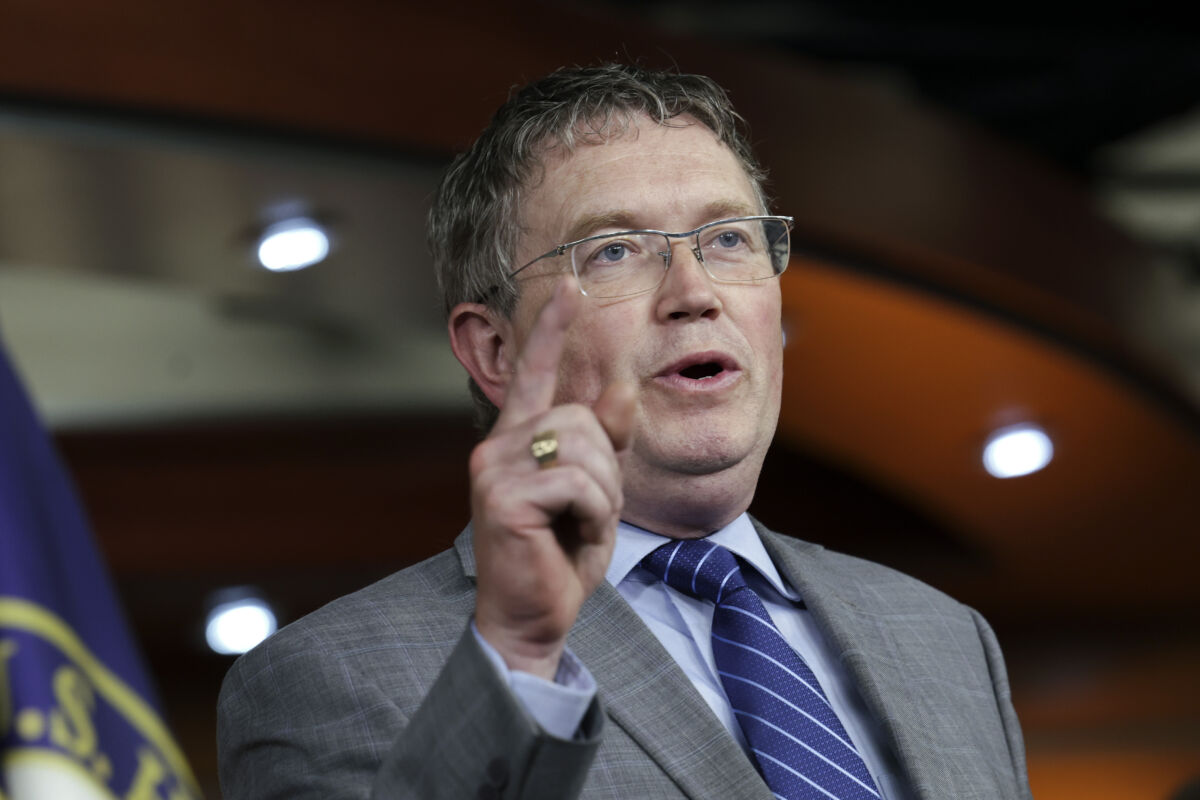 The Biden–McCarthy agreement has angered many Republicans in both chambers, including Rep. Byron Donalds (R-Fla.), who told reporters on Capitol Hill on May 30 that the proposal "canonizes post-COVID spending levels brought to us by Joe Biden and the Democrats."
Rep. Nancy Mace (R-S.C.) accused the GOP leadership of being "outsmarted" by the White House.
Sen. Rand Paul (R-Ky.) announced a "conservative alternative" to the Biden–McCarthy debt deal. One of the proposals consists of replacing the two-year suspension on the debt ceiling with a $500 billion increase to force "Congress to come back to the table to do their job and figure out solutions to the cascading debt issue highlighted by the debt ceiling."
CBO Issues Verdict
The debt limit agreement could reduce spending by more than $1 trillion over the next decade, the Congressional Budget Office (CBO) wrote in a new report.
The non-partisan watchdog estimated that the spending limits proposed for 2024 and 2025 could trim approximately $1.3 trillion from the administration's projected federal budget deficits from 2023 to 2033.
"Reductions in projected discretionary outlays would amount to $1.3 trillion over the 2024–2033 period," CBO director Phillip Swagel wrote in a letter to the speaker of the House. "Mandatory spending would, on net, decrease by $10 billion, and revenues would, on net, decrease by $2 billion over the 2023–2033 period."
In addition, the CBO projected that interest on the public debt would decrease by $188 billion in this span.
"This will be the largest spending cut that Congress has ever voted for in history," McCarthy posted on Twitter regarding to the CBO report.
Coming to the Table
The bipartisan deal finalized over the weekend has been touted by both negotiating parties as a compromise—a fact that Rules Committee Chairman Tom Cole (R-Okla.) highlighted in his opening remarks.
"As I've often said, in a true negotiation, you always get less than you want and give up more than you'd like," Cole said. "But with the passage of the Fiscal Responsibility Act, we'll responsibly lift the debt ceiling and avoid a default that would devastate the American economy. And we will achieve real reductions in spending while doing so. Indeed, this is the most consequential spending reduction bill in more than a decade."
Among the bill's many provisions are a rescission of roughly $28 billion in unspent COVID-19 relief funds, the rescission of about $1.4 billion in IRS funding, stricter work requirements for certain government assistance programs, and a cap on total non-defense discretionary spending—excluding veterans' benefits—at $637 billion for the fiscal year 2024, representing a $1 billion decrease from 2023. That total would increase by 1 percent in 2025.
Massie, for his part, said he was encouraged by the inclusion of his own provision that if Congress fails to pass all of its appropriations bills by Jan. 1, 2024, spending would be reduced by 1 percent year-over-year.
"There are things to dislike and things to like about this bill, but the one redeeming portion for me is Section 102, where we're … everybody forced to come to the table and do our job, pass all 12 appropriations bills. If we haven't at that point, there'll be a 1 percent cut."
However, during his remarks, Roy countered that the measure would only encourage Congress to "jam through" an omnibus spending bill right before the deadline.
"That's what'll happen—it's what happens every year," he said. "And then the question will be, 'What is the check against that?' Well, the check against that is right here."
A 'Reckoning'
At a press conference prior to the committee hearing, the Freedom Caucus took aim at the deal for its lack of a specified debt limit, noting that the bill merely suspends the limit until January 2025.
"Tomorrow's bill hands Biden a blank check as it doesn't actually set a debt limit," Rep. Lauren Boebert (R-Colo.) noted. "This is an unlimited debt increase, allowing him to spend as much money as he wants through the end of his term."
Others, like Roy, criticized the House speaker for not fighting harder in the debt limit negotiations, especially in relation to the rescinded COVID relief and IRS funding.
"Take that [COVID] money, take IRS money, and go tell [Treasury Secretary] Janet Yellen, 'You're going to pay every bill you need to pay, and we're going to sit down at the table and do the job for the American people,'" Roy said. "But don't tell me you're going to put me over a barrel for $4 trillion because you refused to do your job. That is what Speaker McCarthy should have told the president of the United States."
Ultimately, the bill is set to add another $4 trillion to the national debt.
During the press conference, Roy vowed that there would be a "reckoning" if the bill was not killed. Although he did not specify what that reckoning would involve, his fellow Freedom Caucus member Dan Bishop (R-N.C.) indicated that he would support ousting McCarthy from his role as speaker.
"It is inescapable to me," Bishop said. "I think it's got to be done."
Despite Bishop's public admission, McCarthy told reporters on Capitol Hill Tuesday that he was not concerned about losing the gavel and that he wasn't sure why some members of his conference opposed the deal.
"I'm not sure what in the bill people are concerned about," he said. "It is the largest savings of $2.1 trillion we've ever had."
By Samantha Flom and Andrew Moran
From The Epoch Times