A unit of U.S. Marines has been directed to move into the Middle East to support Israel in its war with the Hamas terrorist group, U.S. officials said on Oct. 17.
U.S. Defense Secretary Lloyd Austin ordered the 26th Marine Expeditionary Unit (MEU) to move into the region, Pentagon Press Secretary Sabrina Singh told reporters during a briefing.
"The 26th MEU is an adaptable military force composed of infantry, aviation, and logistics components, all operating under one command," Ms. Singh said. "Positioned at sea, the 26th MEU is equipped to execute amphibious missions, respond to crises, and engage in limited contingency operations across a spectrum of military scenarios."
The step comes after Mr. Austin sent the USS Dwight D. Eisenhower Carrier Strike Group to the Eastern Mediterranean, joining the USS Gerald R. Ford Carrier Strike Group.
The United States has also deployed Air Force fighter groups to the region.
Mr. Austin also issued a prepare to deploy order, notifying 2,000 personnel from various units that they may be deployed, though no decision has yet been made on actual deployment, according to Ms. Singh.
"This order only puts these units on higher alert," she said. "The secretary will continue to assess our force posture and remain in close contact with allies and partners."
The U.S. Department of Defense is focusing on helping Israel and deterring others who are thinking of following Hamas's lead in attacking Israel, officials said.
"The department remains focused on three objectives: supporting Israel's defense through security assistance, sending a strong signal of deterrence to any actors who might be thinking of entering the conflict, and staying vigilant to any threats to U.S. forces," Ms. Singh said.
Mr. Austin and other U.S. officials have condemned the Hamas attacks, which took place on Oct. 7. Hamas terrorists murdered people attending a music festival and in villages located near the Gaza Strip. The death toll is currently over 1,400. Thirty-one Americans were killed.
The Israeli military struck back at Gaza in attacks officials said were targeting Hamas, which largely runs the strip. Palestinian officials have said that thousands of people on the strip have been killed.
Mr. Austin recently traveled to Israel to meet with his counterpart, Yoav Gallant. While there, he said, "Make no mistake: The United States will make sure that Israel has what it needs to defend itself."
U.S. lawmakers said Tuesday that they're drafting legislation to authorize U.S. military force in Israel.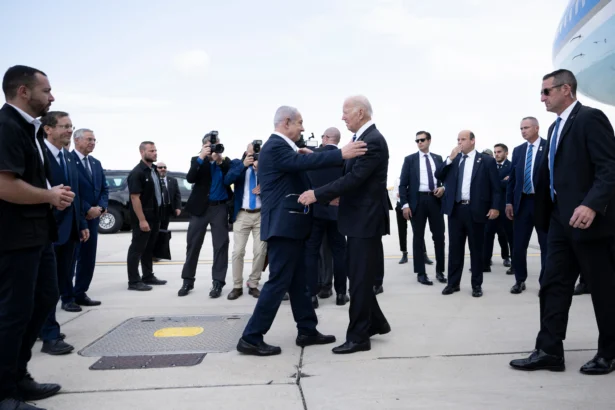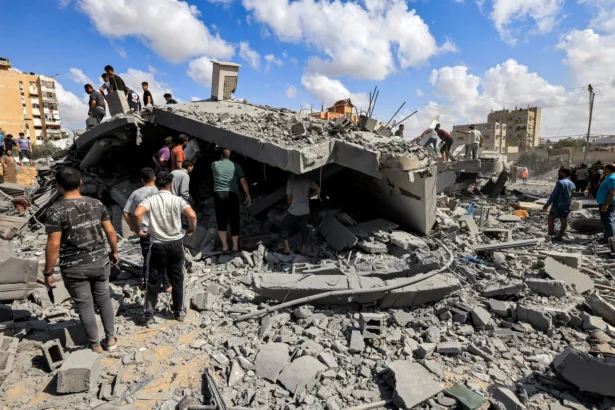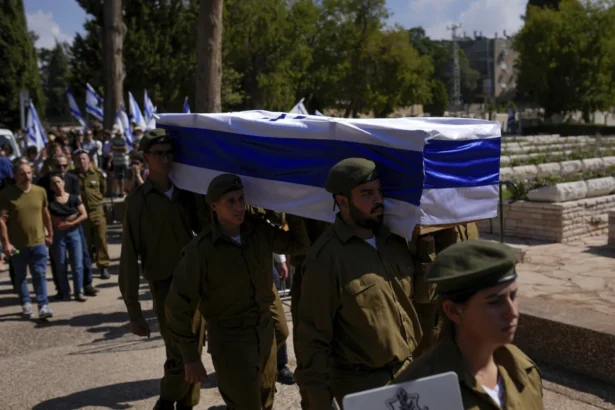 Biden Lands
U.S. President Joe Biden on Wednesday landed in Israel, meeting with Israeli Prime Minister Benjamin Netanyahu.
"I wanted to be here today for a simple reason. I wanted the people of Israel, the people of the world to know where the United States stands," President Biden said in Tel Aviv.
He said that Hamas "committed evils," including the murders and taking children hostage.
"The fact is that Israel, as they respond to these attacks, it seems to me that—have to continue to ensure that you have what you need to defend yourselves. And we're going to make sure that occurs," President Biden said. "And we have to also bear in mind that Hamas does not represent all the Palestinian people and has brought them only suffering."
A hospital in Gaza was struck shortly before the visit, drawing criticism from activists. Gaza authorities said the attack was launched by Israel, but Israeli officials said the strike came from a misfired rocket launched from the strip.
U.S. spokesman John Kirby told reporters en route to Tel Aviv that President Biden would be asking Mr. Netanyahu some "tough questions" during their meeting.
"I was deeply saddened and outraged by the explosion at the hospital in Gaza yesterday. And based on what I've seen, it appears as though it was done by the other team, not you," President Biden said while appearing with Mr. Netanyahu. "But there's a lot of people out there who are not sure."
Mr. Netanyahu thanked President Biden for providing support to Israel and for visiting.
"I can assure you, Mr. President, Israel is united to defeat Hamas. And we will defeat Hamas and remove this terrible threat from our lives. The forces of civilization will prevail, for our sake, for your sake, for peace and security in our region and in the world," he said.
"Mr. President, for the people of Israel, there's only one thing better than having a true friend like you standing with Israel, and that is having you standing in Israel."
From The Epoch Times