The United States on Sunday dispatched a guided-missile submarine to the Middle East in the wake of escalating tensions arising from the ongoing conflict between Israeli forces and the Hamas terrorist group.
U.S. Central Command stated on X that an Ohio-class submarine had entered its "area of responsibility" on Nov. 5. It did not specify the location, but a photo of the submarine suggests it was in the Suez Canal.
The type of submarine was not specified. According to Submarine Force Pacific, the Ohio-class submarines are the largest fleet in the U.S. Navy and can carry Tomahawk cruise missiles or ballistic missiles.
The deployment followed Defense Secretary Lloyd Austin's talks with Israeli Defense Minister Yoav Gallant on Nov. 5, in which Mr. Austin reiterated his "ironclad commitment to Israel's right to defend itself," according to the Defense Department.
Mr. Austin also emphasized the need to protect civilians and deliver humanitarian assistance to Gaza while reaffirming the U.S. commitment "to deter any state or non-state actor seeking to escalate this conflict."
The United States has enhanced its military force posture in the region to boost deterrence amid fears that the ongoing Israel-Hamas conflict could escalate into wider violence throughout the Middle East.
The USS Dwight D. Eisenhower carrier strike group arrived in the Middle East on Nov. 4. The Pentagon also deployed the Terminal High Altitude Area Defense battery and additional Patriot battalions across the region to prevent escalation.
US Military Forces Targeted
These deployments came as Pentagon officials revealed on Oct. 21 that U.S. troops at outposts across the Middle East were attacked 13 times within a week, involving a combination of one-way drones and rockets.
Pentagon press secretary Brig. Gen. Pat Ryder said that American troops in Iraq bore the brunt of these attacks, reporting 10 separate incidents between Oct. 17 and Oct. 24. Simultaneously, U.S. forces in Syria faced three attacks during the same time frame.
Pentagon officials said the targeting of U.S. troops in the region had "Iranian fingerprints all over it," despite the absence of evidence linking the country's leaders to the assaults.
"It's been well-documented, and you've heard U.S. officials across the podiums as well as policy leaders for years talk about Iran's funding, equipping, guidance, and direction to partners and proxies across the region," a senior defense official told reporters during a background briefing on Israel.
"That includes Lebanese Hezbollah, militia groups in Iraq and Syria, as well as the Houthis, in Yemen. So I think it's fair to say when you see this uptick in activity and attacks by many of these groups, there's Iranian fingerprints all over it," the senior official added.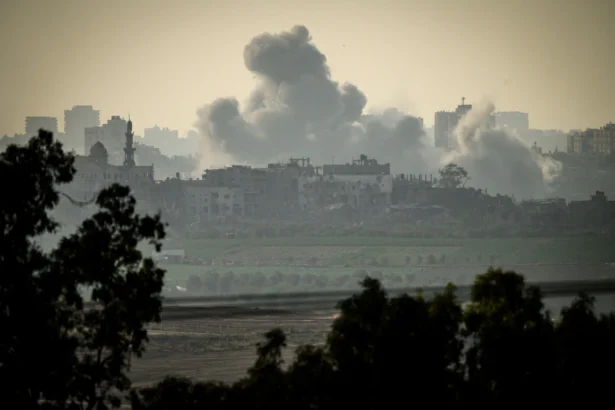 The recent attacks on U.S. troops in Iraq, the first in over a year, occurred against the backdrop of the Israel-Hamas war, which was ignited from Hamas' unprecedented attacks on Oct. 7. More than 1,400 people in Israel were killed in the attack.
On Oct. 26, President Joe Biden directed the U.S. military to launch "self-defense strikes" on two facilities used by Iran's Islamic Revolutionary Guard Corps in Syria.
The strikes were in response to a series of attacks against U.S. personnel in Iraq and Syria by Iranian-backed militia groups that began on Oct. 17, Mr. Austin said in a statement.
"The United States does not seek conflict and has no intention nor desire to engage in further hostilities, but these Iranian-backed attacks against U.S. forces are unacceptable and must stop," he added.
Mr. Austin also emphasized that the strikes "were intended solely to protect and defend U.S. personnel in Iraq and Syria."
"They are separate and distinct from the ongoing conflict between Israel and Hamas, and do not constitute a shift in our approach to the Israel-Hamas conflict. We continue to urge all state and non-state entities not to take action that would escalate into a broader regional conflict," he stated.
Caden Pearson contributed to this report.
From The Epoch Times