The Biden administration has formally concluded that Russia committed "crimes against humanity" in Ukraine, according to U.S. Vice President Kamala Harris, who told a security conference on Saturday that evidence examined by the U.S. State Department leaves "no doubt" that Russian forces have carried out atrocities.
Harris made the remarks on Saturday at the Munich Security Conference in Germany, where she listed a series of acts allegedly committed by the Russian military in its nearly yearlong invasion of Ukraine that Moscow calls a "special military operation."
"Russian forces have pursued a widespread and systemic attack against a civilian population—gruesome acts of murder, torture, rape, and deportation," Harris said. She also cited "execution-style killings, beatings, and electrocution."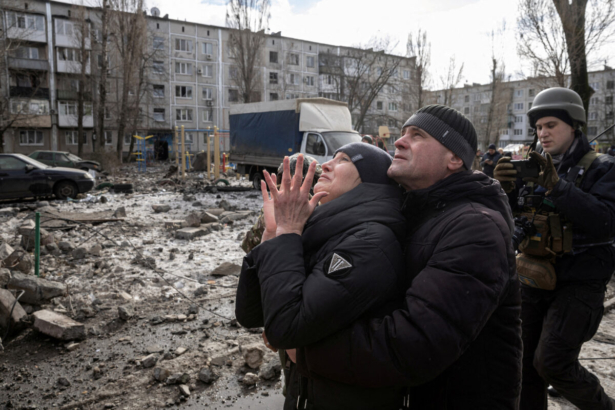 While the Biden administration officially determined last March that Russian troops had committed war crimes in Ukraine, the State Department has since been weighing new evidence to determine whether Moscow's actions meet the more stringent definition of "crimes against humanity."
"In the case of Russia's actions in Ukraine, we have examined the evidence, we know the legal standards, and there is no doubt," Harris said. "These are crimes against humanity."
'Most Egregious'
Specifically, a determination of "crimes against humanity" is made in cases where attacks against civilians are being carried out in a manner that is systematic and widespread. Such a determination was reserved for what Secretary of State Antony Blinken said were "the most egregious crimes."
Blinken issued a statement on Saturday mirroring the thrust of Harris' remarks, noting that the State Department had carried out a "careful analysis of the law and available facts" and that the actions of Russian forces in Ukraine meet the "crimes against humanity" standard.
His statement indicated that the State Department review found that Russian forces have committed "execution-style killings of Ukrainian men, women, and children; torture of civilians in detention through beatings, electrocution, and mock executions; rape; and, alongside other Russian officials, have deported hundreds of thousands of Ukrainian civilians to Russia, including children who have been forcibly separated from their families."
Blinken added that such acts were neither random nor spontaneous but were rather "part of the Kremlin's widespread attack against Ukraine's civilian population."
Harris said at the conference that the perpetrators of those crimes "will be held to account."
Her speech came as Western leaders met in Munich to take stock of the worst military conflict that has gripped Europe since the Second World War.
Moscow had not issued any statements in response to the U.S. government's "crimes against humanity" determination at the time of publication.
Kremlin Accuses Kyiv of 'Crimes Against Humanity'
However, the Russian Embassy in the UK accused the Ukrainian military in March 2022 of carrying out both "war crimes" and "crimes against humanity" in eastern Ukraine, accusing Kyiv of "exterminating" the civilian population in the so-called Donetsk and Lugansk People's Republics.
Russian Foreign Minister Sergei Lavrov alleged in a statement Saturday that the United States and its allies were waging a "comprehensive hybrid war" against Russia that Washington had been preparing for a long time, using Ukrainian "radicals as a battering ram."
Lavrov accused the United States and its allies of trying to defeat Russia on the battlefield, destroy its economy with sanctions, isolate it internationally, and turn Russia into a "rogue state."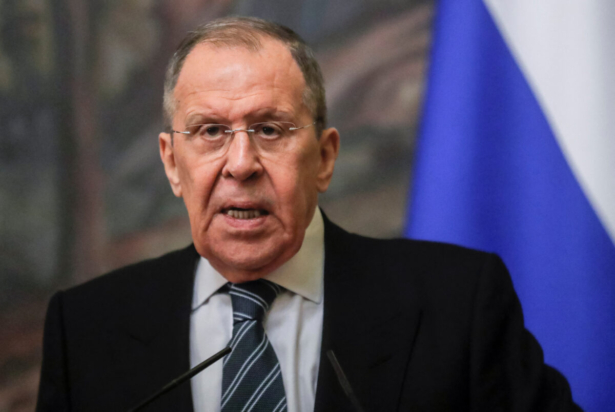 He also accused Western powers of being "obsessed with a maniacal striving to restore a neocolonialist unipolar world order" by trying to hamstring Russia's reemergence as a major player on the international stage.
Russia has long argued that the United States meddled in Ukraine to establish the country as a NATO bulwark on Russia's borders and that Moscow's actions against Kyiv are a kind of pre-emptive strike taken in self-defense to neutralize a growing military threat.
The Kremlin has also accused Western backers of Ukraine of provoking an escalation of the armed conflict that would "inevitably" bring about a "huge number of victims and large-scale destruction."
The nearly year-long conflict has killed tens of thousands, uprooted millions from their homes, and hurt the global economy.
Ukraine Alleges 'Genocidal War'
Ukrainian Foreign Minister Dmytro Kuleba was asked on the sidelines of the Munich Security Conference what he thought about the U.S. determination that Russia had committed "crimes against humanity" in Ukraine.
"Russia waged a genocidal war against Ukrainians because they do not recognize our identity and they do not think we deserve to exist as a sovereign nation," he replied.
"Everything that stems from that is crimes against humanity, war crimes, and various other atrocities committed by the Russian army in the territory of Ukraine.
"Let lawyers sort out specifically which act belongs where in terms of legal qualification," he added.
Kuleba expressed hope that Western powers would provide Kyiv with its much sought-after fighter jets.
The West has been reluctant to provide the jets, fearing an escalation that might spill across the border into NATO-allied countries and potentially trigger the alliance's Article 5 provisions that an attack on one is considered an attack on all.
From The Epoch Times