U.S. Northern Command (NORCOM) released the first photos of efforts to recover a Chinese spy balloon on Monday evening, days after it was shot down near the Carolinas.
Photos captured by U.S. military personnel show forces attempting to recover debris from the balloon on Sunday evening. A large piece of the balloon itself was seen being pulled onto a small boat by sailors.
According to captions of the photos, sailors assigned to Explosive Ordnance Disposal Group 2 were deployed to recover the balloon near Myrtle Beach, South Carolina. Over the weekend, local officials told residents to avoid touching the balloon should pieces of it wash up on shore, after it was shot down by an F-22 Raptor fighter jet on Saturday afternoon.
NORCOM also released images of the F-22 that was used to shoot down the Chinese military craft. The Pentagon previously confirmed that the jet took off from Langley Air Force Base in Virginia to carry out the mission.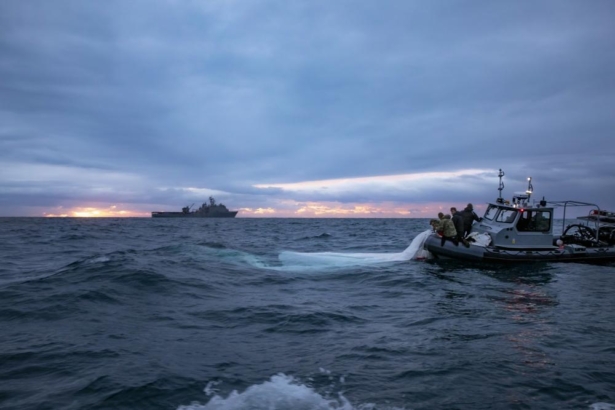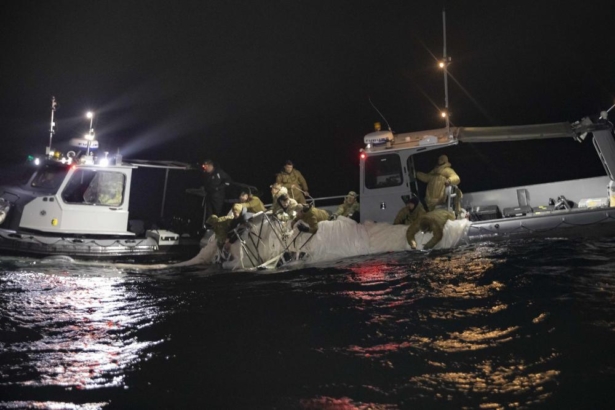 Unnamed "senior government sources" told Fox News that once recovered, the balloon will be sent to the FBI's facility in Quantico, Virginia, for further analysis. The Epoch Times has contacted the bureau for comment.
The head of NORCOM and the North American Aerospace Defense Command (NORAD) on Monday said the balloon was about 200 feet in height and weighed thousands of pounds.
"The balloon assessment was up to 200 feet tall for the actual balloon," Gen. Glen VanHerck told reporters, according to a transcript released by the Pentagon. "The payload itself, I would categorize that as a jet airliner type of size, maybe a regional jet such as [an] ERJ or something like that. Probably weighed in access of a couple thousand pounds."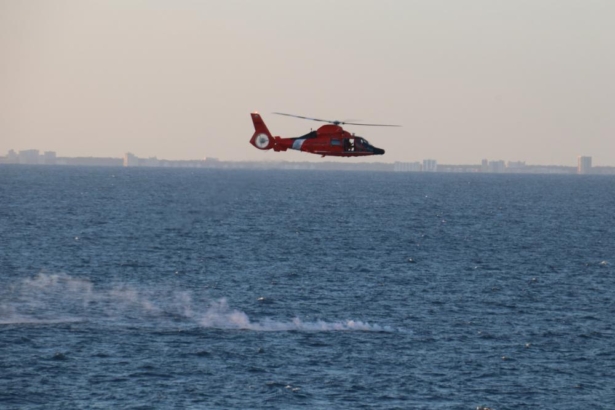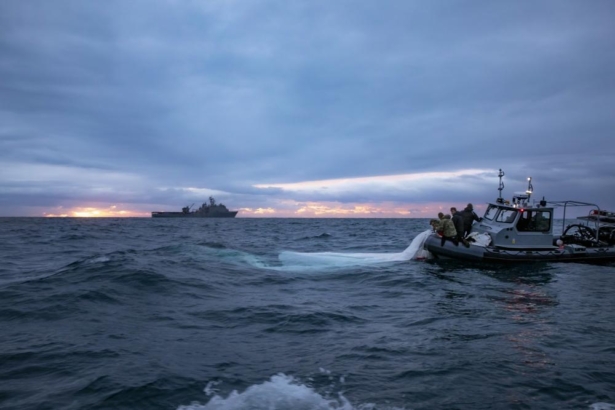 VanHerck then explained why the U.S. military did not shoot down the balloon when it was first discovered last month near Billings, Montana. Soon after it was located, there were widespread calls to take it down.
"Picture yourself with large debris weighing hundreds if not thousands of pounds falling out of the sky," VanHerck said. "That's really what we're kind of talking about."
The general also noted that there was a "domain awareness" of the balloon as it approached Alaska. "It was my assessment that this balloon did not present a physical military threat to North America," VanHerck added Monday. "This is under my NORAD hat and therefore, I could not take immediate action because it was not demonstrating hostile act or hostile intent."
U.S. defense and military officials said Saturday that the balloon entered the U.S. air defense zone north of the Aleutian Islands on Jan. 28 and moved over land across Alaska and into Canadian airspace in the Northwest Territories on Jan. 30. The next day it crossed back into U.S. territory over northern Idaho. U.S. officials spoke on condition of anonymity to discuss the sensitive topic.
In another portion of his briefing, VanHerck asserted that Chinese spy balloons transited over the United States under the Trump administration, a claim that was denied by former President Donald Trump and former members of his administration.
China claims it was a civilian balloon used for meteorological research but has refused to say to which government department or company it belongs. U.S. officials, however, denied those claims and said that it was a surveillance balloon.
What's more, VanHerck told reporters that there may have been explosives on the aircraft, saying that factored into his decision not to shoot it down over U.S. territory.
The U.S. Coast Guard said Monday it was imposing a temporary security zone in the waters off Surfside Beach, South Carolina, in the area where the balloon was shot down.
Reuters and The Associated Press contributed to this report.
From The Epoch Times