The U.S. military early Friday carried out airstrikes against two locations in eastern Syria linked to Iran's Islamic Revolutionary Guard Corps (IRGC), according to the Pentagon.
The "precision self-defense strikes" were at the direction of President Joe Biden, and are "a response to a series of ongoing and mostly unsuccessful attacks against U.S. personnel in Iraq and Syria by Iranian-backed militia groups that began on October 17," Secretary of Defense Lloyd Austin said in a statement.
Information about the specific targets and other details weren't provided.
"The President has no higher priority than the safety of U.S. personnel, and he directed today's action to make clear that the United States will not tolerate such attacks and will defend itself, its personnel, and its interests," the Pentagon chief said in a statement.
According to the Pentagon, there have been at least 12 attacks on U.S. bases and personnel in Iraq and four in Syria since Oct. 17 by Iran-backed forces. Hamas, Islamic Jihad, and Lebanon's Hezbollah are all backed by Tehran.
Pentagon Press Secretary Air Force Brig. Gen. Pat Ryder said 21 U.S. personnel were injured in two of those assaults that used drones to target al-Asad Airbase in Iraq and al-Tanf Garrison in Syria.
Mr. Austin noted in his statement that all of the U.S. personnel have since returned to duty. He separately noted that one U.S. citizen contractor died from a cardiac incident while sheltering in place during the attacks.
National Security Council spokesman Adm. John Kirby had earlier on Thursday confirmed to reporters that President Biden had conveyed a "direct message" to Iran's leader, Ayatollah Ali Khamenei, warning Tehran and its proxies against targeting U.S. troops in the Middle East.
U.S. retaliation and strikes against Iranian targets in Syria after similar attacks on U.S. bases are routine.
Strikes Not Related to Israel-Hamas War: Pentagon
The U.S. military's strikes are "separate and distinct from the ongoing conflict between Israel and Hamas, and do not constitute a shift in our approach to the Israel-Hamas conflict," Mr. Austin noted in his statement.
"These narrowly tailored strikes in self-defense were intended solely to protect and defend U.S. personnel in Iraq and Syria. … We continue to urge all state and non-state entities not to take action that would escalate into a broader regional conflict," he said.
The United States does not seek a broader conflict, the Pentagon chief said, but if Iranian proxy groups continue, the United States won't hesitate to take additional action to protect its forces.
"Iran wants to hide its hand and deny its role in these attacks against our forces. We will not let them."
The retaliatory strikes came as no surprise. Officials at the Pentagon and the White House have made it clear for the past week that the U.S. would respond, with Brig. Gen. Ryder saying on Oct. 24 that it would be "at the time and place of our choosing."
"We will always maintain the inherent right of self-defense," he told reporters.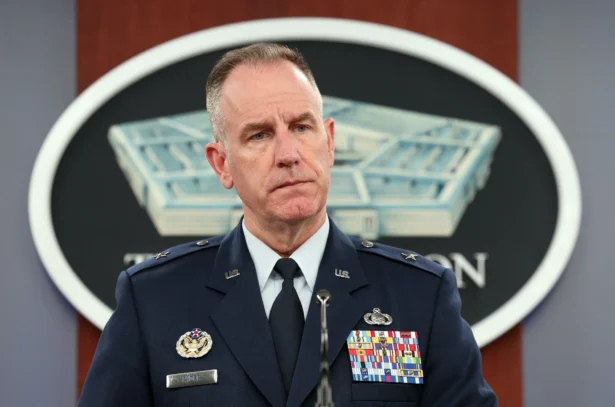 The Pentagon, however, did acknowledge on Oct. 24 that since Hamas attacked Israel on Oct. 7, terrorist groups backed by Iran have carried out a slew of drone and missile attacks against U.S. forces conducting counterterrorism missions in both Iraq and Syria.
"We know that the groups conducting these attacks are supported by the IRGC and the Iranian regime," Brig. Gen. Ryder told reporters on Oct. 24. "What we are seeing is the prospect for more significant escalation against U.S. forces and personnel across the region, in the very near term, coming from Iranian proxy forces and ultimately from Iran."
The Pentagon on the same day announced that a squadron of F-16 Fighting Falcon aircraft arrived in the U.S. Central Command area of responsibility—which includes the Middle East (including Egypt in Africa), Central Asia, and parts of South Asia.
The United States has 900 troops in Syria and 2,500 more in neighboring Iraq, on a mission to advise and assist local forces trying to prevent a resurgence of the ISIS terrorist group, which in 2014 seized large swathes of both countries but was later defeated.
The United States has sent warships and fighter aircraft to the region over the last three weeks. On Thursday, the Pentagon said about 900 additional U.S. troops have arrived in the Middle East or are heading there to bolster air defenses for U.S. personnel.
Israel's Defense Minister Yoav Gallant, when asked at a press conference about the possibility of a confrontation with Iran, said Israel has "no interest in expanding the war."
The Associated Press and Reuters contributed to this report.
From The Epoch Times