Now that the turkey has been gobbled up and the apple pie has been devoured, it is the official start of the holiday shopping season. But in today's inflationary environment, retailers are bracing for cost-conscious shoppers, and cash-strapped customers are on the hunt for deals. Will this be the most unusual time of the year?
During the Thanksgiving weekend, an estimated 166.3 million consumers are planning to shop from Thanksgiving Day to Cyber Monday, up by nearly eight million people from a year ago, according to the National Retail Federation (NRF).
The group's annual survey found that more than two-thirds (69 percent) of holiday shoppers plan to shop during the Thanksgiving weekend, with more than half (59 percent) saying that the deals are too good to pass up. A little more than one-quarter (27 percent) note that it is a tradition, while a fifth report that it is something to do during this period.
Black Friday remains the most popular day to consume, and 67 percent will make in-store purchases, up 64 percent from a year ago. Cyber Monday is the second most popular shopping day.
"While there is much speculation about inflation's impact on consumer behavior, our data tells us that this Thanksgiving holiday weekend will see robust store traffic with a record number of shoppers taking advantage of value pricing," said Matthew Shay, the NRF President and CEO, in a statement. "We are optimistic that retail sales will remain strong in the weeks ahead, and retailers are ready to meet consumers however they want to shop with great products at prices they want to pay."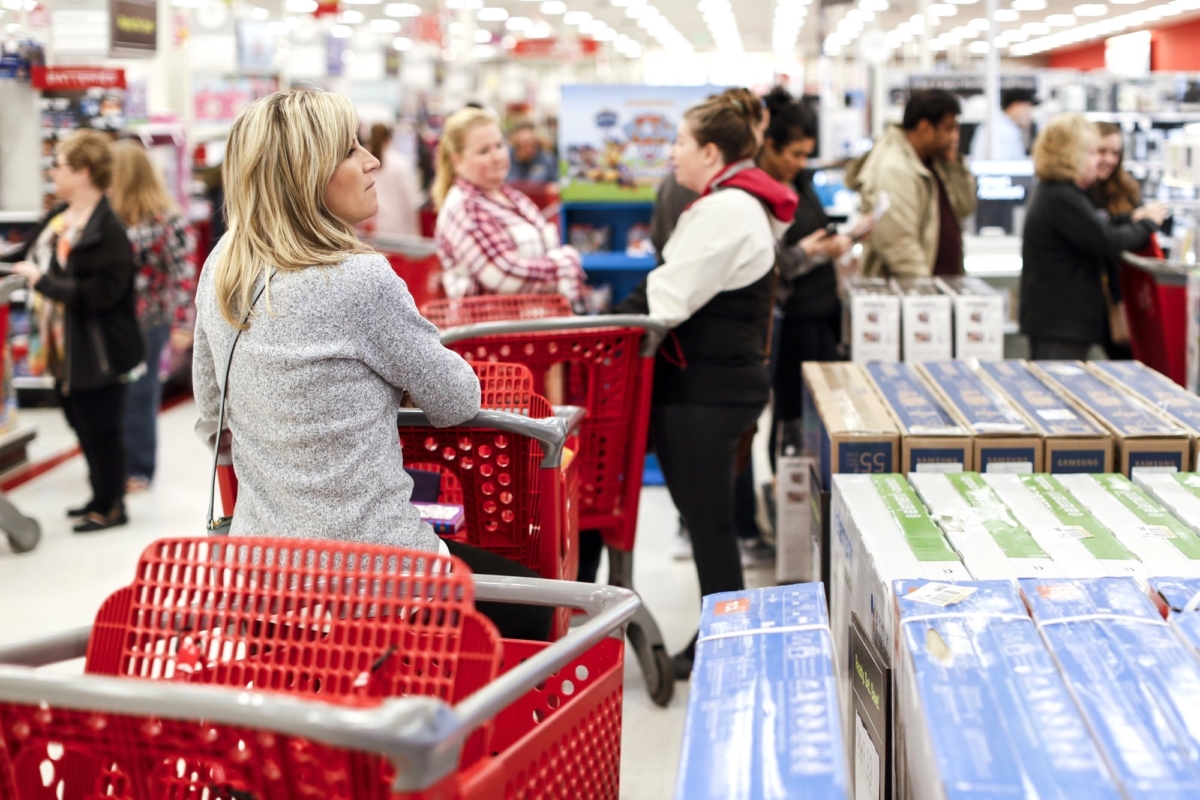 The retail trade organization forecasts that holiday retail sales will climb between 6 and 8 percent year-over-year to close to $943 billion during November and December.
This is in line with a report from financial services firm Credit Summit that found that nearly one-third of consumers anticipate spending more on Black Friday and Cyber Monday than in previous years.
Despite some of the upbeat projections, Target forecasted a drop in holiday-quarter sales, citing rampant price inflation and "dramatic changes" in consumer spending. The retailer is penciling in fourth-quarter sales to decline to a low single-digit percentage.
"Clearly it's an environment where consumers have been stressed," Target Chief Executive Officer Brian Cornell said last month.
Seasonal Hiring
Could the U.S. retail landscape see a growth in employment during a historically busy season?
According to NRF, retailers are projected to hire between 450,000 and 600,000 seasonal workers this winter, down from 669,800 last year.
Many corporate titans, including FedEx, Macy's, and Walmart, say they plan to hire fewer Christmas workers this year than in 2021. Amazon, however, maintained its solid seasonal hiring trends. The online retail juggernaut announced in October it will hire 150,000 people with an average starting hourly wage of $19 and sign-on bonuses of up to $3,000.
"We're proud to offer a wide variety of roles for people of all backgrounds, with more than 150,000 roles available across the country. Whether someone is looking for some extra money for a few months or a long-term career, the holidays are a great time for people to join Amazon, and many of our seasonal employees return year-after-year or transition into full-time roles," said John Felton, Amazon's Senior Vice President of Worldwide Operations, in a news release.
A recent study by business services firm Incfile learned that a third of small businesses are struggling to find seasonal employees compared to previous years.
But industry observers purport that this could be due to the solid job creation that occurred in 2022. This might imply less of a need for temp employment, especially in the retail sector, where nearly 16 million people are employed, according to the Bureau of Labor Statistics' (BLS) October jobs report.
'Tis the Season to Depend on Credit?'
Market analysts have weighed how much inflation will affect consumption trends this year.
A new study by Insider Intelligence and eMarketer suggested that higher inflation could lift holiday sales as consumer spending is forecast to increase 7 percent to nearly $1.3 trillion.
And the growing cost of Christmas gifts is contributing to an already stressful time for families nationwide, a new survey by the Thriving Center of Psychology.
Fifty-two percent of Americans are concerned about how much they are spending during the holiday season, while nearly two-thirds (64 percent) admitted experiencing stress about paying for gifts.
As a result, many shoppers are planning to purchase fewer items or adjust their shopping patterns to cut costs, according to a recent poll by RetailMeNot.
Seventy percent of shoppers are incorporating inflation into their holiday plans, with roughly half of the surveyed adults planning to spend 8 percent less than they did last year. On average, U.S. consumers plan to spend $725, compared to $786 in 2021.
According to the poll, 51 percent plan to buy fewer presents, 36 percent will use more coupons, and 27 percent will scale back on gift-giving.
In addition to a 7.7 percent annual inflation rate, real hourly wages have fallen for 19 consecutive months, and the personal savings rate has collapsed to around 3 percent.
Since the post-Christmas studies typically highlight that many Americans overspent during the holidays, will families give into the temptation of taking on debt to buy gifts? A recent survey from U.S. News & World Report discovered that 41 percent already expect to rely on credit cards and buy now, pay later (BNPL) plans to pay for presents and travel.
Even before the holiday season started, debt growth was rising. According to data from the Federal Reserve, household debt surged to $16.51 trillion in the third quarter, including a 15 percent year-over-year increase in credit card balances, representing the largest jump in over two decades.
As pandemic-era stimulus savings run dry and interest rates climb across lending markets, delinquency rates are beginning to rise, Liberty Street Economics noted in a blog post. However, they remain lower compared to the Great Recession.
"It will be important to monitor the path of these delinquency rates going forward: Is this simply a reversion to earlier levels, with forbearances ending and stimulus savings drying up, or is this a sign of trouble ahead?" asked central bank economists Andrew Haughwout, Donghoon Lee, Daniel Mangrum, Joelle Scally, and Wilbert van der Klaauw.
From The Epoch Times