U.S. Defense Secretary Lloyd Austin said on Saturday that "significant progress" has been made toward Australia's acquisition of a fleet of nuclear-powered submarines "at the earliest possible date" under the AUKUS security pact.
Austin met with Australian defense minister Richard Marles in Washington on Saturday to discuss the trilateral AUKUS (which includes the UK) partnership, their mutual security efforts within the Indo-Pacific region, and other issues.
Citing their previous meeting in December, Austin said both sides had agreed to deepen defense ties and strengthen coordination on regional priorities, according to a transcript issued by the U.S. Defense Department.
The two nations also seek to work closely with Japan to address regional challenges in the Indo-Pacific.
"We also pledged to find new ways to work closely with Japan, as we pursue a common vision of a free and open Indo-Pacific, as a region where all countries can chart their own course and all states respect international rules and norms and where all disputes are resolved peacefully.
"All of this is yet another reminder that our unbreakable alliance is capable of great things. It has, indeed, endured for generations, and it remains vital to regional peace and security," Austin said.
Marles announced on Twitter Saturday: "An excellent meeting with my good friend @SecDef in Washington today. Plenty to discuss ahead of a big year of Australia-US cooperation including AUKUS."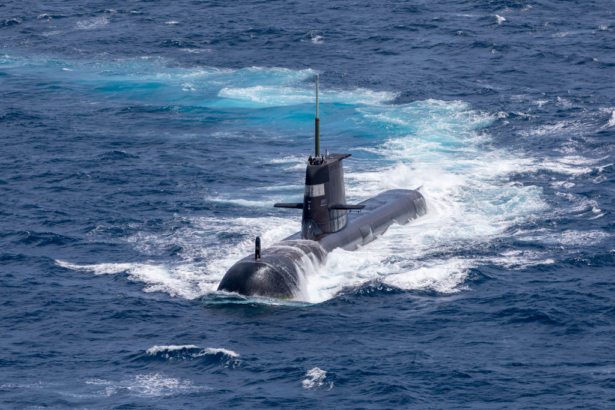 AUKUS Submarine Deal
For the AUKUS security pact, Marles reiterated that Australia, the United States, and Britain were building a "three-way ecosystem" that will benefit all three nations. The federal government is set to unveil its nuclear submarine plan in March.
"We are building a three-way ecosystem, and that's how people need to understand it," he told reporters, The Sydney Morning Herald reported.
Marles said that building up the nuclear workforce is "one of the real challenges that we face" when it comes to the AUKUS submarines, for which the allies will have to put in "a lot of work to get this right."
He noted that Washington's complex regulations and export control laws, such as the International Traffic in Arms Regulations (ITAR), could delay the transfer of necessary technologies for the submarines by years.
In recent months, there has been speculation that U.S. shipyards will be unable to supply Australia with additional submarines because of a lack of extra capacity.
The nuclear-submarine industry requires not only the right facilities but a highly trained workforce numbering in the tens of thousands. The U.S. and UK governments have pledged to assist Australia with training and upskilling its industry.
However, Marles has downplayed any concerns about delays.
"We're confident that what we will be announcing in the coming weeks is a pathway that will be able to be delivered by all partners on time, and obviously, we are talking about a program that is not measured in weeks or months but is actually going to take place over years and decades," he told ABC Radio's AM on Feb. 1.
The UK Minister of State for the Indo-Pacific, Anne-Marie Trevalyan said Australia's submarines would likely be used to patrol the Indo-Pacific and secure trade routes.
"Free and fair-trade work if the waterways are clear and safe," she said. "A lot of the Royal Navy's job for several hundred years was chasing pirates to allow those ships that want to move goods around to do so.
China's Opposition to AUKUS
The Chinese Communist Party has been vocal in its opposition to AUKUS, with the CCP foreign affairs spokesperson Mao Ning declaring it is fueling military confrontation in the Asia-Pacific and is driven by Cold War thinking.
According to China watchers, Beijing is genuinely worried about AUKUS, with mainland scholars and analysts' responding to AUKUS with genuine concern and fear.
Analysts believe this is due to China's fear of a Western-led coalition that, along with Japan, could contain China and bring the West into geostrategic dominance.
"With Japan at one vertex and India at the other, Australia's nuclear submarines will allow the Allies to close a 'strategic triangle at the second island chain's southernmost point, shortening the distance for reconnaissance, monitoring, and rapid response against China, as well as achieving long-range hypersonic precision strike capabilities,'" writes Tuvia Gering in an article for The China Project.
Daniel Y. Teng, Victoria Kelly-Clark and AAP contributed to this report.
From The Epoch Times